Sector3 Studios have kicked off their second week of the 4 week Summer Sale for their PC racing sim RaceRoom Racing Experience.
This week sees massive savings of between 70-77% for four different content packs. On offer this week is the DTM Experience 2014 pack which contains 9 tracks and 3 cars, the WTCC 2013 pack complete with 5 cars and 3 tracks, the American Track Pack with four circuits and finally the GTR2 Pack rounds out the four which has four car models.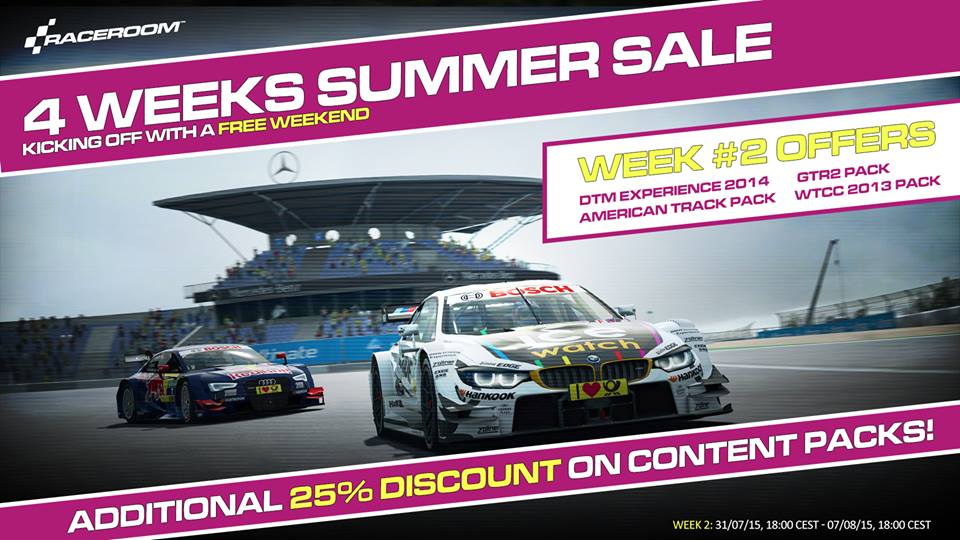 Each new week in the RaceRoom Sumer Sale begins on Friday at 18:00 CET and runs until the following Friday at 17:59 CET. Week 3 and 4's content has yet to be announced so you can expect these to be revealed when we start the respective weeks.
You can check out the content below along with links to the RaceRoom store. Anything here tickle your fancy?
Support Team VVV on Patreon: www.patreon.com/TeamVVV.
Week 2
DTM Experience 2014 now 2175 vRP
WTCC 2013 Pack now 899 vRP
American Track Pack now 509 vRP
GTR2 Pack now 899 vRP
Week 3
To be announced
To be announced
Week 4
To be announced
To be announced
To be announced