Lewis Hamilton makes his case even firmer for the 2014 World Championship with a great drive to win in Austin, Texas – his third win in the United States in the four US Grand Prix he has raced in. It was a good return to form for F1 on track after weeks of misery and off-track politics. Great racing through the pack and while the championship is now only between the Mercedes drivers, the rest of the pack looked to be having a lot of fun.
As It Happened…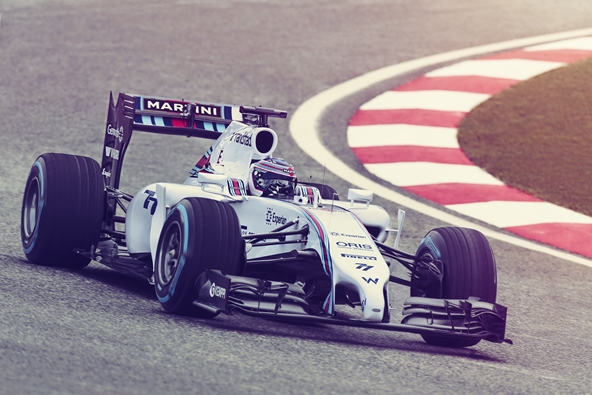 Lap 1: A clean start by Rosberg and Hamilton as they run 1-2 through the first corner. The Williams swap positions as Massa takes third place but there is a collision between Sergio Perez and the luckless Adrian Sutil forcing the safety car out on the first lap. On the replay Perez goes too hot into the corner, tapping the Ferrari of Raikkonen and Sutil is caught up in the middle of it. Magnussen, Button, Vettel and Gutierrez opt to pit for the prime tyre.
18th: Sutil (Accident)
17th: Perez (Accident)
Lap 5: We are racing again with Rosberg slowing the pack up to a walking pace, but leads Hamilton through the first corner. Massa gets a great run on Bottas and Ricciardo who had a poor first lap of the race has fought his way past Alonso and back into fifth place.
Lap 9: It is likely the Mercedes duo will both do a two-stop strategy but whether they will go for differing tyre options in their first pitstops is a possibility. Hamilton closes to one-second of Rosberg and into DRS distance.
Lap 16: Pitstops aplenty as Rosberg pits giving Hamilton the lead, whilst Ricciardo manages the undercut to overtake Bottas for 7th place – and a net 4th position. Later in the lap, Bottas has a go at Ricciardo in a move reminiscent of Hamilton on Vettel back in 2012. Hamilton pits and the tyre option is the same as Rosberg, both opting for the prime tyre.
Lap 18: Nico Hulkenberg grinds to a halt for an unknown reason easing the battle between Force India to McLaren in the Constructors Championship. Meanwhile Alonso breezes past Vettel for 9th place. A third way through the race and the top ten is Vettel, Alonso, Button, Magnussen, Kvyat, Bottas, Ricciardo, Massa, Hamilton and Rosberg.
16th: Hulkenberg (Unknown)
Lap 21-23: Alonso and Button are in a terrific battle for 7th place, whilst at the same time Hamilton has closed from 3 seconds down to half-a-second to Rosberg by the end of lap 23. Back to the battle between Alonso and Button, you can't help but feel it is personal for Button, but at the start of lap 24, Alonso muscles his way through.
Lap 24: Lewis Hamilton on the run down on the back straight, with DRS, cruises up to Rosberg's rear and through the exit of the next corner pushes Rosberg wide to take the lead of the race – great driving by both Hamilton and Rosberg,
Lap 26: Last years' winner, Vettel is having a torrid race. In 9th place going into lap 26, is passed by Grosjean and Vergne into the first corner. Terrible understeer on the German's Red Bull and no surprise to see him head to the pits soon after.
Lap 33-35: Ricciardo manages to undercut Massa this time and gets to third place now, the Red Bull amazingly outperforming the Williams cars. Mercedes feel they need to react and Hamilton is called into the pits. Rosberg is now told to push, and pits at the end of lap 34. Hamilton regains the lead and the Texan crowd appreciative of seeing the British driver back in first place.
Lap 41: Maldonado is issued a 5-second penalty for speeding in the pitlane which will likely be added to his total race time. Meanwhile Hamilton extends his lead up front to 2.5 seconds as the Mercedes duo are now comfortably lapping a second faster than Ricciardo in third place. With 15 laps to go the top ten runners are Vettel in 10th, behind Magnussen, Kvyat, Raikkonen, Alonso, Bottas, Massa, Ricciardo, Rosberg and then Hamilton.
Lap 44-46: Vettel is making a great come back in this race, now up to 7th place and as Alonso comes out of the pits takes the Spaniard into the first corner. Alonso does have fresher rubber so will be on the rear of Vettel for the next couple of laps. But it only takes one extra lap as Alonso gets past Vettel on the back straight, giving Vettel a view of a car that we expect him to be driving next year.
Lap 47: It is all getting close up front with the gap between the two Mercedes drivers down to just 1.9 seconds – both drivers lapping sector by sector within hundredths of each other. Back in 9th, Jenson Button is at the head of a six-car train where he leads Grosjean, Vergne, Maldonado, Raikkonen and Kvyat. Vettel pits for a new set, making that six-car train, seven.
Lap 50: Jenson is showing superb defensive driving here – he is clearly managing an issue here but the chasing pack is showing some great action here in Texas. Vergne goes hot into turn one kissing Grosjean's Lotus as he passes the fellow countryman in to 9th place,
5 Laps to go: Hamilton is stretching his lead again back to 2.4 seconds ahead of Rosberg, and the pair are now catching the far more exciting battle on the track of this pack of seven cars. Vettel has managed to get past Kvyat and unto 12th place.
3 Laps to go: Vergne manages to get past Button and now Maldonado is eying up the British driver. Maldonado who has not scored a point this year is currently in 10th and one point, but now makes it two as he passes Jenson. Button is then passed by Vettel as he falls down the pecking order. It certainly looks like a lot of fun out there in the mid-pack.
Final Lap: Hamilton is closing up on the backmarkers now but starts the last lap in the lead. Vettel passes Magnussen to get up to 7th, but all eyes are on Lewis who takes the chequered flag for the fifth consecutive time, 10th race win of the year and becomes the leading British F1 driver in terms of race wins, to 32.
Classified Results:
15th: Kvyat
14th: Gutierrez
13th: Raikkonen

12th: Button
11th: Grosjean
10th: Vergne
9th: Maldonado
8th: Magnussen
7th: Vettel
6th: Alonso
5th: Bottas
4th: Massa
3rd: Ricciardo
2nd: Rosberg
1st: Hamilton