Earlier this month, peripheral manufacturer Thrustmaster started to tease an upcoming Ferrari-branded wheel for Xbox 360. At long last, we now have details on the mystery product but that wasn't all – it turns out we will be treated to a trio of Ferrari racing hardware throughout this Autumn.
Without further ado, here's our round-up of what Thrustmaster have in-store for us over the next couple of months:
Ferrari Vibration GT Cockpit 458 Italia Edition
First up is the (deep breath) Ferrari Vibration GT Cockpit 458 Italia Edition, the successor to Thrustmaster's previous Ferrari 458 Italia wheel that was teased earlier this month, designed exclusively for the Xbox 360.
On first glance, you might think that yet another Ferrari replica wheel isn't exactly something of a revolution for the market, but we think Thrustmaster might be onto something here.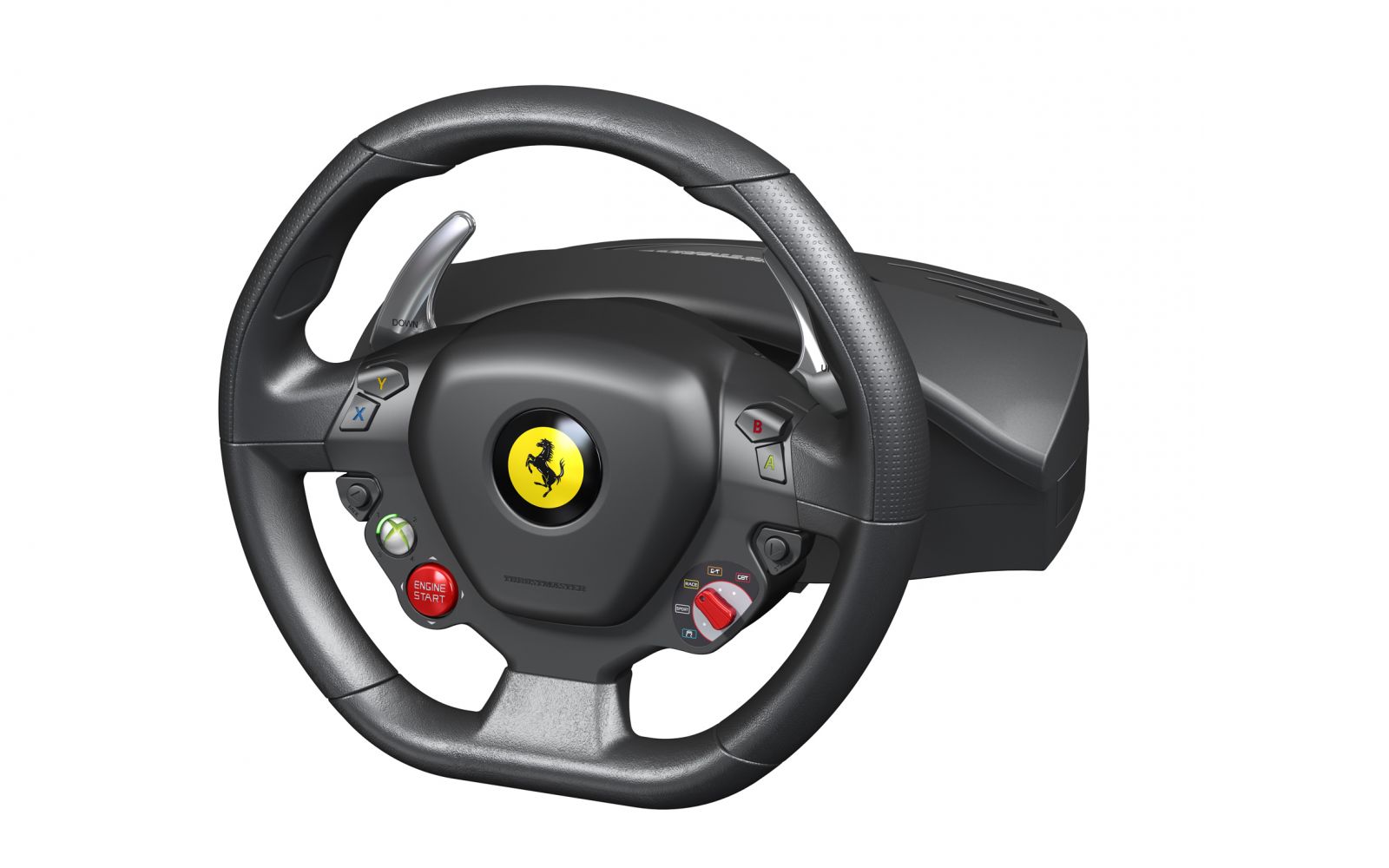 Whereas other wheels require you to either awkwardly clamp the unit to a table or buy an additional, and often costly, stand, the Ferrari Cockpit wheel comes attached to a fully adjustable metal column that's built into the base of the unit which houses the steel pedals – essentially offering similar functionality to that of a Wheel Stand Pro. Like the Wheel Stand Pro, the cockpit can collapse into the base for convenient storage and even has a handy carrier handle.
In truth, it's not the first model of its ilk, as Thrustmaster released a similar F430 cockpit unit in 2010. Considering that most console gamers probably prefer to slump on the sofa in front of the TV to play a racing game rather than sit at a desk, it's surprising that other manufacturer's haven't thought to devise a similar unit before.
Both the F430 cockpit and 458 Italia wheel didn't feature the all-important force feedback however, which let the peripherals down considerably. To counter this, Thrustmaster are keen to emphasise the Ferrari Cockpit's new "global vibration system," which sends vibrations throughout the entire unit affecting the wheel, column and pedals. It still isn't authentic force feedback, though – while this must keep the cost down, its absense is still sorely disappointing.
As for the wheel itself, the new model has undergone a few aesthetic changes. As you would expect, all the standard Xbox 360 buttons are in place of the indicators, with the d-pad now molded into the engine start button. Brushed metal paddles cover the rear of the unit, and the wheel is coated with rubber padding. We'll stick to leather, thanks.
The Ferrari Cockpit will be available in October at a suggested retail price of £279.99. Without a hands-on we can't vouch on the Ferrari Cockpit's credentials, but it certainly sounds like a clever concept. The lack of true force feedback is cause for concern however, and the fact still remains that you can acquire Logitech's G27 for a similar price which comes with full force feedback, a full pedal set, a gear shift and leather trim. Pity, then, that it isn't compatible for Xbox 360.
Still, the fact that the Xbox 360 has been deprived of a quality, affordable wheel unit after Microsoft ceased production of their official wheel increases the Ferrari Cockpit's chances to flourish and compete with Fanatec's higher-end CSR wheels.

Ferrari Challenge Wheel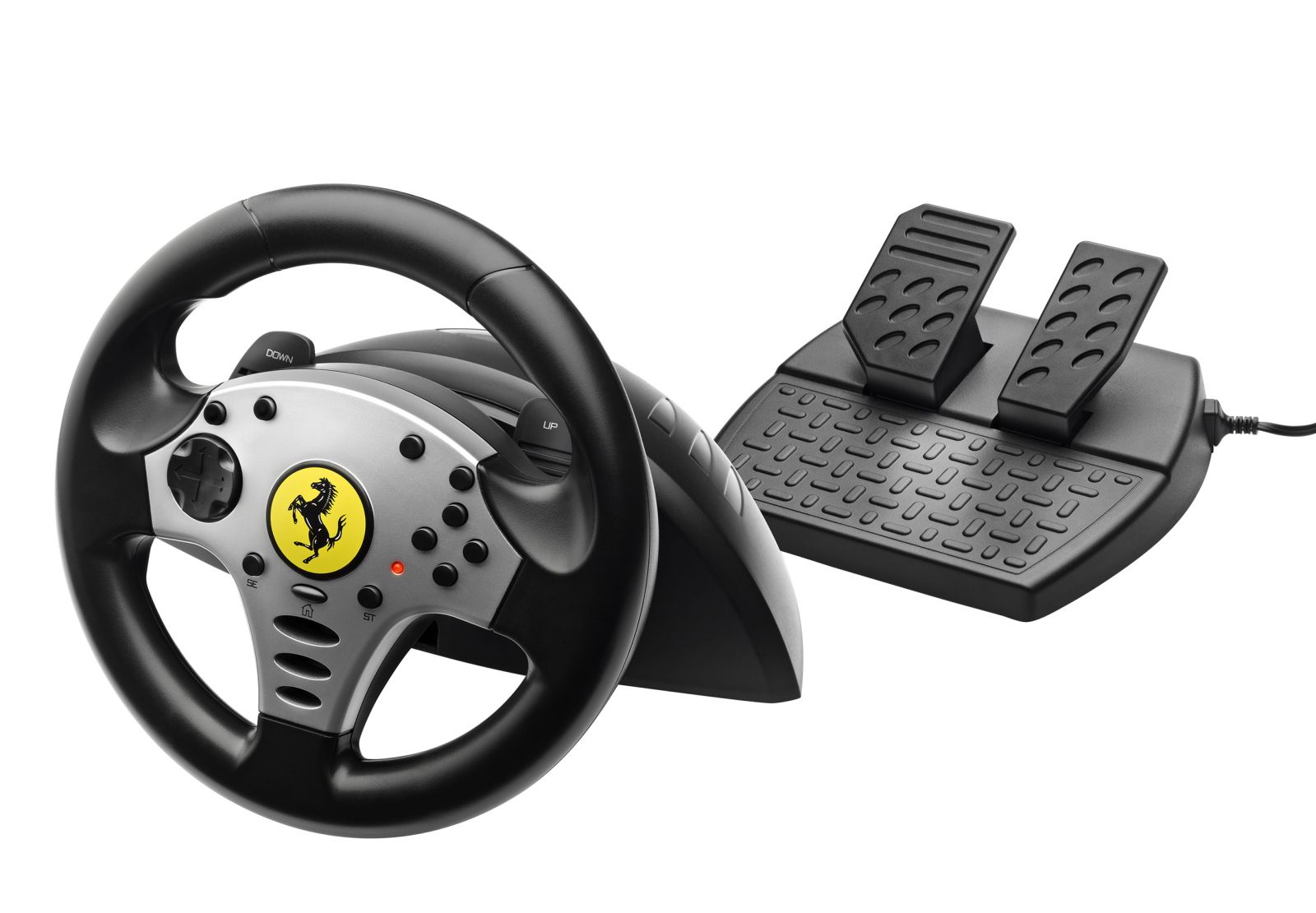 Next up we have a revamp of the entry-level Ferrari Challenge wheel for PS3 and PC, just so that they don't feel left out. The budget wheel is said to have 3 additional buttons, optimised mechanical components and a brand new pedal set with more refined ergonomics.
Due for release in September, its €29.99 RRP suggests it won't be in the same league as the Ferrari Cockpit, and therefore caters for a much more casual market. The last edition of the Ferrari Challenge reportedly had compatibility issues however, so hopefully these will now be resolved.
GPX LightBack Ferrari F1 Edition Gamepad
What is it with Thrustmaster and long-winded titles for their products? Anyway, Thrustmaster havealso had a crack at crafting a controller specifically designed with racing games in mind. On the surface it looks like a standard, albeit corded, Xbox 360 controller with a custom colour scheme that vaguely resembles the nose of the Ferrari F1, sponsorship logos and all.
Beyond its infantile cosmetics, Thrustmaster have highlighted two unique features they think that avid players of racing games will appreciate. According to Thrustmaster, the thumb sticks not only boast twice the level of precision found in any other controller but also contain backlights which "illuminates in sync with in-game events." Meanwhile, eight built-in LED lights found on the front of the controller serve as a dynamic speed guage, responding to your in-game actions for engine speed and braking power.
The GPX LightBack Ferrari F1 Edition Gamepad will launch in September retailing for around €49.99.
What do you think of Thrustmaster's latest line-up of petrolhead peripherals? Let us know in the comments below, or leave us a message on our Facebook page or our brand new forum.