Racing game fanatics may know Thrustmaster for its racing wheels like the T300 Ferrari GTE and T-GT, but the company originally mainly specialised in flight simulation equipment, which it still produces today. Ahead of E3, Thrustmaster has unveiled two new premium peripherals that form a part of a new innovative flight simulation product eco system.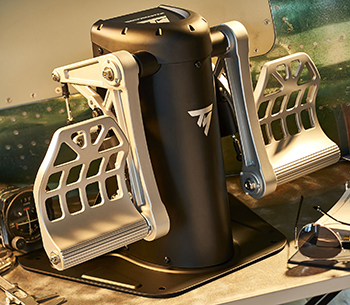 First up is the TPR Rudder System. Designed for hardcore flight sim fanatics, Thrustmaster boasts its new accessory is so high-end it's been "essentially ripped from the fuselage of an aircraft and made compatible for gaming systems." Weighing 15-pounds and constructed from steel and aluminium, Thrustmaster's precision engineering and PENDUL_R™ technology make it the first ever mass-market pendular rudder systems and "one of the most advanced products ever offered to fans of flight sims and flying games."
The TPR Rudder's unique suspended pendular mechanics combine with minute HEART magnetic readings to provide "unprecedented precision and fluidity" on each of the three axes. From the chassis to the toe brake, no detail has been overlooked. Whether you're dog-fighting in a modern combat jet, landing commercial airliners or private jets, or exploring outer space, Thrustmaster says the TPR Rudder system provides precise control right down to the smallest details and adjustments. Pricing and availability hasn't been officially announced yet, but our PR contact hinted it will cost around $500 (£373).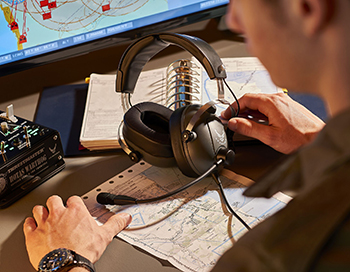 In addition, Thrustmaster has also announced the T-Flight U.S. Air Force Edition Headset to complement the TPR Rudder system. Inspired by design specifications requested from actual military pilots and virtual pilots from the community, the T-Flight U.S. Air Force Edition Headset features crystal-clear audio, minimal distortion and long-term cushioned comfort.
Thanks to its 50mm analytic drivers with stable frequency response curve, the T-Flight U.S. Air Force Edition Headset balances bass, mid-range and treble and optimises distortion control to less than one percent between brackets. It also has one-inch thick, over-ear memory foam that isolates outside noise, and an integrated gel layer keeps your head cool after long play sessions. To communicate with other squadron members, a high-performance, unidirectional microphone is also included. Both peripherals will be playable at E3.