Thrustmaster has welcomed another new member into its family (or ecosystem, as they like to call it) of racing peripherals: the T3PA-Pro pedal set. Essentially, it's a deluxe version of the already high-end T3PA pedals – those who already bought the Tstandard T3PA pedals (full review coming for that soon) will probably be seething with rage after reading this.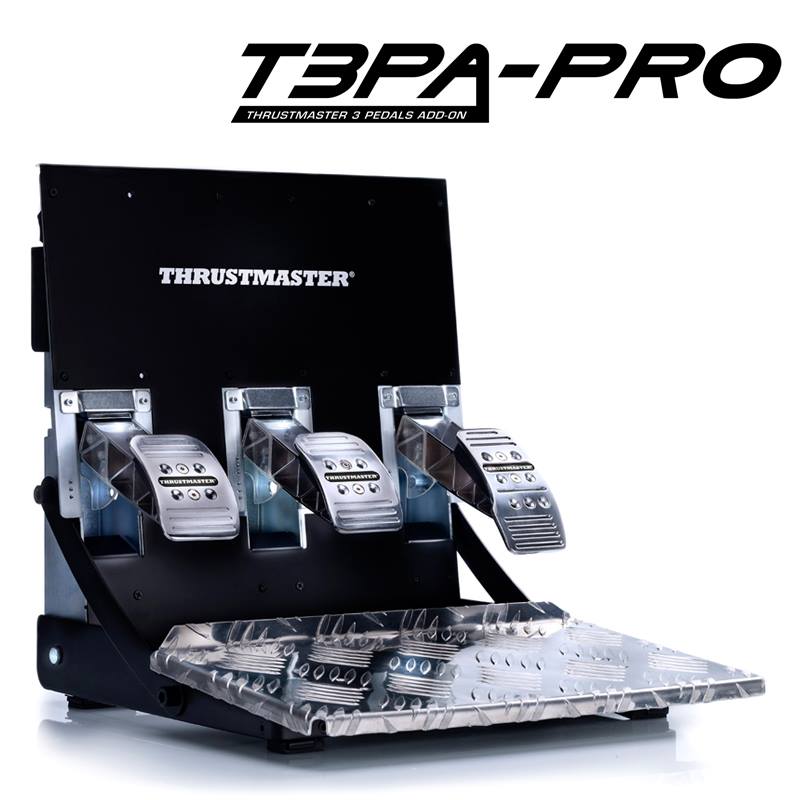 Like the recently revealed TM Leather 28 GT Wheel rim, the T3PA-Pro is unquestionably high-end, constructed with premium materials from every facet. It's 100% metal – that includes the 3 pedals, its structure (both external and internal) and the non-slip footrest.
It's also fully adjustable: each of its 3 pedals can be modified extensively, from the spacing (3 possible positions per pedal), angle of inclination (2 possible positions per pedal) and height (4 possible positions for the gas pedal / 3 possible positions for the brake and clutch pedals). Even the pedal base can be adjusted to suit playing styles, allowing you to use a floor-mounted position (F1-style), or suspended position (GT-style).
Furthermore, the T3PA Pro pedals include two removable mods, allowing you to adjust the range of travel, pressure force and type of braking applied to the pedal, which of course can be instrumental for racing strategies. The first spring mod is an additional compression spring, whereby the pressure force can be adjusted between 30 and 35 pounds. The second conical brake mod, which came with the T300 wheel, is a conical stop made from industrial-grade high-density rubber: its pressure force can be adjusted between 45 and 70 pounds, allowing for tactile progressive resistance.
And because it's part of Thrustmaster's ecosystem, the T3PA Pro pedals are compatible with the full range of Thrustmaster T wheels: the T300 RS, T300 Ferrari GTE, T500 RS, Ferrari F1 Wheel Integral T500, TX Racing Wheel Ferrari 458 Italia Edition and Ferrari 458 Spider Racing Wheel.
It's probably no coincidence that the T3PA Pro pedals appear to be virtually identical in form and function to the pedals that were bundled with the T500RS pictured below. What's significant here however is that those pedals were never available standalone unless you could find them preowned, so the belated release of the similar-looking T3PA Pro pedals is certainly welcome. The only subtle differences I can see are the new colour scheme and the addition of the conical brake mod.
The T3PA Pro pedals can be ordered directly from Thrustmaster's website for 169.99€ / £149.99. A US release is expected in April, where it will retail for $169.99.