Thrustmaster has revealed the first racing LED display developed exclusively for PS4. The wireless BT LED display is designed for competitive racers, but you don't need to be a wheel user. Because it uses bluetooth, the display can be positioned anywhere so you can also use it with a Dualshock 4 controller.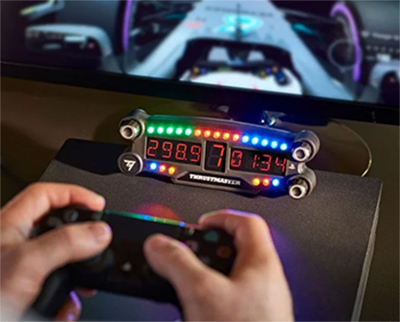 Using LEDs and displays, it lets racers view information such as engine speed (tachometer/revolutions per minute), lap in progress, current gear and time. The BT LED display features 15 built-in LEDs for the revs, while a central numeric display shows the current gear. Left and right alphanumeric displays feature four characters and 14 segments per display. There's also an on/off button, six marshalling LEDs , three rotary selectors with a push-button feature, and adjustable brightness.
The BT LED Display features a lithium-ion battery, which lasts between 24 and 48 hours on a single charge. It can be recharged using a micro-USB cable, like the one used for charging the Dualshock 4 controller.
The first games to support Thrusmaster's BT LED Display unit are DiRT 4, WRC 7, F1 2017, Project CARS 2 and Gravel. We're surprised not to see Gran Turismo Sport on that list since the flagship T-GT is a GT-branded wheel, but support could still be added in a future update.
"We are delighted to be able to support the new BT LED Display. Thrustmaster has created a great solution that further immerses our PS4™ players into our racing games," said Andy Gray, eSports and Brand Partnerships Manager at Codemasters. "Both F1 2017 and DiRT 4 support the device and it gives players a wide variety of easy-to-view information that will be extremely helpful and a big advantage."
"The BT LED Display offers you a great advantage while playing WRC 7 on the PS4 system," Sébastien Waxin, Marketing Project Manager on Racing Games at Bigben, added. "It really helps you to get the perfect timing for shifting but also to check your time and performance during a stage. For top players, having this advantage in WRC 7 will allow them to save precious tenths of a second and make the difference."
The BT LED Display can be ordered on the official Thrustmaster website for £139.99.