Following on from the momentous Speed pack, EA has announced a truckload of DLC for Need for Speed: Most Wanted which will be spread across three separate packs adding numerous new cars, game modes and a new play area for Fairhaven City.
Check out this new announcement trailer before our breakdown of each DLC below:
​Movie Legends
Car film buffs like yours truly will certainly relish this pack featuring five movie car stars: both of Bond's most iconic Aston Martins, the classic DB5 and the contemporary DBS are present, as is the 1977 Pontiac Trans-Am from Smokey and the Bandit (the first film, naturally) and the 1970 Dodge Charger R/T as featured in The Fast and the Furious, a muscle car that presumably only Vin Diesel's burly biceps can handle.
There's also the 1967 Shelby GT500, better known as Eleanor from Gone in 60 Seconds. Although, if I'm being pedantic, they've used the wrong Eleanor – not only is the front and rear bumper inaccurate if this is meant to be a true Eleanor replica (we'll put that down to licensing issues), but, as Driver: San Francisco's Martin Edmondson will no doubt also attest, the only Eleanor that belongs to my heart is the 1973 Ford Mustang Mach 1 from the original 1974 cult film by the late HB Halicki.
You'll also get 8 new single player sprint events, 136 new multiplayer milestones, 50 new license plates and more.
A fairly predictable car roster, and one which Criterion has attempted before in Burnout Paradise with the Legendary Cars DLC. Having said that, where's the Bullitt Ford Mustang? No General Lee? What about the Back to the Future DeLorean? No? Wah…
Terminal Velocity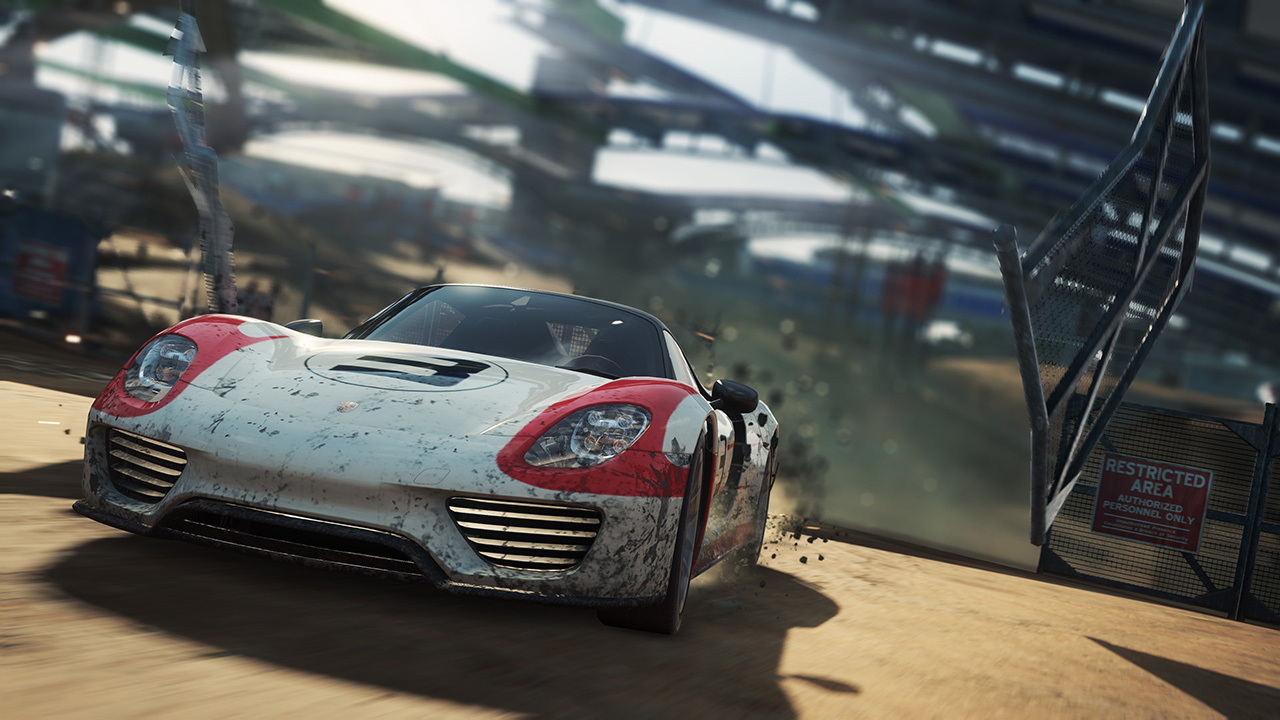 Terminal Velocity is the most meaty pack out of the three, which adds a cluster of new cars along with a new map area and some additional game modes.
The most notable addition is the inclusion of the Hughes Airport, an entirely new area added to Fairhaven that will be rife with jump and drifting opportunities. In fact, we predict it will be similar to the airport featured in Burnout Paradise, which was often a favourite meeting point in online Freedrive to lark about in, so it should hopefully get a similar following in Most Wanted. Whether or not it warrants a post-DLC release is up for debate, but Criterion did an excellent job with the Big Surf Island expansion for Burnout Paradise. Then again, that was a standalone map pack with just one additional car, so it probably won't be quite as large as the aforementioned Burnout Paradise expansion.
Speaking of cars, a slew of contemporary speed machines have been handpicked for their agile handling and lightweight chassis that should make light work of the airport's twists and turns. New additions include the 2013 Porsche 918 Spyder, 2012 BMW 1 Series M Coupe, 2012 Audi RS3, 2012 Ford Fiesta ST and the 2012 Alfa Romeo Mito QV. New single player game modes are also promised, although none have been revealed yet apart from the Drift Attack mode seen in the trailer.
And that's not all. Completists will have their work cut out, as the Terminal Velocity pack also adds 136 new multiplayer milestones, 10 new multiplayer speedlists, 40 new billboards, 8 new achievements and more to keep you busy.
Heroes
As a homage to the Need for Speed games of the past, the Heroes pack reprises five fan favourite cars from some of the series' greatest hits. So you get the the Lamborghini Diablo SV from Need for Speed III Hot Pursuit; Need for Speed: Underground's Nissan Skyline GT-R; the Nissan 350Z from Need for Speed Underground 2 the Porsche 911 GT2 from Need for Speed Undercover and, unsurprisingly, the flagship BMW M3 GTR that graced the cover of the original Need for Speed Most Wanted back in 2005.
You can discount the M3 GTR, though, as the exact same car was already included in Criterion's Most Wanted as a throwback to the original – the only difference with the DLC version is that it sports the same livery as seen in 2005's incarnation. Still, at least we can finally drive a Skyline in Most Wanted, but did we really need another Porsche 911? And can you really classify Need for Speed: Undercover as a fan favourite game in the series? I think not.
Heroes also comes with 25 new liveries, 136 new multiplayer milestones and more.
As for pricing details, you'll be able to nab all three DLCs in a deluxe bundle with 25% off for £20.00/$24.99/2000 MPS. Alternatively, both the Heroes and Movie Legends car packs will be available separately at £7.99/$9.99/800 MSP, whereas Terminal Velocity's beefier content raises the asking price up to £11.99/$14.99/1200 MSP,
All three DLC packs are currently available on XBLA and PSN (Europeans will have to wait for Wednesday's PSN update, however).
​
Will you be taking the plunge for this latest DLC bundle? Let us know in the comments below, on our Facebook page or on our forum.