It's fair to say we were absolutely spoiled with racing games in 2017, in what was a landmark year for the genre. In the space of just one month, we witnessed three contenders from major franchises jostle for position in a spectacular race to the finish line. After a long four year wait, Gran Turismo made its belated debut on PS4 with the release of the online eSports-focused Gran Turismo Sport, but it faced stiff competition from its Xbox rival franchise. Forza Motorsport 7 boasted the most comprehensive car selection of any racing game released this generation, as well as crisp 4K graphics and a new, more engrossing career mode.
Taking on these two racing game goliaths was Slightly Mad Studios' racing simulation Project CARS 2. As the least established IP, Project CARS 2 was the ambitious underdog with huge potential, promising to be most authentic racing simulation ever made with a diverse variety of racing disciplines, an innovative dynamic weather system, and an unrivalled track selection. Annual licensed games such as MXGP 3, MotoGP 17, WRC 7, and F1 2017 also all saw significant improvements that elevated them above typical incremental updates, while futuristic racing fans were treated to the long-awaited comeback of the WipEout series with the release of WipEout: Omega Collection.
You can view the full list of nominations for the Team VVV Racing Game of the Year Awards 2018 here.
Best Vehicle Selection
People often rate racing games based on the number of cars it has – but it's the quality where it counts. Gran Turismo 6 may still hold the record for the largest number of cars in a racing game, but there are some glaring omissions, and it's obvious the developer padded out the selection with near-identical car models. Thankfully, there was no shortage of automotive diversity in the racing games of 2017.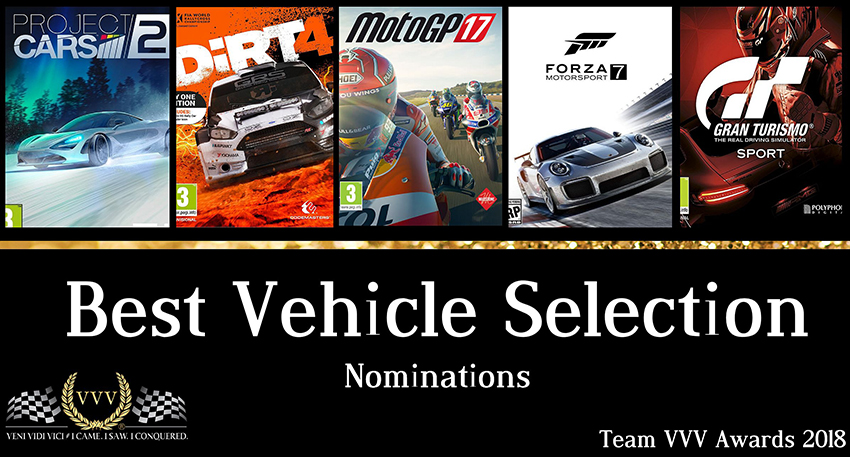 Honourable Mentions
Project CARS 2
Project CARS 2 may not have the largest vehicle roster but it certainly has one of the most well-curated, with 180 cars spread across five main disciplines featuring everything from single-seaters and GT racers, to tail-happy rallycross monsters. Its selection of thoroughbred racing cars is second to none, including arguably the most complete representation of GT3 racing, while Ferrari, Lamborghini, and Porsche debuted in the series for the first time, expanding the road car roster and pitting Project CARS 2 against its more established competitors.
One of the most significant supercars of 2017, the McLaren 720S, also made its racing game debut in Project CARS 2, which is a testament to the developer's growing relationship with car manufacturers. Crucially, every class is fleshed out, reducing the chances of racing against a field of identical cars.
Gran Turismo Sport
With less than 200 cars at launch, Gran Turismo Sport's vehicle selections is one of the smallest in the series' history, but each has been remodelled from scratch resulting in the most detailed car models in any racing game – Kazunori has even said the assets are of such high quality that they can be used for the next ten years. You won't find dozens of near-identical Nissan Skylines this time. For car enthusiasts, virtual museums provide insightful histories of some of the manufacturers. Gran Turismo Sport also features unique concept cars you won't find in any other racing game developed by manufacturers exclusively for the game as part of the Vision Gran Turismo program, though they represent a surprisingly large portion of the selection.
Sadly, there are still many glaring omissions, and the car list feels woefully outdated in places. For example, you can drive the Ferrari 458 Italia, but its replacement, the 488 GTB, isn't included. Fortunately, Polyphony Digital has already added dozens of new cars in free monthly updates and the car list continues to expand.
DiRT 4
While the WRC series is restricted to the licensed rally cars that compete in the championship each year, Codemasters has free reign to feature rally cars from multiple eras. DiRT 4 was no exception, featuring a variety of iconic rally cars from modern machines like the Subaru Impreza WRX STi and Mitsubishi Lancer Evolution X, to historic classics like the Alpine A110, Lancia Stratos, and Audi Sport quattro E2, plus a selection of official rallycross cars. Other classes like Landrush could have been more fleshed out, however.
MotoGP 17
Developers are obviously restricted when curating the vehicle selection for an officially licensed game, but MotoGP 17 features a surprisingly varied selection of bikes. Not only do licensed bikes from the official MotoGP championship feature, but Moto2, Moto3 and Red Bull Rookie classes are also fully represented along with historical bikes and riders. It's a selection that provides great fan service and a great example of how to overcome the strict limitations of an officially licensed racing game.
Winner: Forza Motorsport 7
In the current generation, Forza Motorsport is the only game with a focus on car collecting – and what a gargantuan collection it is. Forza Motorsport 7's car collection has expanded considerably since its initial launch thanks to monthly car packs that have added new cars to the series – including the mighty Bugatti Chiron, one of the most commonly requested cars by the community. If you're a petrolhead, your dream car garage is waiting for you in Forza Motorsport 7.
Do you agree with our winner? Let us know in the comments below. Check back soon for more Team VVV Awards 2018 coverage on the website and YouTube channel throughout March.