It's fair to say we were absolutely spoiled with racing games in 2017, in what was a landmark year for the genre. In the space of just one month, we witnessed three contenders from major franchises jostle for position in a spectacular race to the finish line. After a long four year wait, Gran Turismo made its belated debut on PS4 with the release of the online eSports-focused Gran Turismo Sport, but it faced stiff competition from its Xbox rival franchise. Forza Motorsport 7 boasted the most comprehensive car selection of any racing game released this generation, as well as crisp 4K graphics and a new, more engrossing career mode.
Taking on these two racing game goliaths was Slightly Mad Studios' racing simulation Project CARS 2. As the least established IP, Project CARS 2 was the ambitious underdog with huge potential, promising to be most authentic racing simulation ever made with a diverse variety of racing disciplines, an innovative dynamic weather system, and an unrivalled track selection. Annual licensed games such as MXGP 3, MotoGP 17, WRC 7, and F1 2017 also all saw significant improvements that elevated them above typical incremental updates, while futuristic racing fans were treated to the long-awaited comeback of the WipEout series with the release of WipEout: Omega Collection.
You can view the full list of nominations for the Team VVV Racing Game of the Year Awards 2018 here.
Best Post-Release Support
In the age of downloadable updates, video games are constantly evolving. Not to be confused with DLC, our new Best Post-Release Support award recognises the continuous efforts developers have made to constantly improve a game years after release, whether it's responding to the community, releasing patches to fix bugs, improve the graphics, physics and audio, or add additional game modes that transform the experience.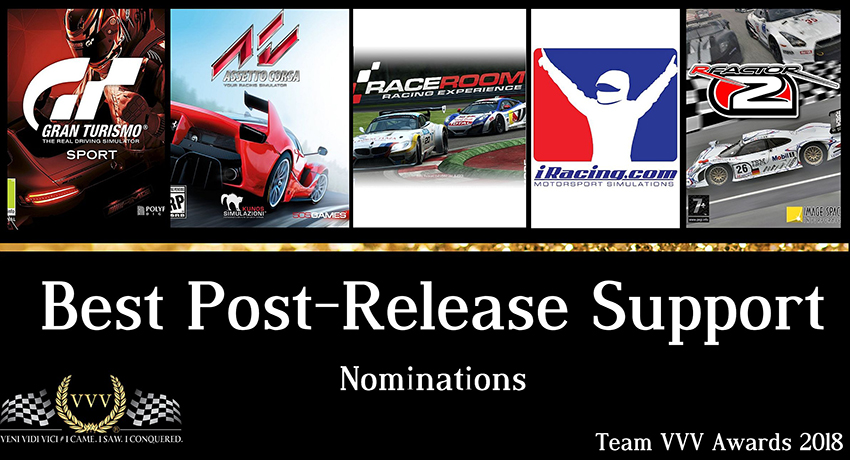 Gran Turismo Sport
One of the most common complaints about Gran Turismo Sport is its lack of content compared to previous games in the series, which featured hundreds of cars and dozens of tracks. By contrast, Gran Turismo Sport has a much smaller selection of cars, and several of the series' most iconic fictional tracks are sorely missing. Fortunately, Polyphony has been improving the game with substantial updates every month since launch, adding more cars, tracks and game modes. Since the game launched, a
long-requested single player campaign has been added
, and the car list continues to expand with some of the series' most iconic models. Best of all, every update has been free.
iRacing
Subscription-based online PC racer iRacing has seen numerous updates in the last year that have fundamentally transformed the experience. New
dirt tracks and sprint cars
added a completely new style of racing to the package last year, while
Oculus Rift and HTC Vive support
added new levels of immersion and the tyre model is constantly improving. 2018 promises to be an evolutionary year for iRacing too, as further updates will add a new
time attack mode, a redesigned UI
, and
single player AI
, which will transform the experience and potentially attract new players.
Assetto Corsa
Assetto Corsa was released way back in 2013 on Steam, but Kunos Simulazioni's sublime racing simulation continues to evolve. A thriving modding community has been keeping the game fresh, while official updates have added free tracks including the
Highlands road circuit set in Scotland
and a quality roster of new cars like the
Ferrari 70th Anniversary Pack
.
rFactor 2
rFactor 2 has been overshadowed by some of its competitors, but that doesn't mean you should ignore it.
DirectX 11 and VR support
were added to the racing simulation last year, and the release of desirable new cars like the
McLaren 650S
and
licensed Formula E content
have been keeping its loyal community occupied.
Winner: Raceroom Racing Experience
Raceroom Racing Experience often doesn't get the recognition it deserves in the sim racing world, despite having an excellent selection of cars and tracks, realistic physics, and arguably the best audio effects in any racing simulation. Like Assetto Corsa, R3E is still evolving despite being released five years ago.
The force feedback has improved tremendously over the years, while new Flag Rules implemented in 2017 added to the authenticity. Iconic racetracks such as Imola were added to the game, while the first Porsche pack marked the start of many to come as part of Sector3 Studios' long-term partnership with the German automaker. Above all, Sector3 Studios has done a commendable job improving the game as a long-term service, with recent updates adding triple screen support as well as improvements to the continually evolving physics. R3E is a racing simulation that keeps on giving and deserves more recognition.
Do you agree with our winner? Let us know in the comments below. Check back soon for more Team VVV Awards 2018 coverage on the website and YouTube channel throughout March.