It's fair to say we were absolutely spoiled with racing games in 2017, in what was a landmark year for the genre. In the space of just one month, we witnessed three contenders from major franchises jostle for position in a spectacular race to the finish line. After a long four year wait, Gran Turismo made its belated debut on PS4 with the release of the online eSports-focused Gran Turismo Sport, but it faced stiff competition from its Xbox rival franchise. Forza Motorsport 7 boasted the most comprehensive car selection of any racing game released this generation, as well as crisp 4K graphics and a new, more engrossing career mode.
Taking on these two racing game goliaths was Slightly Mad Studios' racing simulation Project CARS 2. As the least established IP, Project CARS 2 was the ambitious underdog with huge potential, promising to be most authentic racing simulation ever made with a diverse variety of racing disciplines, an innovative dynamic weather system, and an unrivalled track selection. Annual licensed games such as MXGP 3, MotoGP 17, WRC 7, and F1 2017 also all saw significant improvements that elevated them above typical incremental updates, while futuristic racing fans were treated to the long-awaited comeback of the WipEout series with the release of WipEout: Omega Collection.
You can view the full list of nominations for the Team VVV Racing Game of the Year Awards 2018 here.
Best Graphics
Racing games are often seen as a benchmark for game graphics. From meticulously modelled cars, to eye-pleasing environments and ultra-realistic weather effects, racing games have supplied us with plenty of graphical goodness over the years. 2017 was no exception, particularly with first-party titles utilising the more powerful PS4 Pro and Xbox One X to deliver unparalleled visual fidelity running in 4K and 60fps.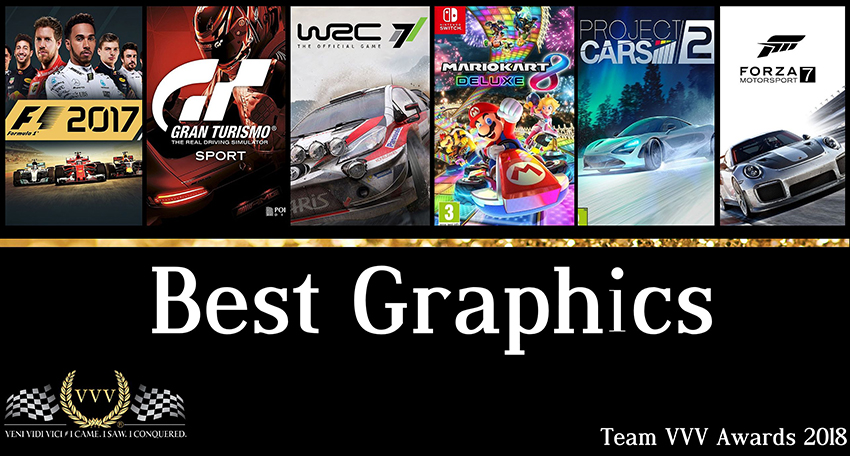 Forza Motorsport 7
Once again, Forza Motorsport 7 dazzled players with visuals that showcased the extra horsepower of the Xbox One X hardware, with beautiful graphics running at native 4K and 60 fps. Even on a 1080p TV, the fidelity on display in Forza Motorsport 7 is stunning, with impeccably detailed car models, realistic weather effects and lighting, and environments that look photorealistic at times thanks to high-quality textures – particularly in the new Dubai circuit.
WRC 7
Visually, WRC 7 was a significant step up from its predecessor with improved lighting that brought the environments to life in contrast to the sterile user-generated tracks in DiRT 4, and richly detailed trackside foliage and objects. It was also much better optimised on consoles, running at a consistently smooth frame rate unlike previous games in the series.
F1 2017
While DiRT 4 was graphically inferior to DiRT Rally, F1 2017 is a commendable technical achievement. It may not be as visually striking as other games released in 2017, but the game runs at 4K and 60fps on PS4 Pro and Xbox One X putting it on par with the PC version, which is no small feat considering it has to render a full grid of 20 cars.
Project CARS 2
Project CARS 2 looks phenomenal at times but it doesn't look as polished as its predecessor. This can probably be attributed to the game's advanced LiveTrack 3.0 technology bringing dynamic time of day and weather effects, which unsurprisingly puts a strain on the hardware. Nevertheless, Project CARS 2 is still visually impressive, particularly when you consider that it runs at 60fps despite being a multi-format title unlike its rivals.
Mario Kart 8: Deluxe
Mario Kart 8: Deluxe looks spectacular on the Nintendo Switch and is an excellent showcase of the hardware. Its vibrant environments make the visuals pop, the driver animations are incredibly detailed, and the game runs at a buttery smooth frame rate without a hitch. What's most impressive, however, is that there are no noticeable compromises when playing the game in Handheld mode other than a reduction in resolution to 720p – it makes Mario Kart 7 on the 3DS look primitive by comparison. The novelty of playing a console-quality Mario Kart game in the palm of your hands simply never wears off.
Winner: Gran Turismo Sport
Gran Turismo has always set the graphical benchmark for console racing games, and Gran Turismo Sport is no exception. Running in glorious 4k resolution (albeit through checkerboard rendering) at 60 fps, the game looks absolutely spellbinding in motion, with detailed environments and phenomenally realistic lighting that outshines the competition.
Mercifully, Polyphony scrapped the old low-resolution standard models from past Gran Turismo titles and rebuilt every car from scratch, resulting in remarkably realistic car models built with assets of such high quality that the developer claims they can be used for the next 10 years. Put simply, Gran Turismo Sport is easily the best-looking racing game currently available on console, and a well-deserved winner of the Best Graphics award.
Do you agree with our winner? Let us know in the comments below. Check back soon for more Team VVV Awards 2018 coverage through March on the website and YouTube channel.