Yesterday Reiza Studios released an update to Stock Car Extreme adding Superkarts, Kansai (aka Suzuka) and a few changes here and there: see the full list here. With the update installed I decided to start up the game and take the karts for a spin around Suzuka – quite literally.
For those of you unfamiliar with Stock Car Extreme, it's on a heavily modified version of the rFactor 1 engine which means its lacking some features we've come to expect in modern race sims. The only minor gripe I have with it being on an old engine is that you have to manually set steering lock and rotation from car to car – the game doesn't do it automatically like most modern sims. For the Superkart I had my G27 on 180° and the steering lock around 16 to 18.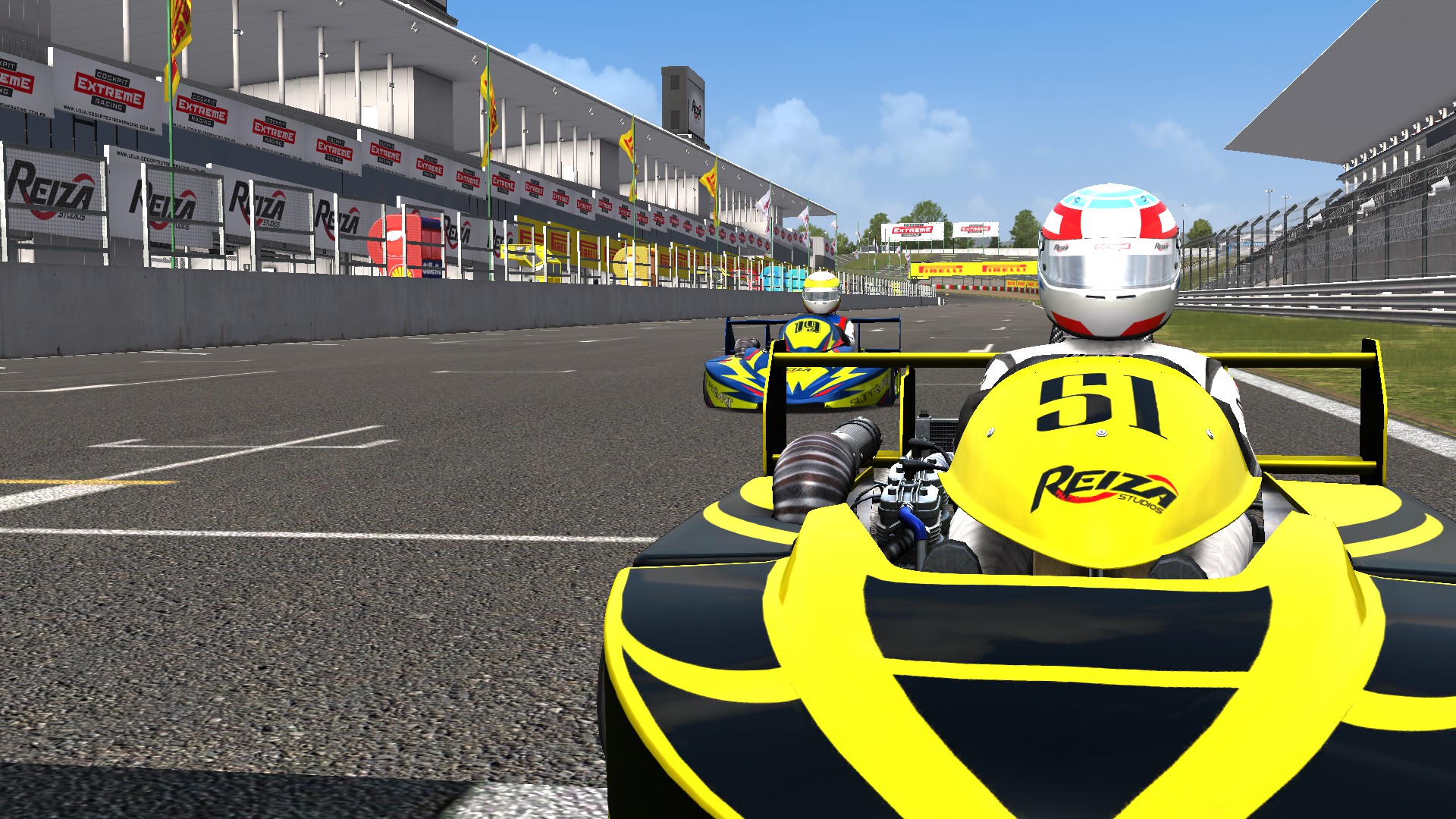 Firstly, the karts (if you can even call them karts) lap almost as fast as a Formula 3 car except have no safety or suspension to speak of. At first I found that the back end was a bit loose under braking with the default setup, moving the weight distribution forward a click along with the brake bias seemed to overcome this. Once setup properly these things are insane. Coming down a straight bouncing the revs off of the limiter in 6th, you feel like you should start braking early. Nope. This thing stops in an instant because of how light it is. Its low centre of mass also means that it's capable of taking way more speed through a corner than you'd expect. To cut a long story short, the kart is so much faster in every way than you would expect – you need to forget that it looks like a kart and drive it like the open wheeler it behaves like.
It can however be a very difficult 'car' to drive – once you start to loose traction at the rear its very snappy and hard to regain control over. Being a kart this is to be expected though. Thankfully Suzuka has massive runoffs on most corners so smashing anything is quite difficult. But once you're in the gravel pit you're screwed – the kart doesn't have to power to pull itself from the gravel so you have to just return to pit. To be honest most cars struggle getting out of gravel pits in SCE, I've burnt out Opala Stock car engines trying to get them out.
Onto the track, what can I say – it's Suzuka so of course it's awesome. There are two layouts in the update: the full track and the much shorter east circuit. Graphically the circuit looks surprisingly good considering the engine it's on is a decade old. Some people may complain that the circuits in Stock Car Extreme are too colourful but hey it's cheerful and makes a nice change from grey, realistic graphics. I've only tried the circuit with the Superkart so far but I'm sure it'll be great with the formula cars.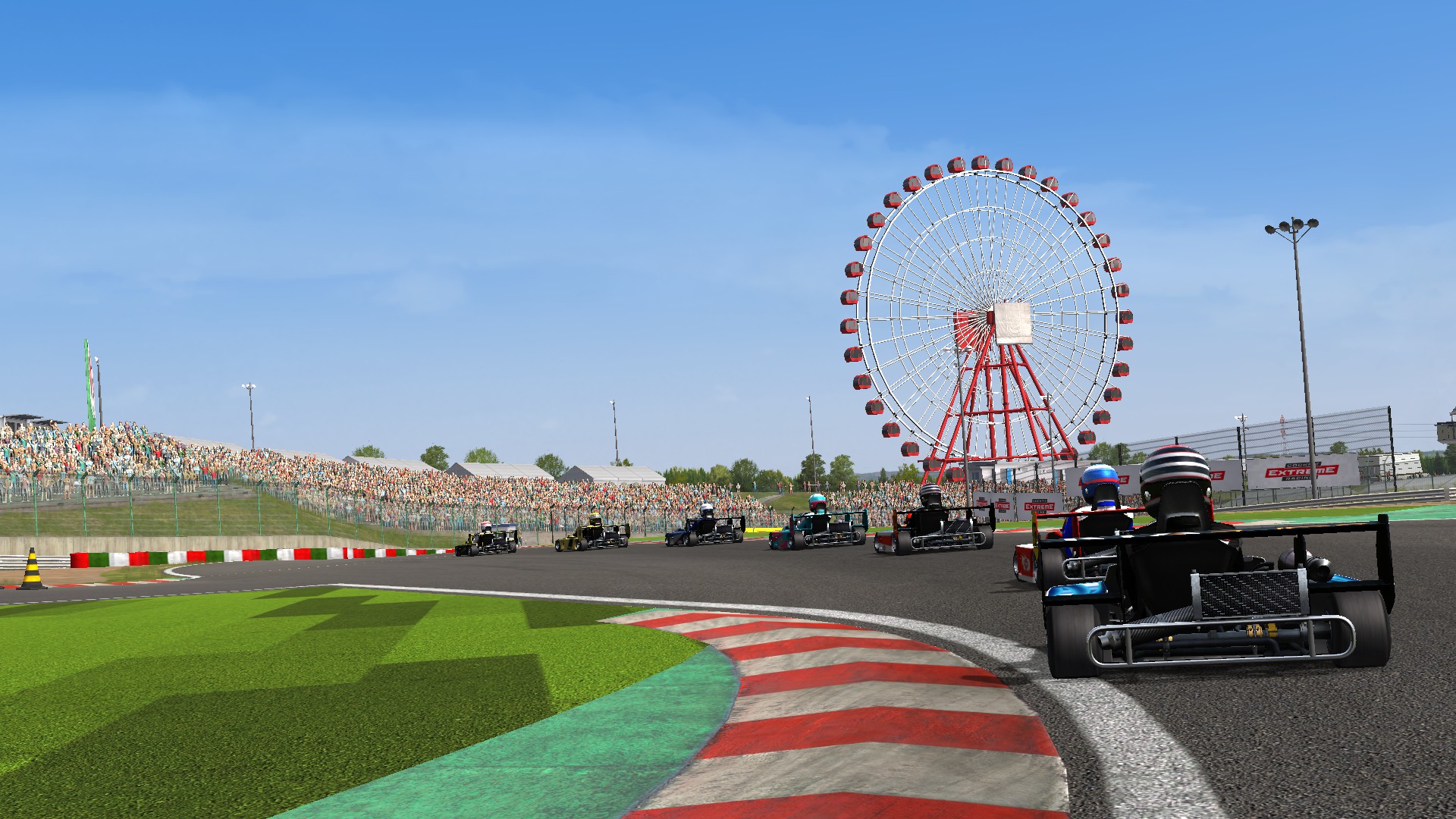 Once I had familiarised myself with the track and kart I jumped into a single race session. In qualifying and open practice the AI provided a good challenge at 110% skill and 50% aggression (which is what I usually run in Stock Car Extreme). To give you an idea of how much of a challenge they gave, I was 0.184 seconds off of the fastest time but qualified in 4th. It's nice to see this close competition from AI considering how awful they are in some games, giving absolutely no challenge. They did seem to spin off track more than usual but you can probably put this down to the kart being untameable on the limit. However, in the race they were overly aggressive, knocking me off the track on multiple occasions. You probably can tweak the settings to get them to race as well as they qualify but after a while I got frustrated and gave up. It was especially annoying considering how for the rest of the races around Suzuka they were providing a great challenge. I don't know whether this is just me or an issue with the AI for the kart or the AI pathing for Suzuka in general because usually the AI gives very good races all-round in SCE.
All in all it's a good update. It's also free so you can't complain considering many studios would charge for this kind of content – in honesty Reiza probably would have to aswell if the track was licensed. Also with the update Reiza mentioned that there's 'some big news coming up shortly which should make June a very important month'. I haven't got a clue what this could be but by sounds it's going to be more than an extra car and track.
In the meantime I'd highly recommend picking Stock Car Extreme up on Steam, the name does an injustice to the game as it's so much more than just Stock Cars. If you've already got the game, what do you think of the update?
Edit…
Running 210° to 220° and default steering lock makes it a bit easier to control the kart. Once you've completely lost control of the back end its still difficult to regain control before spinning.