The countdown for Spy Hunter's revival on its new handheld home has begun, as a new trailer confirms that all-important release date: set your sights for October 9th, people. Finally, something new to play on Vita…
In case you haven't been following our coverage, Spy Hunter is another reboot of the 1983 original (the last game feature puts you in the role of "The Agent" who drives a gadget-laden supercar known as the G-6155 Interceptor capable of firing missiles and morphing into a boat. all in the name of thwarting a global terrorist organisation hell bent on world domination. Cue James Bond theme.
Even the narration is unapologetically reminiscent of Q briefing Bond, as the trailer presents us with a glimpse of the types of foes you will be facing throughout the game that have advanced considerably since the "simple 2 dimensional foes seen in the past."
We can therefore expect to be battling against herds of pursuing black cars laden with spiked wheels, and hovering helicopter gunships by the looks of things – luckily, of course, the Interceptor is more than capable of fending off these enemies thanks to its plethora of high-tech gadgetry that should make for some intense action scene,s which the Vita is currently in short supply of in the driving game genre.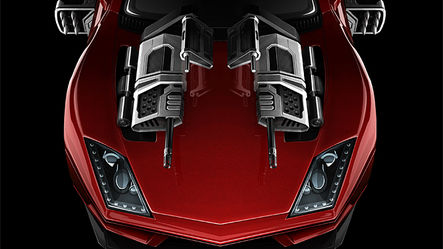 While it seems a given that Spy Hunter will deliver on the action front, we're still slightly worried that it won't flex the Vita's graphical muscles as much as it should – fingers crossed we don't get an unoptimised port of the 3DS version. Fortunately, we'll only have to wait two weeks to find out.