You would think that hardcore truck simulator games would be a niche genre that appeals a very limited audience. And yet the success of Euro Truck Simulator proves there is a dedicated market, particularly in Europe.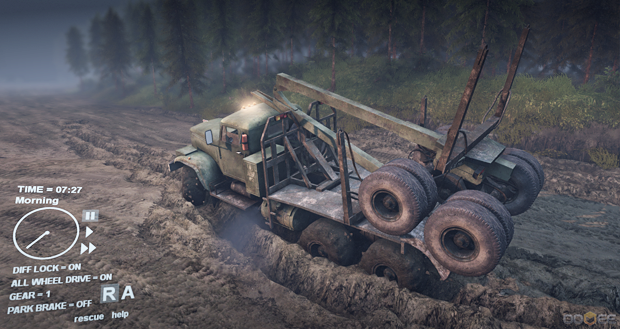 It's surprising, then, that a slew of off-road spin-offers games have so far failed to materialise whilst its popularity is currently at its peek – you could argue the genre had its heyday with the now forgotten Test Drive: Off Road series. After all, trawling down virtual motorways for hours on-end in Euro Truck Simulator becomes about as liberating as the real thing after a while.
Developed by Russia-based Oove Studios, Spin Tires is a fresh and challenging take on the off-road driving genre which you can try for yourself in a newly released tech demo.
While the full game will feature objectives that have you transporting cargo and using a compass to navigate to your destination across hazardous terrain, the demo is completely open ended. All you have to do is drive a choice of two trucks across some rugged Russian terrain.
Don't be fooled by its simple setup, however: there's some seriously sophisticated tech powering Spin Tires.
Chief among which is its impressive deformable terrain powered by the in-house VeeEngine. Veer across a dense mud bath too eagerly, and you'll soon find yourself helplessly stuck in the sludge, which reacts convincingly to your position and accumulates onto the tyres.
The accompanying vehicle physics on display are equally promising, with a smattering of options that let you alter the complexity of the driving physics such as the drivetrain and the differential lock. The final release will delve deeper still, with an option for full manual transmission, including a double clutch system, planned.
Spin Tires certainly has potential, particularly at a time when physics-based driving games have become increasingly popular thanks to games such as Trials Evolution, and its advanced physics already put it in a class of its own in the genre.
A final release date has yet to be announced, but in the meantime Oove Studios have set up a Kickstarter funding page to aid the development of the project. At the time of writing, things are looking hopeful indeed – with 8 days still remaining, £36,630 out of the target £40,000 has been raised, although additional stretch goals will enable the development of other game-enhancing features including co-operative and competitive online multiplayer and a cockpit view.