If like me you were watching Sony's E3 press conference with dosy eyes at absurd hours in the morning, then you may have noticed a brief glimpse of a curious looking attachment for the PlayStation Move as Mr. Tretton droned on about its capabilities. Suffice to say, the mystery peripheral was never formally announced.
Whatever it was, it looked aesthetically atrocious which would probably explain why Sony didn't prolong its exposure.
Well, it turns out I wasn't hallucinating from sleep deprivation as Sony have now officially announced that it's actually a PlayStation Move Racing Wheel , meaning that they have finally joined Nintendo and Microsoft in conforming to the affordable wireless wheel market.
Here's the laundry list of features:

Precise motion tracking for responsive handling of your vehicle
An innovative folding grip design will allow you to switch between racing a sports bike to a high-octane supercar
Feel the intense vibration feedback of your vehicle as you trade paint with the competition
Experience realistic gameplay action using the race car paddle shifters and motorcycle twist throttle controls
A US price of $39.99 has been announced thus far, but this doesn't include the Move controller which brings the total up to around half the price of a decent force feedback wheel. It will be released later in the year and compatible games include Gran Turismo 5, Need for Speed: Hot Pursuit, BurnOut Paradise, MotorStorm Apocalypse and the upcoming LittleBigPlanet Karting.
To put it politely, the design looks very…striking. Okay, it looks less like a racing wheel and more like a plasticy Starship Enterprise. The people responsible for this monstrosity were clearly Trekkies.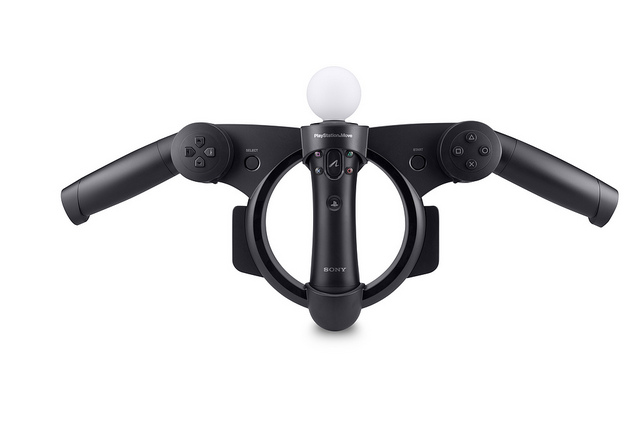 Perhaps we're being a tad unfair. It is, after all, about as far away from the luxurious Fanatec CSR Elite Wheel as you can get, clearly designed as a budget wireless wheel for the casual market. Unlike the equivilant Xbox 360 wireless wheel, it even has "vibration feedback," which probably sounds better than "feeble force feedback."
Then again, is this peripheral even necessary when we already have six axis tilt functionality in the standard controller?
What do you make of Sony's wacky wheel attachment? Sound off in the comments below or message us on our Facebook page.