Death Moto 3 is a new free to play mobile game developed by Wedo1 Games where you ride along on your motorbike while taking out your enemies with your sword and various firearms in a road rash-esque manner.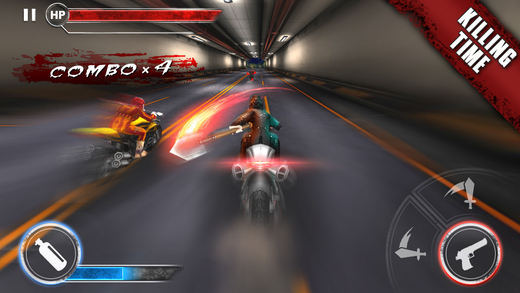 Controls are very simple and as with most mobile racing games you can steer left and right by tilting your device, a sword swipe and firearm blast can be achieved by touching the relevant icon on the bottom right of the screen.
Each race tasks you with several goals such as winning the race or killing a certain amount of motorcyclists. To help you along you'll need to pick the game's powerups which include extra health, nitro bottles to fill up your speed boost gauge and even rockets.
Collecting gold coins along the way will enable you to purchase upgrades for your motorbike such as more health and increased speed. You ofcourse have the option to buy in-game currency with real-world money to speed up your progress should you wish to do so. In-app purchases range from 80 pence right up to a scary £82.25 per item.
Take a look at Death Moto 3 on The App Store and on The Play Store. Check out some gameplay footage below.
Support Team VVV on Patreon: www.patreon.com/TeamVVV.
https://youtube.com/watch?v=NT67hkXpaa4