With the recent closed beta of Gran Turismo Sport underway, (well for those living in the US anyway) the next big news we're all waiting on is the release date, which at this point feels like obtaining the holy grail.
However, the release date might not be so far away according to an apparent release date leak courtesy of Finnish retailer Puolenkunn Pelit which was picked up by Geek Reply. According to the site, Gran Turismo Sport will release in just one month on April 20, 2017, the listing can be seen below.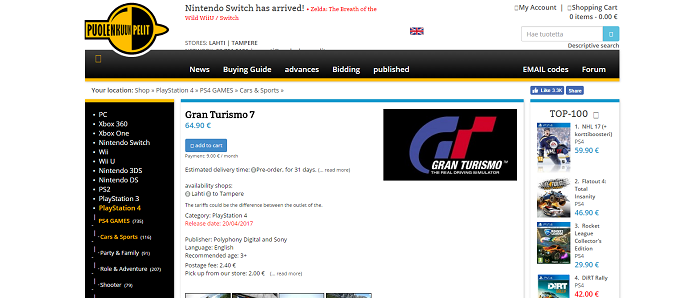 We certainly wont have long to wait to see whether this date holds true. If you are looking to get in on the GT Sport closed beta, EU registrations are back up currently but you'll need to be quick as they can close without warning.
Let us know what you make of the April 20 release date rumour for GT Sport in the comments.