After a prolonged drought of new releases since the magnificent Mario Kart 8 Deluxe, the much-loved Nintendo Switch now has a diverse library of racing games available catering to different tastes. Arcade racing fans can enjoy Mario Kart 8 Deluxe and indie top-down racer Mantis Burn Racing, petrolheads can now race real-world licensed cars in Gear.Club Unlimited on the go and Fast RMX is the next best thing to F-Zero for futuristic racing game fans. If, however, you prefer bikes to cars, Milestone's motocross racer MXGP 3 recently landed on Nintendo Switch in what promises to be the first of many bike games available on the platform.
Out of all of them, Rocket League is easily the most addictive. Originally released in 2015 on PC and PS4, the acclaimed car football game has a loyal following of legions of fans. It was perhaps inevitable, then, that such a popular franchise would get ported to the staggeringly successful Nintendo Switch.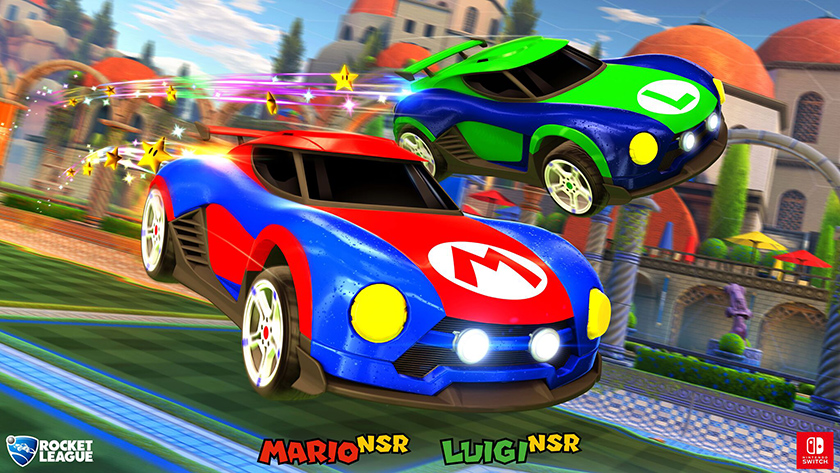 Rocket League comes to the Nintendo Switch courtesy of Panic Button, the same developer responsible for the respectable Doom port. Like Doom, Rocket League suffers from some visual compromises on the less powerful Switch hardware. In docked mode, the game runs at a locked 720p resolution, but this fluctuates in handheld mode to around 526P. Texture quality has also been downgraded, and there's no anti-aliasing which resulting in some noticeable jagged edges on the cars.
These compromises were all necessary to optimize the game, however, and as a result Rocket League runs at a rock solid 60fps on Nintendo Switch which is crucial to keep the action fast-paced. Running on the underpowered Switch, Rocket League looks remarkably fluid in motion and loses none of the magic that makes the original game so addictive, with tight controls allowing you to judge your angle when hitting the ball with pinpoint precision.
If you're already addicted to Rocket League, the Nintendo Switch version won't cure you – since you can take it with you wherever you go, it's even more chronically addictive. You've been warned: five-minute matches can quickly turn into lengthy five-hour sessions.
The Switch version of Rocket League also includes some exclusive battle cars based on existing Nintendo franchises, such as a Mario-themed car that makes authentic jump sounds from the Super Mario games and a car based on Samus Aran's gunship from the Metroid series. You can see them both in action in our hands-on gameplay video showing Rocket League being played on the Nintendo Switch in handheld mode.