rFactor 2 developer Image Space Inc. have recently released build 1080 of their PC racing sim rFactor 2.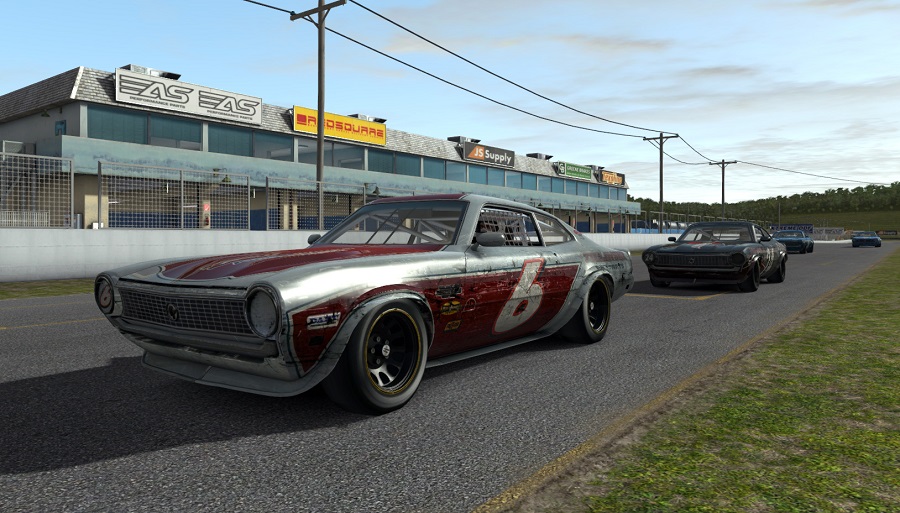 According to the development team the new build has a "decent amount" of fixes and tweaks to the AI, realroad, skin sharing, graphics, controllers and more besides. Furthermore the demo content for rFactor 2 has been updated, players can now sample the Formula Renault 3.5, and the recently released 1974 Howston Dissenter (pictured) and Toban Raceway Park.
Image Space have warned players that when first loading tracks in rFactor 2 the shaders will be rebuilt which can take anywhere between 1-4 minutes. You can view the full changelog of the 1080 build below.
Support TeamVVV on Patreon: www.patreon.com/TeamVVV.
Build Notes:
FEATURES:
Ability to save car class/track/RFM specific AI parameters. (Gizmos on track & car selection page. Global values still editable from session options.)
Added AI DraftStickiness_multiplier to RCD files so can tweak that functionality on a car by car basis (only affects superspeedways)
Provided a better way in the HDV file to specify AI damper multipliers: AIDamping=(,,,)
User skin directory will now spill over to multiple lines if needed rather that off screen
Created an Un-Disqualify button for admins to use on the multiplayer vote page.
Significantly reduced the effect of Real Road Time Scale on how the track gets wet from rain and dried by vehicles. This makes it work more realistically even when the timescale is set to extreme values like Static or 15x.
Moved in-game server list to Launcher (Steam version only).
Damage stays after driver swap
FIXES:
Fix for skin transfers when using +connect commandline parameters.
Likely fix for occasional dedicated server crash during race rejoin.
Fixed bug where track & vehicle selector didn't register changes when existing page immediately after closing a category branch.
Fixed several potential UI crashes when switching between multiple video adapters.
GRAPHICS:
Reverted back to more analytical headlight model.
Fixed particle exclusion zones sometimes becoming disabled.
Improved sun occluder.
Minor adjustments to sky turbidity and some cloud albedos.
MODDING / PUBLIC DEV:
Camera activation zones can be moved in the camera editor now.
TTool: optimized the reinitialization step between custom realtime tests, and also allowed skipping reinitialization completely by adding Reinitialize=0 to any appropriate [CustomRealtimeTest] section in the input file. Note that reinitialization cannot currently be skipped if the starting temperature is changed, due to complexity.
Fixed bug in MAS2 packager which sometimes failed to create a package because it could not detect when a base cmp or mod was installed.