Oh happy days. We already knew it was in development, and now Three Fields Entertainment, a small UK indie developer comprising of former Criterion Games employees including original co-founders Alex Ward and Fiona Sperry, has announced their new Burnout-inspired crashing game. It's called Danger Zone, and it's essentially a spiritual successor to Burnout's Crash Mode where the objective is to cause as much carnage as possible.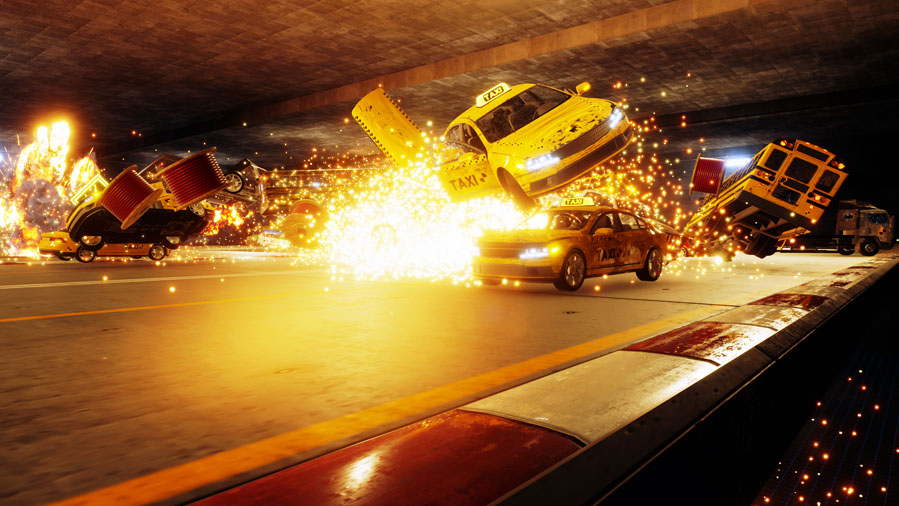 Powered by Unreal Engine, Danger Zone is set in a Crash Testing Facility featuring 20 "unique crash testing scenarios". Anyone who's ever played Burnout's Crash Mode should find it instantly familiar – you simply drive your car through the junction and attempt to crash into as many vehicles as possible.
The more carnage you cause, the more cash you earn, and bonus pickups are littered around the stage to earn you even higher scores. You can also make your car explode on demand using "SmashBreakers," which work the same way as Burnout's CrashBreakers where you can steer your car mid-explosion to cause even more chaos.
There's no online multiplayer mode unfortunately (there are only six people working at Three Fields so resources are limited, but you'll be able to compare high scores on online leaderboards.
"We are going back to our roots by creating a game in a genre we are truly passionate about," studio founder and CEO Fiona Sperry said of the project. "Danger Zone takes what made the Crash Mode featured in 2004's Burnout 3: Takedown so popular and transforms it into an all-new car-crashing, arcade-style game."
Danger Zone will crashing onto PS4 and PC in May and will be available digitally for £9.99. It follows the release of last year's Dangerous Golf, which was also inspired by Burnout's Crash Mode but replaced cars and cities with a golf ball and destructible indoor environments and Lethal VR.