SimBin Studios has released the first work-in-progress previews of RaceRoom Racing Experience's (R3E) Nissan GT-R GT3 racing car.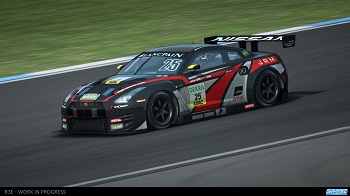 As shown in the latest SimBin Dev Blog post, the latest patch of images depict Nissan's flagship motorsports model in a form it'll at least closely resemble in R3E.
No release dates have been cited at time of writing, but – judging by the provided renders – it's safe to assume it won't be long until the Nissan GT-R GT3 is added to R3E.
The Dev Blog also confirmed the Zolder, Hungaroring, Monza and Indianapolis circuits will be the next to have the corner marker toggle option added. According to SimBin, the Hungaroring will be given this update sometime next week.