It's been some time since we took Next Car Game for a spin, but now our appetite for destruction has been reignited with the release of a new update for the Steam Early Access build, adding several new tracks and a host of new features.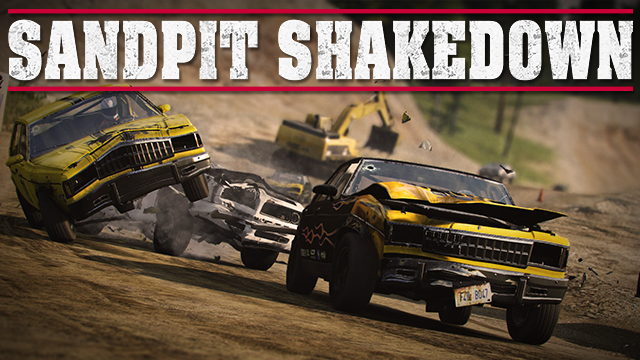 The main new addition is the Sandpit racetrack, which should be familiar to fans of the original FlatOut games. Indeed, the quarry track in the first FlatOut games remains a firm fan-favourite, which is why BugBear has reprised it for Next Car Game. It's still work in progress, but its sweeping corners and treacherous sand dunes should make for some exhilarating full contact racing as 24 cars squeeze through the narrow inclines. Rest assured we'll be bringing you some gameplay videos of the new track in action very soon.
Fans will also be pleased to hear that a replay mode has now been added, allowing you to relive the carnage from all angles. The replay mode is fully featured too, containing options for depth-of-field, slow motion and fast forward, target locking, selectable field-of-view and more. BugBear states that the interface will be reworked later down the line.
Two new derby stadiums have also been added for the Demolition Derby mode: a MudPit and a smaller version of the main arena. Other changes include support for more than one simultaneous controller, enhanced tyre and suspension physics, additional weather options and a new driver model.
A full list of changes can be found below:
Tracks:
* New mudpit derby stadium, work-in-progress.
Environment Art:
* New work-in-progress spectator models – some previous ones remain.
Weathers:
* Weather can be now specified in the event setup.
Vehicles and Handling:
* Improved suspension and tire physics.
* Improved player vs. AI collision physics.
Damage:
* Improved gameplay damage to prevent cars from getting too torn up and still going.
Replay:
User Interface:
* Game is no longer unpaused when exiting Steam overlay if the game was paused.
Input:
* Sensitivity & deadzone adjustments now take effect without a restart.
* Game now defaults to DirectInput for wheels, hopefully making some wheels behave better.
* Force feedback is disabled for Microsoft Sidewinder FF wheel in an attempt to work around buggy driver causing lag.
Audio:
* General improvements.