Well, this all but confirms the existence of the Logitech Driving Force G29 wheel then.
After being discovered in a product listing on the German Amazon website last week, the page has been updated with what is unquestionably official promotional shots of the peripheral, allowing us to see the G29 in far greater glarity compared to previously leaked shots.
In addition to the wheel, we also get a first look at the G29's steel three pedal set included in the base package, which look very similar to the G27's stock set.
These photos also further support rumours that, unlike the G25 and G27, the G29 will not include a gear shifter, with rumours suggesting a shifter will be sold separately.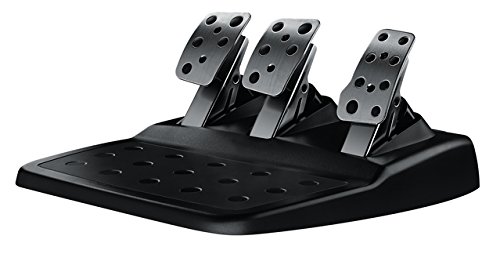 The Amazon listing has since been taken down, but an updated product descriptions has unveiled a few more details. Notably the G29 seems to retain many of the G27's components, including dual force feedback motors and helical gears:
"G29 Driving Force is the definitive sim racing hardware for the latest PlayStation 4, PlayStation 3 and PC titles. Feature dual-motor force feedback and helical gearing for quiet, smooth steering. Stainless steel paddle shifters and RPM / shift indicator LEDs help you make crisp, fluid gear transitions without taking your eyes off the track.

"The separate pedal unit gives you natural, responsive control with a brake pedal nonlinear. Driving Force is built for comfort and durability with hand-stitched leather and stainless steel components. Built-in clamps and bolt points allow the wheel to be mounted securely to a table or racing rig, Minimising shifting or wobbling during aggressive maneuvers."
By the sounds of it, the G29 won't be in the same high-end market as Thrustmaster or Fanatec, but that's just fine: with budget entry-level wheels already available, the racing market would benefit from an affordable mid-range wheel available. Because not everyone is willing to shell out over £200 for a pretend car racing wheel.
The Logitech G29 has yet to be formally announced, but you can expect to find out more next week during E3 where it will presumably be unveiled.