Kunos Simulazioni has published a batch of new Assetto Corsa screengrabs, along with a few snippets of information regarding the PC sim's gameplay features.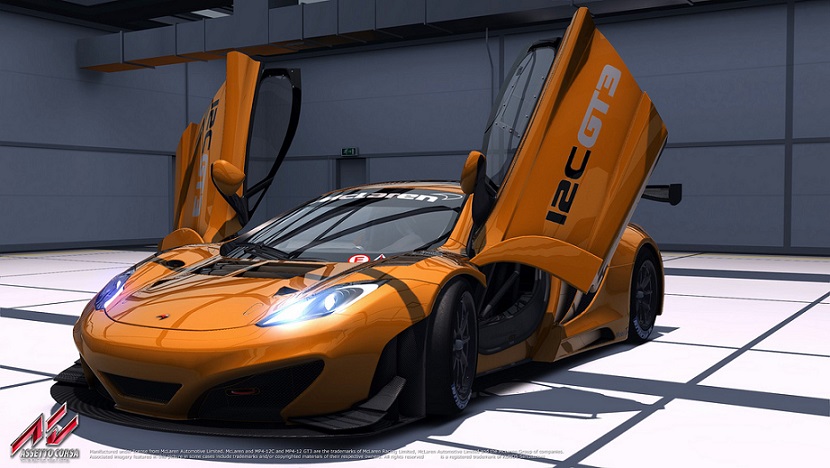 The latest crop of in-game renders features the McLaren MP4-12C GT3, a racing car that Kunos confirmed a short while ago would be featuring in the title and will be one of the cars that'll be available from launch.
On top of that, Kunos has stated the screenshots also showcase new features that'll also make their way into the finished simulation racer, such as an enhanced lighting engine, which the developers claim result in a "better calibration of color curves, bloom and HDR effects".
It's also been confirmed that Assetto Corsa's garage facility will be fairly similar to Forza Motorsport 4's AutoVista mode: on top of selecting the chosen car's colour or racing liveries, players will be able to navigate around the automobile, switch the headlamps on and off, open and close the doors and even look around the rendered interiors, all whilst being able to listen to a customisable MP3 music playlist.
Rounding up the new announced features is the ability for modders to customise and design their own garage and showroom spaces, instead of staying put with the default setup that can be seen in some of the screenshots in the gallery below, whilst still retaining all the features that are present in the standard one.
With these new previews and snippets of info don't perhaps do that much to further our expectations of Assetto Corsa (though the AutoVista-esque garage setup is a neat little touch), it does further reinforce the assumption that the title will be one heck of a sim racer.
And, given the screengrabs do showcase what the finished title's lighting effects will be capable of, this hopefully means the wait for Assetto Corsa's eventual release date might soon come to an end sometime soon…