The UK poster for the forthcoming Need for Speed movie adaptation has been revealed by Yahoo Movies, and it makes its intentions very clear indeed: forget Aaron Paul – the cars are the real stars here.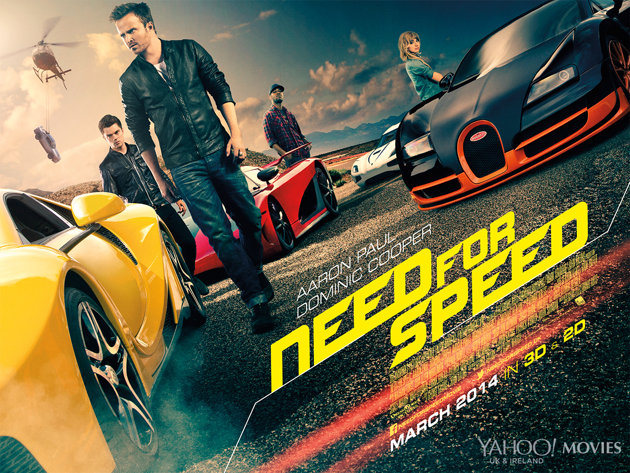 Several of the film's central cars take pride and place on the poster, such as the Bugatti Veyron and Koenigsegg Agera R. Squint, and you can also make out Aaron Paul's character's Shelby Mustang being carried by a helicopter, a reference to one of the film's signature stunts seen in the action-packed trailer. It's rare we get to see such a glorious gathering of expensive exotica on-screen – not even The Fast and Furious can claim to have supercars of such pedigree.
What's also rare is Need for Speed's use of practical stunt effects as opposed to the dreaded CGI fakery that too many films adopt when it comes to car stunts. Don't worry though – the cars you see get wrecked were all replicas.
The poster also confirms that Need for Speed will be getting the 3D treatment. To my knowledge, this is the first car-orientated film to be shot in 3D since the flop that was Drive Angry.
Several behind the scenes videos have also been released, giving us insight into the story, stunts and inspiration for Need for Speed:
//www.youtube.com/embed/b6Gnp8W0RK0
Aaron Paul performed some of his own stunts in the film. Here we see him get a lesson on stunt driving in the Need for Speed Driving School:
//www.youtube.com/embed/BikfkTKTRgU
This latest "Muscle Car Foundry" featurette looks at the extensive modification applied to some of the classic muscle cars featured to allow them to burn rubber once again:
//www.youtube.com/embed/y_x9wYy2Mxs
Fast and Furious 7 has since been delayed until 2015 following the tragic death of Paul Walker, leaving the door open for Need for Speed when it hits the road March 12th.