An entry for "Need for Speed Heat" has been listed on Austrian video game store Gameware.at along with what looks like an obvious placeholder box art.
Sadly no new information is obtainable from the listing (seen below) on a game that is expected to be officially revealed at Gamescom in just a few short weeks.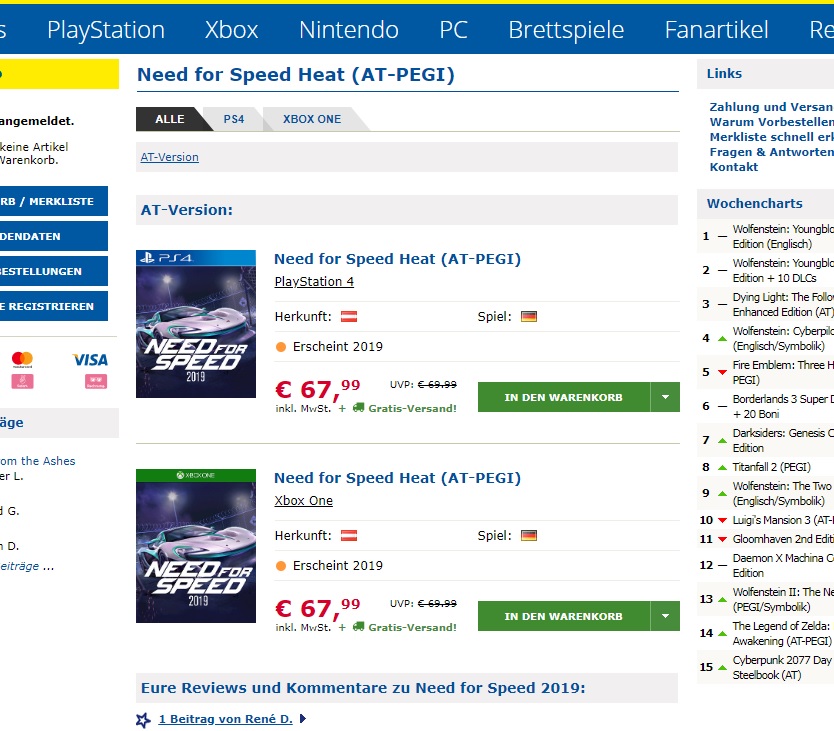 We first learned of the upcoming Need for Speed title via Electronic Arts third fiscal quarter earnings report in February 2019 which revealed a new Need for Speed title is coming – at the time we weren't 100% sure that the game would release in 2019 due to some ambiguity with EA's statement.
However, a new Need for Speed release in 2019 was confirmed in May 2019 by Electronic Art's Global Community Engagement Manager Ben Walke who also stated the game would not feature at E3 2019.
Walke wrote the following on the official Electronic Arts website, "Are you going to hear more about the next NFS title? Yes. Is it being released this year? Yes. Will we be doing anything in June? No. It's as simple as that, but we wanted to give you a heads up before you started asking "where are you?""
Walke also recently hinted on the direction of this year's Need for Speed title, "…cars naturally top the list. You could say that the cars and customization of NFS are the beating heart of what we do. Without either of these, NFS fails to exist as we know it. These two elements play a pivotal role in the series and are two aspects that we consider to be foundational, meaning they aren't going anywhere because NFS wouldn't exist without them."
Last May saw Electronic Arts reporting its fourth-quarter earnings which included some fresh details on their upcoming portfolio of games including the upcoming Need for Speed title.
According to the report, the upcoming Need for Speed title will be "revitalizing the street racer vs. cops fantasy at the core of the franchise".
Swedish development team Ghost Games were responsible for the last three entries in the Need for Speed series (Need for Speed Rivals, Need for Speed, Need for Speed Payback) so we expect the same development studio has been working on this year's title.
Do you like the name Need for Speed: Heat? What are you hoping to see with this year's title, let us know below.