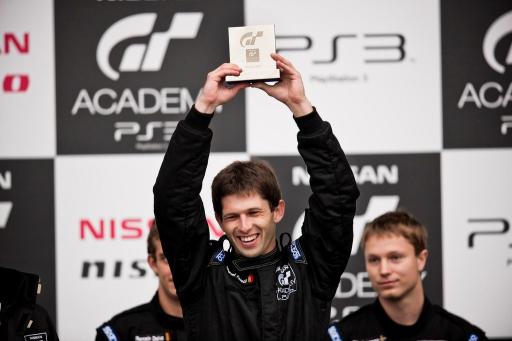 The European round of the GT Academy has come to a close, and a new champion has been crowned – Portugal's Miguel Faisca.
Having been observed over the space of seven days at the 'Race Camp' held at Silverstone, the 24 year old student from Lisbon will now undergo an extensive training programme, in preparation for his full season racing a Nissan GT-R GT3 car in 2014.
Winning the GT Academy is no walk in the park, and that's especially the case this year – not only are there arduous fitness tests (as confirmed by Alan's interview with 2011 winner Jann Mardenborough earlier this year) but the 2013 Academy saw a record 42 competitors make it to the regional finals.
Senhor Faisca – Portugal's first victor in the GT Academy – even admitted he had doubts over his chances of winning, citing he didn't think he was "one of the favourites".
At the end of the Silverstone Race Camp, though, Faisca had proven his worth to the Nissan Motorsport gurus and the high-profile racing adjudicators (including ex-F1 driver Johhny Herbert, who'll hopefully be appearing in an upcoming video on our YouTube channel soon…), and will be following in the footsteps of previous now-high profile Academy winners, such as Lucas Ordonez, the aforementioned Jann Mardenborough and last year's winner Wolfgang Reip
Us here at Team VVV wish Miguel Faisca the best of luck in his Nissan GT-R racer next year, and his racing career afterwards – hopefully we'll be talking about him in years to come in the same breath as some of the GT Academy's most talented and successful champions.
In the meantime, do keep checking back to the Team VVV website for the latest racing game and peripheral news, especially as we've got some more GT Academy and F1 2013 content in the pipelines for your viewing pleasure…