Mad Catz, who provide many different products for gamers, have revealed their very latest piece of hardware which may raise a few eyebrows. The tractor vehicle side panel and steering wheel with pedals set for PC was created exclusively for the recently released Farming Simulator 15 by Giants Software and is available to pre-order right now.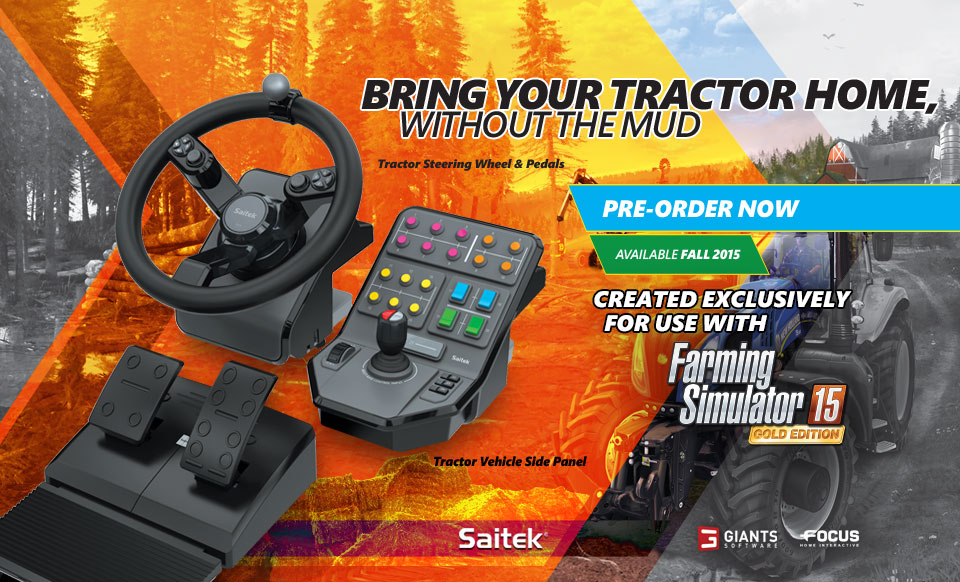 The centre-sprung tractor wheel provides 900 degrees of rotation, and the Vehicle Side Panel has an impressive 25 programmable buttons which should provide you with easy control over your various farming machinery. The control stick, for instance, controls vertical, horizontal and twist axis, and comes with a mode switch which doubles those commands providing six axes of control.
The hardware, made by Saitek, is also compatible with Farming Simulator 2013 and will be for use in future titles too, including the upcoming Farming Simulator 2015 Gold Edition. CEO of Mad Catz Darren Richardson commented on the new range: "Our Saitek brand of simulation products strive for authenticity, quality and attention to detail and we believe that Farming Simulator enthusiasts will be impressed with our forthcoming range of hardware. We are pleased to offer fans the opportunity to pre-order the range of products and look forward to them contributing to our growth in 2015 and beyond."
The new Farming Simulator hardware will set you back $299.99, you can also buy the Wheel and Pedal set and the Side Panel separately. The new hardware is due to release in Fall/Autumn this year and so far it appears to be only available for US and Canada residents. The new gear will be on display at the Electronic Entertainment Expo (E3) and will be found at the Focus Home Interactive booth.
Which gaming peripherals do you own?
Support Team VVV on Patreon: www.patreon.com/TeamVVV.