In 1995, a soon-to-be double world champion announced he had signed a long-term agreement to drive for Ferrari from 1996. His name was Michael Schumacher. Ferrari had not won a championship since 1983, and their only win was at Canada in 1995 with Jean Alesi. Ferrari was not seen as the team to go to, despite their long successful history of Formula One success. What followed was 11 years of 87 race wins, five Drivers Championships and six Constructors Championships – sheer domination of the sport and a team that created a defined era. The Technical Director of Ferrari during those years was a man named Ross Brawn.
Could history repeat itself?
Fast forward to 28th September 2012, and Lewis Hamilton has announced to drive for Mercedes for the next three years. Since Mercedes' return to the sport in 2010 after buying out Brawn GP, who had won the 2009 championships in emphatic style, they haven't been the roaring success many had hoped for. In fact they have been a massive disappointment – especially with the amount of funding and resources an organisation such as Mercedes must have. They have a solitary win to their name at this year's Chinese Grand Prix with Nico Rosberg finally taking a long overdue victory. The potential for greater success is there on paper but the team has so far under delivered. The team has been run by the same man that delivered the technical expertise of the Ferrari domination years, Ross Brawn.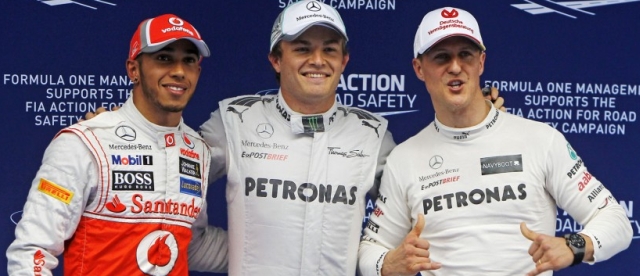 It must have taken quite a sales pitch to convince Lewis that success lies away from McLaren, a team he has been nurtured by since a young age. Many will claim he has followed the dollar signs, and the media will only focus on that – I say bollocks to that. He has been in F1 now for six years and looks most likely to have just a single World Championship to his name by the end of 2012 – something which clearly wrangles him. He should/could be on course for his third title if luck (or better McLaren reliability) had been on his side. He should have won in 2010 and has driven superbly this year – he has had four DNF's (Did Not Finish) this year, all outside of his control. Without these he would be on level par at least with Fernando Alonso, the current leader. McLaren have a habit of making silly little errors, particularly at pitstops at the start of the year, and team strategy – definitely costing Lewis podiums and wins this year.
Has he made the right decision? Well, on paper it looks good. He will be joining a team that has full works support of one of the best engines in F1. A brand new engine formula comes in, in 2014 and Lewis' new team will have all the data before any other non-works team. Ross Brawn masterminded an amazing car the last time there was a big shake up in the rules. Lewis' teammate will be Nico Rosberg – they are known friends and past go-karting pals. They will make for a great partnership and a driver line-up I have personally wanted to see for quite some time.
For Ross Brawn, he sees Michael Schumacher retiring a second time. Michael Schumacher will always be a legend and I am sad to see that it did not work out on his return, but age is something none of us can avoid.
Bottom line though, it isn't working at McLaren and something had to change. He could spend the next five years there and be no guarantee of winning again. Lewis is like any other Generation Y person, and someone of our generation staying in the same job (I work in recruitment after all) for more than three years is unusual. A change of environment and a relaxing if the corporate reigns McLaren is infamously known for could have dramatic effects on the talent Lewis Hamilton clearly has.

Perhaps the biggest disappointment to come from this though is the new animation series Tooned without Lewis Hamilton just won't be the same.