Since we first wrote about the upcoming Beach Buggy Racing sequel more details have come to light that we can now share.
Developer Vector Unit has confirmed that Beach Buggy Racing 2 will race onto mobile devices this summer with "premium" console versions to follow in Autumn.
For the upcoming sequel, Vector Unit has included a ton of new content, upgradeable powerups, and for the first time, players will be able to participate in online competitions and tournaments.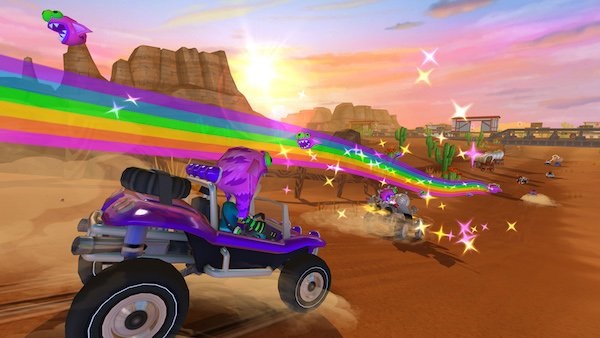 Beach Buggy Racing 2 boasts 50 (!) powerups including abilities such as "Chain Lightning", "Donut Tires" and "Killer Bees" (not the bees!). You are also free to customise "strategic load-outs" of powerups, karts, and characters as you take them online to do battle with your fellow human being.
Competitions range from daily races and special events to weekly tournaments (powered by Amazon GameOn) complete with leaderboards and prize awards.
"We knew we wanted tournaments and community to sit at the heart of BBR2," explains Vector Unit CEO Matt Small. "Amazon GameOn offers a perfect way for our players to compete against each other in fun, leaderboard-style tournaments to win unique unlocks and prizes."
No specific release dates for the mobile or console versions of the title have yet been made public, nor do we know which platforms the kart racer will be available for.