The talented team at Slightly Mad Studios are on a mission: to make Project CARS as true to life as possible, from the near-photorealistic graphics and accurate physics, to the radical career structure replicating the path of a real racing driver.
To attest its audacious authenticity, TeamVVV were invited to a special media day at Brands Hatch along with a group of journos from various media outlets, where we were not only able to race around Project CARS' stunning recreation of Brands Hatch (one of the instructors who had clocked up over 150,000 laps of the circuit even commented how astonishingly accurate Project CARS' virtual version was without provocation from Slightly Mad), but experience it for real out on the track in a variety of souped-up track cars you would normally only dream of driving.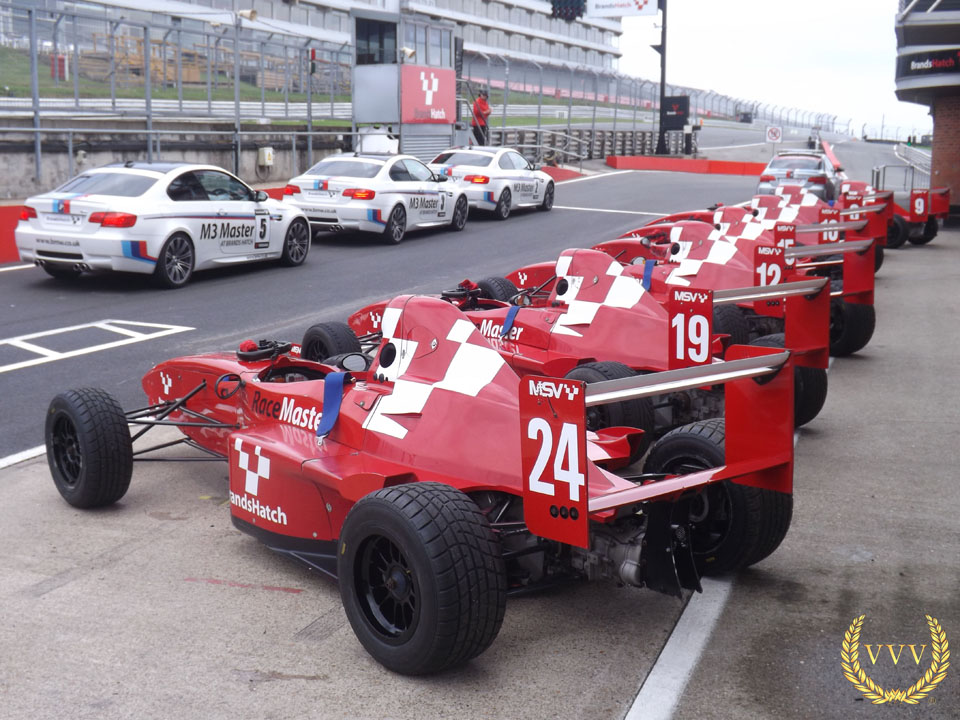 As the day arrived, I wasn't exactly on fine form thanks to a taxing three and a half hour drive coupled with a lack of sleep the night before from the sheer excitement pulsating inside me like a restless child on Christmas Eve. Cue copious amounts of caffeine and ample adrenaline to see me through the day.
As the media gathered for a presentation by Slightly Mad's Creative Director Andy Tudor and racing driver Oli Webb introducing us to Project CARS, I was distracted by a group of open wheel single seaters being lined up outside. The realisation that I would actually be driving a race-spec machine on one of Britain's most iconic racing circuits soon dawned on me, filling me with giddy excitement and, admittedly, apprehension. Thankfully it was a dry day, so the track conditions were ideal.
This wasn't my first track racing experience. In the past I've been fortunate enough to drive an Aston Martin DB9 on a closed airfield circuit, a Mercedes AMG at Mercedes World and, erm, a Ford Fiesta at Castle Combe. But that didn't make the prospect of taming these magnificent machines any less daunting, particularly as I was running on empty.
First it was time for some light-hearted go karting on a miniature version of the Brands Hatch Indy Circuit, which acted as a gentle introduction to the more demanding sessions that laid ahead. We were divided into two teams of five, starting with a practice session of five laps followed by two heats of 15 laps. The five fastest times would then be pitted against each other for one grueling final heat.
//www.youtube.com/embed/i6MDYao-y28?list=UUEvr879Hns1Ccb_gVaV7-5w
The karts we drove weren't particularly powerful (Oli Webb told us he initially drove karts three times as fast during his career), but the experience of literally riding on the seat of your pants by being so low to the ground and feeling every back-breaking bump of the asphalt was undeniably exhilarating and got the adrenaline pumping. Meanwhile, the sweeping nature of the short track meant you could keep your foot flatout on most of the corners if you were brave enough.
Completing a lap took roughly one minute as I tried to find the optimum racing line, but I struggled to keep up the pace in the first race, and shamefully finished in last place. Fortunately, Alan blitzed ahead and finished first to redeem TeamVVV from ridicule.
Once I was fully accustomed to the circuit and the nippy handling of the kart, I reached my peak in the second race. Starting from last place, I methodically made my way up the congested pack seizing every overtaking opportunity, before an intense head-to-head battle for first with Hollie Bennett from PlayStation Access culminating with a last minute dive on the inside of the final corner at McLaren bend. From here, I held my own for the remainder of the race to victory. All that was missing was a podium and a bottle of champagne.
This peak performance got me into the final heat along with three other dogged drivers, but it was futile: fatigue crept in and I floundered at the back of the pack for the duration of the race. It was abundantly clear I was never going to advance any places or achieve a fast time. So I instead focused on having fun, weaving across the track and oversteering to deliberately get the kart sideways at every turn. From a spectator's standpoint, it must have looked like I was drunk.
We then moved onto the Brands Hatch Indy circuit, a fast-flowing, 1.226 mile long course with a good mix of straights, undulating slopes and hairpin turns. The car I would be driving? A four litre, V8 powered, 420bhp BMW M3. It's hard to fathom that a car with those specs can qualify as a road car. It also had a 7 speed paddle gearbox, but I opted for automatic gears so that I had less to think about whilst driving on the track.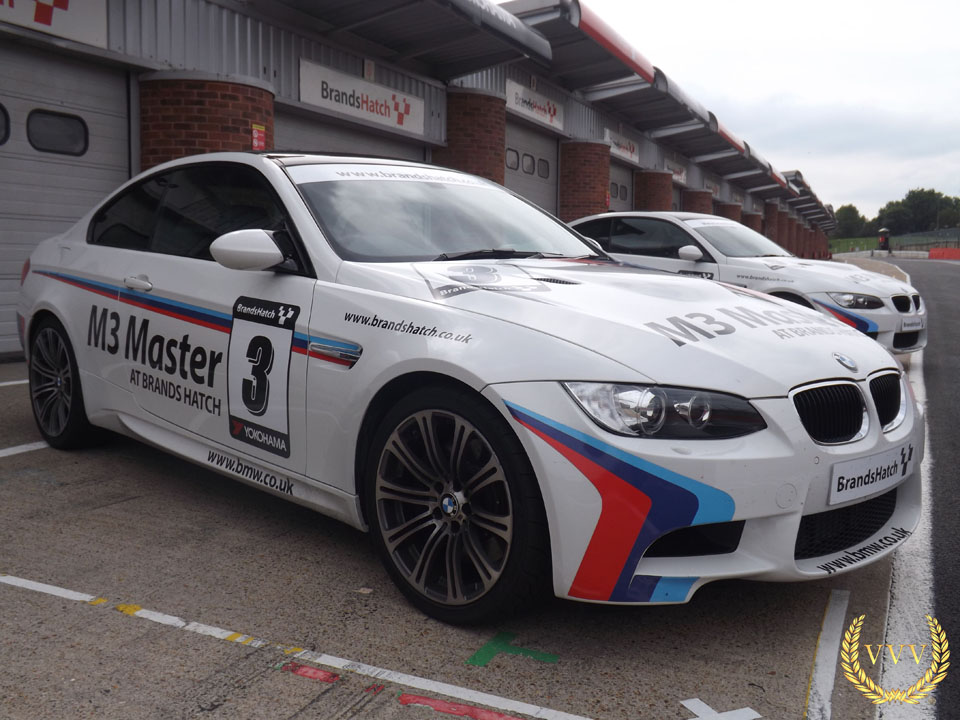 Cones were helpfully laid out on the track to indicate entry and exit points, whilst an experienced instructor sat beside me to advise on racing lines and monitor my performance. He also had access his own brake pedal, should anyone scare the living daylights out of him. Apparently it's rare that they need to resort to them. He had to brake twice during my run.
The potent power and torque was extraordinary when I excitedly put my foot down for the first time, forcing my head back into the head rest abruptly. Indeed, my head endured plenty of punishment, particularly from the strong g-forces every time I dashed down Hailwood Hill as fast as I dared. The car was surprisingly stable, too, despite my somewhat aggressive driving – its generous grip meant that I always felt like I could push it to the limit and still keep it under control, despite the fact the squealing tyres were begging for mercy more often than not. Thank you traction control.
Turns out I don't have what it takes to be a fully-fledged racing driver just yet. My instructor frequently told me my driving was too aggressive: "Just remember to be smooth on all the inputs and turn in slightly earlier than you were," my assessment sheet reads.
Of course, I've played enough racing games to know you have to be smooth to achieve fast times. But this wasn't at the forefront of my mind: I just wanted to enjoy myself and push it to the limit, even if it probably looked as if I was pretending to be in a Top Gear power test. But when you're given a rare opportunity to drive a car with so much power to play with, it's hard to resist driving it like you stole it.
Finally, it was time for the experience everyone was secretly nervous about: an unsupervised drive in the open wheel single seater. The car in question was a Formula Palmer Audi with a 4 cylinder, 1800cc engine with 126bhp and a 0 – 60 time of 4.1 seconds. Gulp.
First and foremost: don't expect to be driving in comfort if you're above average height. Getting into the cockpit was a tight squeeze, to say the least – even the member of staff who strapped me in snugly questioned if it was wise to drive in my hunched up driving position.
To make matters worse, the pedals were positioned uncomfortably close together, which made it problematic to reach the brake with my abnormally wide feet – not exactly something you want to be conscious of when you're about to be unleashed in a powerful racecar.
Unperturbed, I flipped the ignition and was greeted with the intimidating raspy roar of the Audi-powered engine. Already pumped with adrenaline, anticipation and genuine fear of the unknown, I prepared to set off, shifting it into first and using the clutch to find the biting point just like a regular roadcar. Except it's nothing like a regular car, as I found when I stalled because I didn't give it enough revs. Oh the embarrassment.
Wisely, I took it easy for my first few laps, driving at a pedestrian pace to get a feel for the car and track. Meanwhile, my BMW instructor's voice echoed in my head Obi-Wan-style reminding me when to brake.
A couple of laps later I plucked up the courage and, with tremendous glee, planted my foot to the floor for the first time as I powered out of a corner onto a straight. Whoa. Nothing prepares you for the surge of adrenaline flowing through every part of your body when you first experience the sensational sense of speed. I've never felt raw speed like it.
It was all an illusion, though. In reality, I was only reaching 40 mph when I glanced at the speedometer, but the low centre of gravity greatly heightened the sense of speed to the point it felt like I was hurtling at twice that.
There were other factors too: being lightweight, I felt every conceivable vibration and the wind was rushing through my partially open visor, not to mention the raucous sound of the engine bellowing behind me.
While the car had good grip overall, its lack of weight made it twitchy at times, and there was a sense that it would bite back if you overstepped the mark – as I found out to my cost. In one harrowing moment, the back stepped out after I applied too much power on a corner, but I instinctively counter-steered into the slide and miraculously managed to hold it together. Dosed up on dopamine from this hair-raising moment, I found myself wailing hysterically with glee.
Unfortunately, it was short-lasting. I approached another corner with similar exuberance, but this time I completely lost control. I was a passenger as the car spun around 180 degrees at speed, before coming to a stop facing the wrong way of the track. My heart was firmly in my mouth, although it probably felt more dramatic than it actually was. As the marshals came to my rescue, part of me was proud to have caused a yellow flag. And just to make the situation even more embarrassing, I stalled again in my haste to turn around and get back on track.
Personally, I blame the uncooperative H-pattern gearbox, which seemed to have been welded with components from a different century. No gear change was smooth – there was a concerning crunching sound every time I shifted. Sometimes I was so inept at finding the right gear that I ended up shifting into first instead of fourth whilst speeding down a straight, much to the dismay of the screaming engine. "I think that one might need a new gearbox after that," I quipped to a race official after clambering out of the car. They didn't look very amused.
Rounding off the day was a surprise muscle car track day with a glorious display of vintage and contemporary Mustangs including a Mach 1 and a modern Shelby GT500. The thunderous roars certainly made for some interesting background noise during some of the outdoor interviews that were being conducted with the developers. Being an avid fan of Mustangs (seriously, the immortal Eleanor from Gone in 60 Seconds is still the love of my life to this day), I couldn't resist patrolling the paddock and photo shooting them excessively as they pulled in. No car has the presence quite like a muscle car, and it was rare opportunity to see them up close in the paddock.
All-in-all, a thoroughly memorable driving experience. In one day, I experienced three very different forms of racing. It all served to remind us that Project CARS will deliver a similarly eclectic experience with its wide array of racing disciplines.
We'll have more Project CARS coverage on the TeamVVV website soon, including an extensive interview with Creative Director Andy Tudor delving deep into the game.