Lewis Hamilton won his third successive race and eighth of the year in Japan and extends his lead to 10 points in the title race. However the race ended on lap 44, nine laps short of the total due to a crash involving Adrian Sutil and Jules Bianchi. At time of reporting, Bianchi is unconscious and being taken to a local hospital. The atmosphere at Suzuka is naturally muted whilst we find out what has happened. The realities of F1 remaining a dangerous sport, very much the focus right now.
As It Happened…

Lap 1: The start was declared to be a safety car start as the cars peeled off the grid, slowly. Vettel reported halfway round that he was aquaplaning at 80kph.
Lap 2: Marcus Ericsson has a moment and spins his Caterham, but recovers to rejoin at the back of the field. The red flag has been shown and the race has been stopped. The cars are led through the pitlane and line up at the end of it. Despite some confusion over whether we have completed two actual laps, it appears that should we not see any more "racing", half points would be awarded at this point.
Yes! The return of the canopies. The teams setup their base around each car in a very cramped pit line. After not a very long time, at 15:15, there is a klaxon sounding and a 10-minute warning of getting this race going. Weather reports say there is a period of 30 minutes of dryness with showers expected after that.
Lap 3: Race officially restarts at 15:25, all cars on wets leave the pitlane. The continuing challenge here today is that the sun sets shortly after 5pm local, so we need to get this race going. Alonso pulls up on the circuit and is out of the race. A weekend where it was announced that Vettel will be leaving Red Bull and possibly joining and replacing the Spaniard at Ferrari, this has only summed up his current feelings towards F1.
22nd: Alonso (Electronics)
Lap 7: Trundling around behind the safety car, Hamilton comes on the radio saying, "Charlie [Whiting], it's safe to go racing." Quickly followed by "We will be able to switch to intermediates soon."
Lap 10: We are go again in Japan. Rosberg backs the pack up as the Mercedes stream away, Hamilton keeping so close to his teammate through the home straight. Button and Maldonado deciding to head to the pits for intermediate tyres. Rosberg finishes the lap 1.3 seconds ahead of Hamilton.
Lap 12: All eyes on Button's lap times and a flurry of activity in the pitlane triggers drivers switching to intermediates – the Mercedes duo deciding to stay out. Button goes from 21st to 8th in one lap!
Lap 13/14: Jules Bianchi is in 3rd place! A crazy couple of laps as race strategies go out the window as Nico Rosberg gets the call – Hamilton takes the lead, whilst Rosberg resumes in second. Bianchi pits and falls back to 17th. Hamilton in at the end of lap 14 and despite a quick stop, comes out behind Rosberg as the German retakes the lead.
Lap 17: A great battle between the Red Bull pair against Massa's Williams car as Vettel muscles his way past and Ricciardo keen to do the same going wheel-to-wheel through 130R – great driving in tricky conditions. Ricciardo continues to follow Massa and manages a great pass at the Dunlop curve. Top 10: Rosberg, Hamilton, Button, Bottas, Vettel, Ricciardo, Massa, Hulkneberg, Raikkonen and Kvyat. Magnussen pits unexpectedly reporting something wrong on the car, but rejoins down in 20th.
Lap 25: DRS is enabled and Hamilton is just 0.7s behind his teammate, as Rosberg complains of oversteer.
Lap 27: Hamilton harassing Rosberg for this lead runs wide on turn one, but quickly recovers to get back to Rosberg whilst navigating past Chilton's Marussia.
Lap 29: A very quick exit out of the last corner on the 28th lap and follows Rosberg down the home straight and overtakes Rosberg for the lead on the outside of turn one. Hamilton in first place and his turn to control the race.
Lap 31/32: Hamilton is showing a great pace and after two laps in the lead is 3.9s clear of Rosberg. Rosberg is now losing time each lap with Button closing in on the German, as Button pits for new tryes – but with a firth wheel to be changed in his pitstop its a long 6.9 seconds stationery meaning the Red Bulls overtake Button. Top 10: Hamilton, Rosberg, Ricciardo, Vettel, Button, Bottas, Massa, Hulkenberg, Kvyat, Perez.
Lap 34: Rosberg takes his turn to pit on lap 34. The front-right is slow to come off meaning a 3.8 second stop for Rosberg. Hamilton opts to stay out – with others lapping 3 seconds faster, there is a question whether this is wise at this stage.
Lap 35/36: No surprise, Hamilton pits at the end of lap 35 in a 3-second stop rejoining in 2nd place behind Ricciardo, although is expected to stop again before the end of the race. But it has just started to rain again. Hamilton is told he may need to pass Ricciardo to protect his lead – everyone looking to get past the 40-lap mark for full points to be awarded. Ricciardo actually pits at the end of lap 36 negating the need to Hamilton to overtake on track.
Lap 40-42: We are past the crucial lap where full points are now awarded.. Vettel runs wide at the Esses but remains in third place. Ricciardo and Button are having a great duel swapping places in 4th and 5th constantly, yet Button is managing to keep ahead. The rain is now getting heavier as Magnussen pits for full wets and DRS is disabled. Ricciardo does finally get past Button and makes it stick as Button pits for wets also.
20th: Bianchi (Accident)
21st: Sutil (Accident)
Lap 44/45: Safety car and Medical car are sent out, with the latter sent to the scene of Sutil's crash. The pitlane is a scene of activity with a mixture of intermediate and wet tyres. It appears that the reason for the medical car is for a marshal, not for Sutil who is out of the car. Further reports reveal that Jules Bianchi is involved in the accident as well and an ambulance has been sent to the scene. This is not what we want to see in F1.
Lap 46: Red Flag. The sensible decision as the cars are lead to the pitlane again. Ted Kravitz on Sky Sports F1 reports that the Marussia team radioed to Bianchi asking if he was okay, but there was no response. The race is declared over and will not be resumed, meaning Hamilton wins and extends his championship lead. But the mood across the circuit is very muted.
On countback to the last full completed lap, Vettel came home in third place.
Full Race Result:
19th: Kobayashi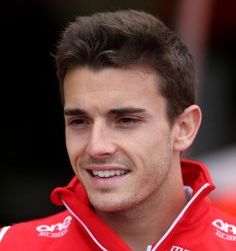 18th: Chilton
17th: Ericsson
16th: Maldonado
15th: Grosjean
14th: Magnussen
13th: Gutierrez
12th: Raikkonen
11th: Kvyat
10th: Perez
9th: Vergne
8th: Hulkenberg
7th: Massa
6th: Bottas
5th: Button
4th: Ricciardo
3rd: Vettel
2nd: Rosberg
1st: Hamilton