Ken Block has made a name for himself with his tyre-shredding Gymkhana series. Every video has been a viral success achieving millions of views, which should at least help pay for the bill to replace the tortured tyres at the mercy of Block's biblical driving prowess. And now there's going to be a seventh installment, which will no doubt up the ante once again.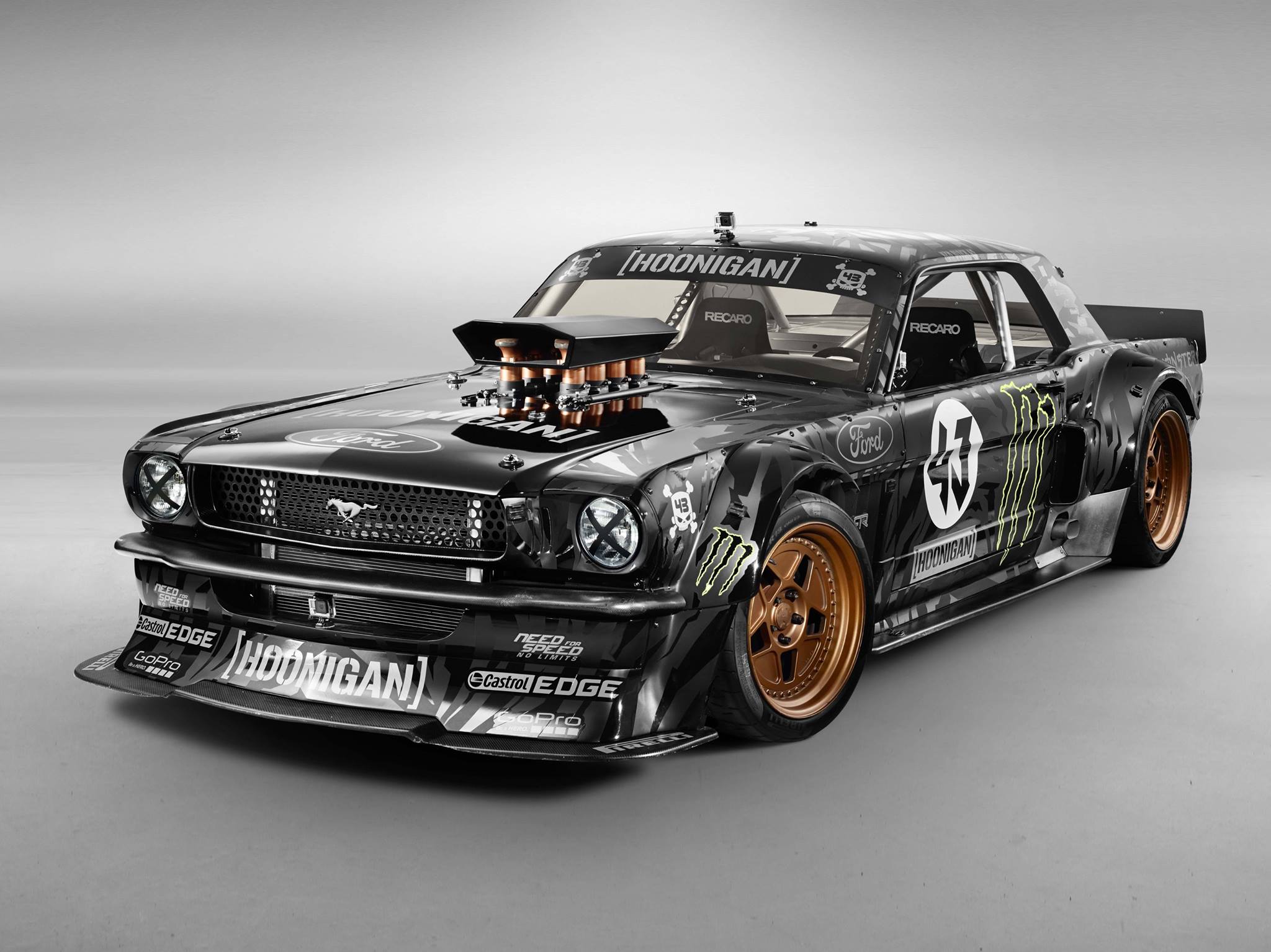 While Gymkhana 6 took a more back-to-basics approach, Gymkhana 7 looks as if it will continue the bar set by Gymkhana 5 whereby Block smoked the streets of San Francisco. This time, the location of choice for happens to be the car chase capital of the world: Los Angeles. Expect plenty of patrol cars to be eating Block's dust.
As for the car that will be subjected to Ken's tyre torture, Gymkhana 7 will feature something rather special. Meet the 'Hoonigcorn': a one-of-a-kind 845bhp, four-wheel-drive, 1965 Ford Mustang. It's the sort of ridiculous tuning job you'd attempt in Gran Turismo for a laugh.
First revealed at the 2014 SEMA, it's a fitting nod to the 50th anniversary of the iconic Mustang. Built at ASD motorsports in Charlotte, North Carolina over the last two years, the ferocious Ford is based on an original 1965 Mustang 'notchback.' It was then heavily modified by RTR and ASD motorsports who fitted a hefty 410 cubic inch Roush Yates V8 producing a whopping 845bhp and 720lb ft of torque. Somehow, all that power is applied to a one-off Sadev all-wheel-drive system.
Influences for the design are said to have spawned from the current crop of WRC machines, DTM racecars and, apparently, toy cars from Ken's youth.
"I'm stoked to be able to publicly unveil this car for the first time at SEMA in the Ford booth," said Block. "This is a project that I've been working on for two years, so to see it fully come to fruition and be able to drive it for Gymkhana SEVEN was absolutely amazing. I also knew that working with Vaughn [Gittin Jr.] and his RTR team was the right choice for this project since Mustang's are their world, but they really went above and beyond on this car. The attention to detail with the fabrication and bodywork blows my mind. This is hands-down the best Gymkhana car I've had yet."
We can't wait to see how Gymkhana 7 pans out. Find out if Block's words ring true when Gymkhana 7 launches in a billow of gratuitous tyre smoke on Monday November 17th.