GRIP: Combat Racing's developer Caged Element has started the year as they mean to go on by putting the first phase of their 2019 roadmap plan into action with a massive update for the PlayStation 4 and Xbox One versions of their Rollcage-inspired racer (with the Switch update to follow close behind).
The January update (which got released in the nick of time, except for the Switch version, oops) nicknamed the "Big Ass Update" (I'm not making this up) brings with it a massive overhaul of the AI and online matchmaking.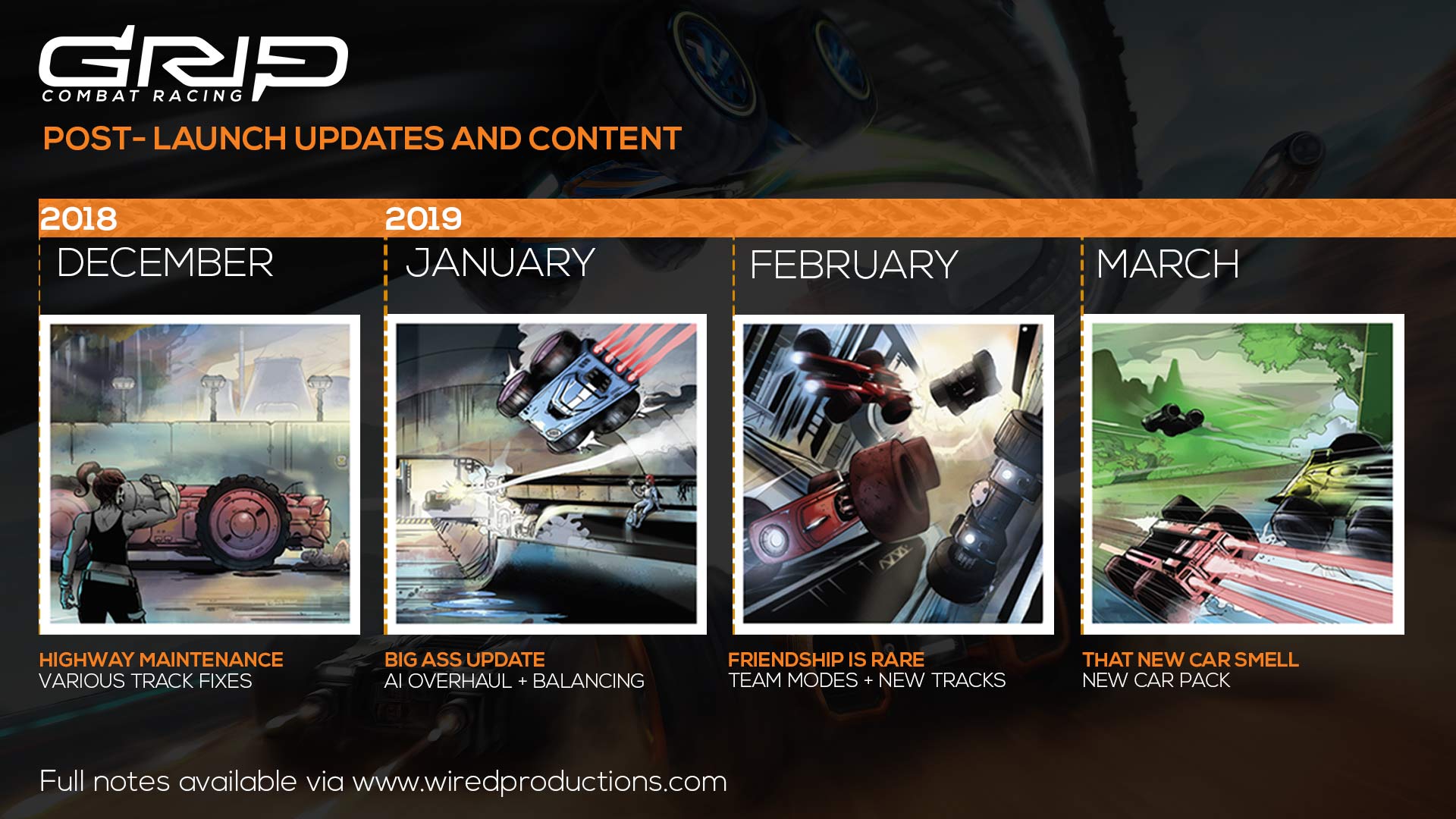 This means players should be able to participate in the fast-paced online action quicker than ever before.  The AI and catch-up system (or "rubber banding") rebalancing should enable players to have more of a competitive gameplay experience throughout GRIP's single-player modes.
We've broken down that Big Ass Update for your viewing pleasure below, the full list of patch notes can be seen here.
Lobby overhauled with new simplified voting mechanics and count down timer
Catch-up assistance has been rebalanced and can be toggled during the game's campaign
AI bots now drive more competitively even when catch-up assistance is turned off
AI bot vehicles are now selected to be comparable to the player's vehicle
Bug fix for AI bot catch-up in MP games
Resolved issue when displaying split-screen results
"View to a kill" battle arena is now rebalanced and redesigned
"Magmatic Core" battle arena now has speed-pads and has been redesigned to prevent insta-death
Improvements to various tracks' collisions and performance
Fixed issues around vehicle customisation
Improved stability for split-screen tournaments
Fixed bug preventing players 3 and 4 selecting vehicles in split-screen
Resolved issue where achievements were incorrectly unlocked when spectating a MP game
Improved calculations for leaderboard statistics
Improved how the player's overall average speed and position are calculated
Electrical sounds volume is now set correctly
Improved missile targeting when the target is manoeuvring hard
Improved missile guidance – missiles now avoid the floor much more often when launching
Vehicles are now allocated correctly to human players in split-screen events or tournaments