Codemasters Racing has just revealed a whole plethora of information regarding its highly anticipated upcoming title, Grid 2.
Amongst other details that were listed in the official statement, the game's release dates, box art covers and pre-order bonuses have now all be revealed a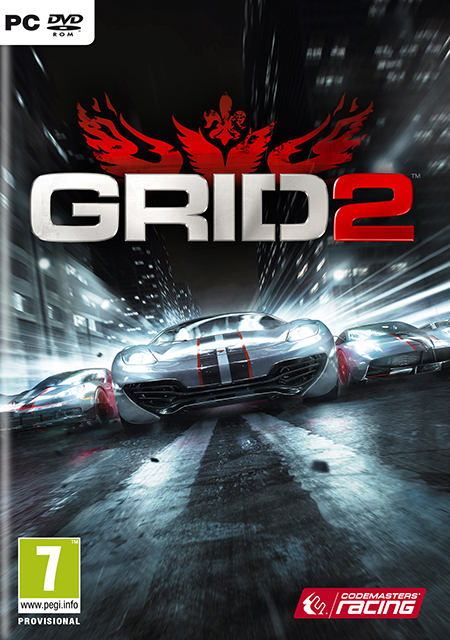 nd confirmed.
And, as a fair bit of info was revealed in the statement, we're going to cover each topic individually, starting with…
Box Cover Art
Kicking things off with perhaps the least important third of the announcement, the box art cover for Grid 2 is essentially the same image that we used as a cover photo on our Facebook page earlier in January. Not that we're complaining, mind – it is, after all, a pretty epic image.
Of interesting note if you're a tech savvy kind of person, the box covers were revealed in a short video clip that was captured using the new Vine app that's been taking the social networking world by storm as of late. You can see the Vine video here.
Release dates
As with the box art covers, there's very little you can actually discuss about the official release dates for Grid 2, other than the fact the only regions mentioned were the USA (May 28th) and the UK (May 31st).
For our visitors from other areas of the world, you'll have to wait a while before Codemasters Racing announces the dates for where you live. At least now you can roughly estimate that Grid 2 will be available at your nearest game retailer or be ready to be shipped and posted to your front door somewhere between the closing days of May and the first week or so of June.
Pre-order bonuses
The headline grabber of this new announcement, though, are the pre-order bonuses that the Codies staff have prepared for Grid 2. However, we do reckon that – like the omission of a cockpit view from the game – a small number of people may not be entirely satisfied with them.
Dependent on where you pre-order the game from, your copy will come with one of four pre-order packages, with each one offering small yet noticeable perks that help differentiate them from each other. They go as follows:
McLaren Racing Pack:
McLaren MP4-12C GT3 Special Edition
2 new routes around Brands Hatch
A Special Online Event
IndyCar Pack:
Dallara IndyCar and IndyCar Pace Car
2 new routes around Indianapolis
An Exclusive Online Event
GTR Racing Pack:
Nissan GT-R Road Car
Daytime Yas Marina Circuit
An Exclusive Online Event
Head Start Pack:
Mercedes-Benz SLR McLaren 722 GT
Upgrades Store Discounts
A "Unique" RaceNet bonus
What's more, if you pre-order from GAME in the UK, you'll be able to acquire the 'Brands Hatch Edition' of the game, which comes with the codes for the McLaren and Head Start pack.

Whilst there's nothing wrong with doing pre-order bonuses – it's pretty much the expected norm in the game industry nowadays – it's possible that at least a handful of people who were looking forward to the game may be disappointed that the content on offer is exclusive to the pre-order packages.
Though, given Codemasters has released versions of Dirt 3 and the original Grid with all the DLC content already on the disc, we wouldn't bet against there not being a version of Grid 2 in the future that has all the pre-order cars and tracks already stamped onto the disc.
But what's your take on Grid 2 so far? Are you still really excited about it and looking forward to its launch at the end of May, or have the pre-order packs put you off in any way shape or form? Let us know in the comments section below, on our Facebook page and in our Forums.