We already knew that Kunos has been planning Porsche content for Assetto Corsa in the form of three paid-for expansion packs, but now the developer has revealed that we can look forward to some freebies as well.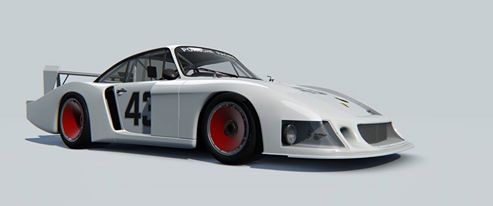 Of the 24 prestigious Porsches scheduled for release, three will be available to download for free: the 2016 Porsche Panamera, Porsche Cayenne and Porsche Macan. Granted, these are perhaps some unusual choices given that they weren't built for the track, but it will be interesting to put Assetto Corsa's physics engine to the test on some ordinary road cars and off-roaders.
However, some fans aren't too happy at the prospect of driving two Porsche off-roaders and an ugly saloon for free, complaining that they should be entitled to some of the more desirable and iconic Porsches if they've already paid for the game. Yes, apparently we live in a world where people complain about free content in a racing game.
There's been so much backlash that Project Manager Marco Massarutto has publicly responded on FaceBook in a lengthy statement. In summary, he basically says if you're a fan of the game then you probably shouldn't be complaining.
Imagine you get into a mall to buy a pair of Lee jeans, and when you go for the check out, the guy at desk tells you "I'm glad to tell you that, since you have purchased this product, you will get this t-shirt for free, offered by Lee".

What do you will answer? Some options:

– I didn't ask for it, just give me my jeans

– What are you trying to do? To fill my closet with useless stuff?!

– Let's do this: give me the jeans for free and keep the t-shirt for you

– What a waste of time and money, tell Lee to give me a 100$ jacket for free instead

– So, now Lee gives stuff for free to let me have a taste of it? Shame on them

Sounds weird? Not to some simracers. Sad, but true.

So, about Porsche: few people complain because Assetto Corsa will release – for free, and even if you just own the game but you don't purchase any Porsche DLC – the new Panamera, Cayenne and Macan. Saying the things you can read above. As part of our agreement with Porsche, the Brand asked us to reproduce, for THEIR simulators, ALSO the models included in their current production. For THEIR purposes. Once we worked for months to reproduce those models with the maximum accuracy for Porsche simulators, we believed it would have been a shame do not allow the AC community to enjoy those cars as well. Without charging them. And that's it. Also because we take in consideration that the AC community is so wide today that different people like different cars, something that some blind gamers still don't understand, or accept. On the other side, this kind of agreement allows us to reproduce and make available for Assetto Corsa cars like the one you see in the picture.

So, today lot of people tell me that they want so badly in Assetto Corsa the Alfa Romeo Giulia Quadrifoglio Verde . If to get it in the game we would be asked to include also the next Stelvio SUV as free bonus content, would you complain for it? If yes, probably you would need to turn off your PC or console, open the door, leave the house, close your eyes and take a breath; and relax. Because it looks to me that you are not able anymore to enjoy what is supposed to be your passion. BTW, driving the new PanameraTurbo at the Nordschleife in 7'.39" is a blast, and it is not for everyone. Stay tuned. And take it easy, enjoy your life, you live once.
Other cars confirmed for the upcoming Porsche DLC include the 718 RS, 917/30, Boxster 718 and the Carrera S.
The first Assetto Corsa Porsche DLC pack is due to drop some time this month. A season pass will also be available for anyone who wants to purchase all of the Porsche content.
If it's been a while since you've played Assetto Corsa, now would be a good time to get back on it. Last week saw the release of the 1.03 update for PS4 which fixed many of the game's performance issues and also added free car and track content.