Next month marks the arrival of a new batch of DLC cars for Forza Horizon, in the form of the Top Gear Car Pack.
Set to go live on the Xbox Live Marketplace for 400MSP (or for free, if you bought the Season Pass) on April 2nd, the Forza Horizon Top Gear Car Pack features six cars that, we assume, are much admired by the folk who play a part in producing the world's most popular – and our resident TG obsessive Martin's favourite – motoring TV show.
The question is, will this Forza Horizon car bundle be as appealling as the TV show that endorses it? Scroll down to find out…
All Images sourced from topgear.com.
https://youtube.com/watch?v=DF0JmcNbBVc
BMW M3 GTR
Whilst Turn 10's decision to make the BMW M3 GTR street car a 'Unicorn Car' in Forza Motorsport 4 wasn't one that was hated by every single member of the FM4 community, it was once that seemed to strike deep into the hearts of at least the more outspoken Forza fans.
If we're honest, we can see why many were a tad annoyed by Turn 10's move to make the GTR one of the most difficult cars to obtain in the game. When the car in question is an ultra-rare, 350bhp 4.0 V8 version of what some see as the most hard-edged generation of M3 to date, it's no surprise it was a car the Forza community wanted to own in-game!
Thankfully, the M3 GTR's inclusion in Forza Horizon as free DLC (the M3 GTR is the only car in the TG pack you don't have to pay for if you wanna download it to your Xbox 360 hard drive). And, whilst the canyon passes of Colorado are a far cry from the race tracks of Europe the homologated DTM racer made a name for itself, we can see the M3 GTR road car being a mighty fine tool to tackle and tame on those twisty mountain roads…
Mercedes-Benz CLK GTR
The endurance racing rulebook in the late 1990s dictated that, in order to legally compete in the GT1 category, a limited-run homologated road car had to be built alongside the competition version.
During those brief few years, a handful of barmy 'race cars for the road' burst onto the scene, such as the Nissan R390, the Porsche 911 GT1 and this: the Mercedes-Benz CLK GTR
The changes made to make the CLK GTR road legal (just) can be counted on one hand – the ride height was raised, the rear lights were swapped out with units from the regular CLK saloon car…and that's about it.
As a result, the CLK GTR would make a pretty terrible road car. Thankfully, Forza Horizon doesn't deal with such frivolous concessions that constitute real-world motoring, so everything that made the GTR epic on the race track should make it equally as amazing in the races that make up the Horizon festival.
Alfa Romeo TZ3 Zagato Stradale
It may look like a vintage Alfa Romeo racing car, and it may be smothered in Alfa badging, but this isn't an out-and-out Alfa Romeo. It isn't even Italian underneath: tear away the Zagato styling, and you'll find the chassis and powertrain from the Dodge Viper ACR-X.
Whilst it may seem a bit sacriligious to use a 'back-to-basics' American sports car as a base for a limited-run piece of Italian exotica, the ACR-X's proven track record at circuits like the Nurburgring and Laguna Seca do bode well for the TZ3 Stradale's dynamic credentials.
Oh, and the ACR-X's 640hp 8.4 V10 certainly does suggest this bespoke supercar will be phenomenally quick.
And we do mean 'phenomenally quick'!
Ford Transit SuperSportVan
Ford does have a habit of turning humdrum road cars into legendary road rockets – humble family runabouts like the Sierra, the Focus, the Fiesta, the Mondeo and the Escort have all been transformed over the years into some of the most iconic speed machines of their eras.
It's safe to say, though, that a fast Transit model isn't something you'd expect from the Blue Oval. But that's exactly what happened, with the inception of the SuperSportVan.
Built on a short-wheelbase version of the now-discontinued seventh generation Transit, this souped-up performance version comes bristling with the mighty power of a 200hp, 3.2 five-cylinder engine. Oh, and to top it all off, a pair of Le Mans-style 'Go Faster' stripes on the bonnet…
Whilst it is based on a road-legal vehicles, Ford only built one Transit SuperSportVan. At least its inclusion in Forza Horizon means many fast Ford fans (including our very own Blue Oval obsessive, Ross!) can get an HD glimpse of what this monster of a van is like to drive at what would be described as a "brisk pace".
Aston Martin Vanquish
When Aston Martin announced it's replacement for the DBS would be christened the "Vanquish", speculation was rife as to whether it was a wise choice of name. The previous Vanquish was, after all, one of the major milestones in Aston Martin's history, so there were high expectations for the new car to be nothing less than spectactular.
Aston's gamble of sorts, though, certainly paid off. With a blend of jaw-dropping design (moulded entirely out of carbon-fibre, no less), exquisite detailing inside-and-out and a 565hp version of Aston's tried-and-tested 5.9 V12 engine (don't believe them when they say it's a 6.0 – it's not!), the latest Vanquish is a more than worthy successor to the much-loved original.
What's more, the new Vanquish is making its gaming debut in this Forza Horizon DLC pack, so – if you want to experience the latest Aston flagship on a gamepad or wheel peripheral in its inaugural gaming appearance – the TG Car Pack suddenly looks very appealling indeed…
Bowler EXR-S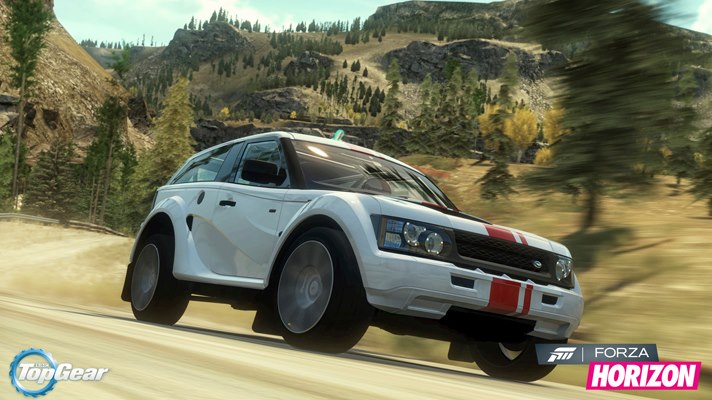 Another car that's making its gaming debut in the Top Gear DLC is this: the Bowler EXR-S. And, as far as off-roaders in Forza Horizon go, this could very easily become our all-time favourite!
The EXR-S isn't just a first for Horizon, though – despite being based on Bowler's latest rally raid conqueror, the EXR-S is a fully-fledged road car; built in response to demand for a version that can be used on the public road.
Don't go thinking the EXR-S is only a pale imitation of the out-and-out machines that regularly compete in special stage events – the rugged bodyshell shrouds high-tech components that wouldn't look out of place in the storage lockers of Dakar support trucks, and the 5.0 550bhp supercharged V8 ensures it should be quick everywhere, no matter what terrain is thrown at it.
Long story short, we simply cannot wait to take the Bowler EXR-S out for a spin on not just the Forza Horizon's dirt trails, but even the stages that make up the Rally Expansion Pack!
So, now all the cars in the Forza Horizon Top Gear Car Pack have been given the 'Team VVV Summary Treatment', what are your takes on April's DLC bundle? Are there any cars here that you can't wait to try out in Forza Horizon, or do you reckon this is a dud of a car pack? Do let us know in the comments section below, and on our Facebook page.