Until now, we hadn't heard much about Forza Horizon since its debut to the press and gaming public at E3 in June. With its release date now only a few months away, details about what is undoubtedly one of this year's most anticipated racing games are still surprisingly scarce.
Thankfully, the folk at Turn 10 and Playground Games have just announced the bits 'n bobs we need to know about all the pre-order packs that'll be on offer.
As the press release that entailed all this info is a bit big, we've condensed it down into a few separate sections, starting with…
Bonus Cars:
As with most other racing games, you're rewarded for pre-ordering Forza Horizon by being given some unique codes. However, there are a few differences here and there when compared with the way other titles give out their gifts.
The in-game bonus cars are mostly as you'd expect to be norm for racing titles – depending on which retailer you buy it from, you'll be given a sequence of letters and digits on launch day which will give you instant access to one of five cars: the VW Golf R, Nissan 370Z, Ferrari 458 Italia, Mercedes-Benz SLS AMG or the Aston Martin Virage.
However, there's also an 'Instant Incentive' for those who own Forza 4, as there'll also be a code that'll allow you to install a unique 'Forza Horizon-livered' Dodge Challenger SRT8 392 and use it in FM4.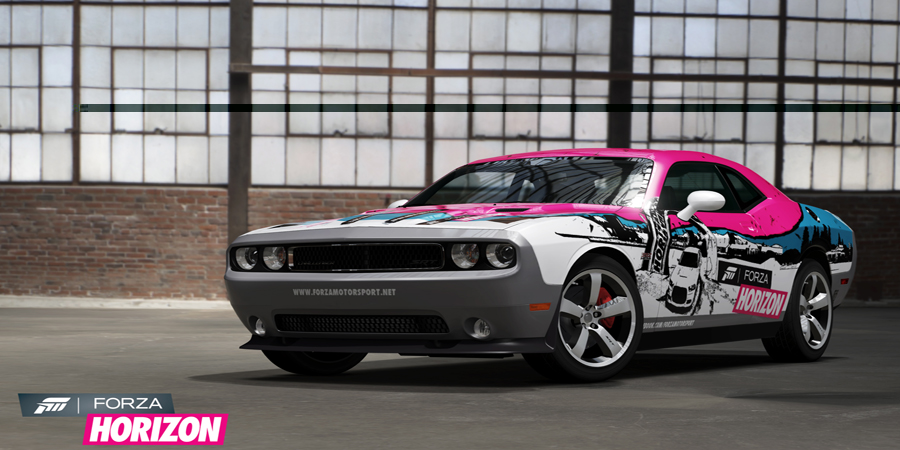 Limited Collector's Edition:
If you're the sort of person who has a few extra pennies going spare or is willing to splash out a bit more on a more 'exclusive' copy of Forza Horizon, then the Limited Collector's Edition will be of most interest to you. Not only is it contained within its own bespoke case – made exclusively by Steelbook – but the Horizon LCE also comes with what's being called the 'Forza Horizon Festival Ticket'.
Though it doesn't get you access to any in-game or real life Forza-associated gigs, it does come with quite a few perks. Not only does it give you access to a unique car pack (details of which will be announced at a later date), but the Ticket also brings with it 'Accelerator Tokens' (which help speed up your progress in the single-player career mode by providing you with early access to higher tier cars and events), a pack of Forza Horizon liveries and a rather intriguing VIP membership.
VIP membership:
If we're honest, we could've just continued this on from the previous section by simply adding another paragraph. However, we reckon the VIP perks are worthy enough of having their own segment.
For starters, being a 'Forza Horizon VIP' means you get access to yet another launch day car pack (again, details of which will be announced later). Being a Very Important Player also means you'll be able to enter exclusive VIP-only events in the game, and the press release states that being such a high profile Horizon player means you'll recieve 'special recognition in the Forza community'.
Overall, we're rather impressed with the pre-order gubbins for Forza Horizon, and we'd be lying if we said we weren't excited by them, especially the LCE.
You can pre-order your copy now online or at your nearest participating gaming retailer. In the meantime, check out our gallery and the official trailer below:
https://youtube.com/watch?v=_binY5ktAhc