After an inaugural full week of car announcements for Forza Horizon (the reveal process began last Thursday, so last week's article only had four day's worth of cars to comment on), we've now got a far larger list of exotic motors to declare and describe this time around.
Ranging from lightweight track specials to carbon-clad supercars and icons of yesteryear, the selection of cars that've been revealed this week is as varied as we'd expect from a Forza car roster announcement, and we're sure at least one of the 13 that've been unveiled this week will cater to your tastes.
But enough babble – let's kick things off with, appropriately, the first car to be announced this week…
Mercedes-Benz C63 AMG Black Series
If you want a quick Mercedes C-Class, you opt for the C350. If that's not enough for you, then the C63 is a better bet. If that's not quite to your tastes, there's always the optional Performance Package version. And if that's still too 'weedy', then there's this: the C63 AMG Black Series.
Packing the 510hp punch from a de-tuned SLS engine, this wannabe DTM racer for the road has all the right ingredients for something very exciting and very special – sticky rubber, a carbon fibre aero kit, a rear axle differential lock…oh, and chromed tailpipes.
In fact, the whole package is so impressive, that America's 'MotorTrend' magazine named it their runner-up in this year's 'Best Driver's Car' showdown, losing out ever-so-slightly to the Porsche 911 Carrera S.
Considering greats such as the Nissan GT-R, McLaren MP4-12C, Subaru BRZ and Lamborghini Aventador were also in the running, it puts into perspective just how well sorted the C63 Black is.

Aston Martin DB5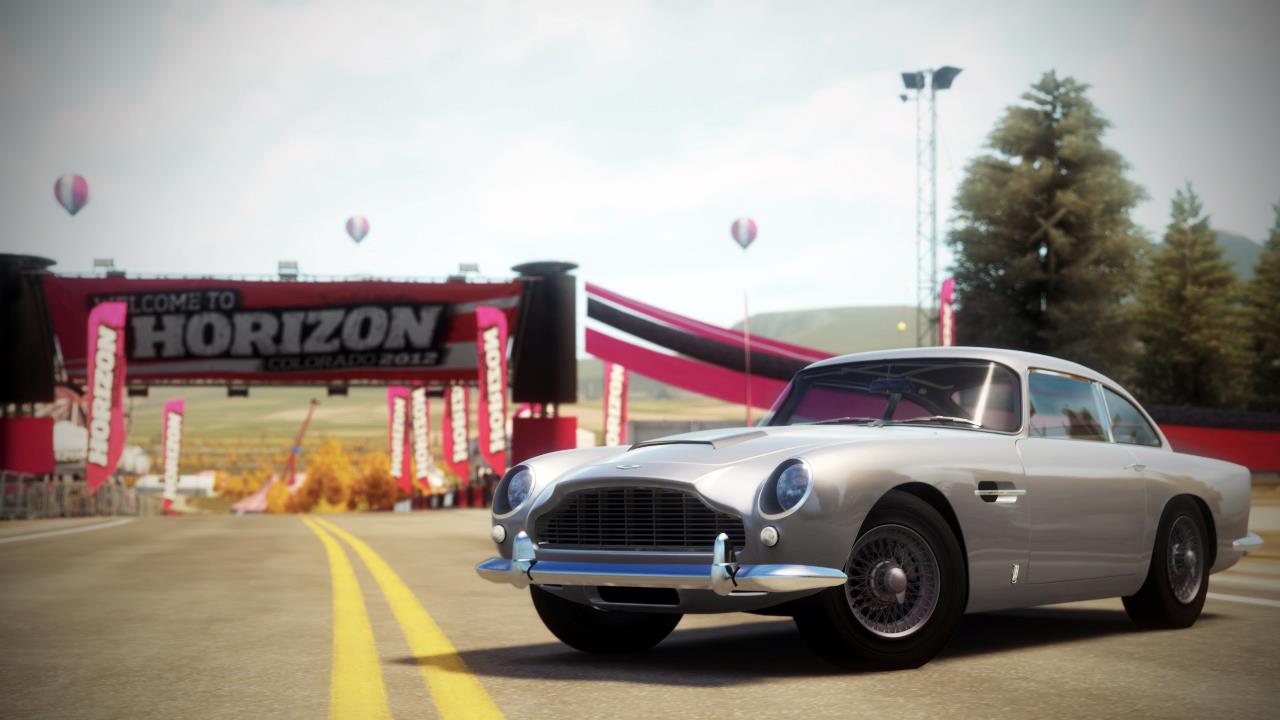 Not many people know this, but had things gone differently, Sean Connery would never have driven an DB5 in 'Goldfinger' – had the Jaguar boss Sir William Lyons not pulled out of the deal at the last minute, MGM Studios would've plonked Bond in an E-Type. Alas, 'Cubby' Broccoli sourced another quintessentially British sports GT car, and as a result the Aston Martin became one of the most famous and recognisable cars of all time.
But it wasn't just the car's starring role in a James Bond flick that makes this particular motor a 'sub-zero car'. Not only did it go like stink (well, by the standards of the Sixties…), courtesy of a 282bhp 4.0 straight-six engine, but it also looks the business too, thanks to the beautiful 'superleggera' bodywork done by the Italian design studio Carrozzeria Touring.
Considering there'll be faster cars in the game, and that the DB5 that was modelled most likely didn't have machine guns or an oil slick sprayer, we're not convinced it'll prove to being a race winner. However, we highly doubt there'll be anything else in Forza Horizon that can rival the visual and cult appeal of the Aston Martin.

Ford Mustang Boss 429

In homologation rules, it's often the case that a few road-going versions of the competition car have to be sold to the 'general public'. However, as a result of a few 'loose' bits of legislation in the '69 NASCAR rule book, Ford was able to take the huge V8 from the Torino race car and put it into a redesigned Mustang shell.
And the end result? The Ford Mustang Boss 429.
As you'd expect from a car that wasn't designed to take such a giant race engine, quite a few compromises had to be made. The battery pack, for instance, had to be relocated to the other side of the car, and air-conditioning wasn't even an optional extra because the pump simply wouldn't fit in the engine bay! Niggles such as this, combined with the steep price and the fuel crisis a short while later, meant only 858 found homes.
At least the 429's rarity makes it a highly sought after collector's car, and ensured this specific 'Stang would go down in history as one of the greatest muscle cars of all time.
And, as you don't have to worry about the likes of air-con in Forza Horizon, you've more time to enjoy crusing about in the Boss 429, listening to that 375hp burble reverberate throughout the Colorado countryside
Lotus 2-Eleven
Though company founder Colin Chapman was obsessed with making his cars as light as they could possibly be, modern Lotuses have been piling on the pounds as of late, especially when compared with the featherweight icons from the firm's glory days.
This, then, should be the perfect antidote for the sort of person who wants a truly pared-back Lotus in the truest sense of the mantra 'simplify and add lightness': the Lotus 2-Eleven.
The spiritual successor to the dominant Lotus Eleven from the Fifties, the 2-Eleven is instead based mostly on the Exige S, though is substantially lighter than the donor car. That means that, despite having a 1.8 supercharged engine with 'only' 252bhp on tap, the incredibly low 670kg weight gives the Lotus a supercar-rivalling power to weight ratio of 376hp per tonne. To put that in perspective, the C63 Black Series we mentioned earlier can only muster up 292hp per tonne.
Make no mistake, then, the Lotus 2-Eleven is a genuine force to be reckoned with, and should prove to be an absolute blast through the twisties. Unless you encounter one of these in a high-end hypercar or on a route that focuses more on top speed in a straight line, don't expect the fight for first place to be an easy one.
Dodge Charger SRT8
The Dodge Charger is perhaps one of the most iconic muscle cars of all time. After all, it looked ace and, thanks to the Dukes of Hazzard, became forever associated with the Confederate flag and a certain aftermarket horn. Sadly for the purists, this Charger isn't that one, but it's still got enough to get the Yankee gearheads excited.
After all, it's a front-engined, rear wheel drive 'Olde Schoole' slab of traditional Americana motoring that was made to do one thing, and one thing only: go like a bat out of hell in a straight line, courtesy of a 6.4 Hemi V8.
Sure, it'll be a shocker in the bends, but who cares when you've got a Hemi to shred the rear tyres with? And hey, if you can master the divine art of balancing a Charger on the throttle in a powerslide and make it look graceful and controlled, you'll be able to handle pretty much everything else when you're right on the limit!
Honda Integra Type-R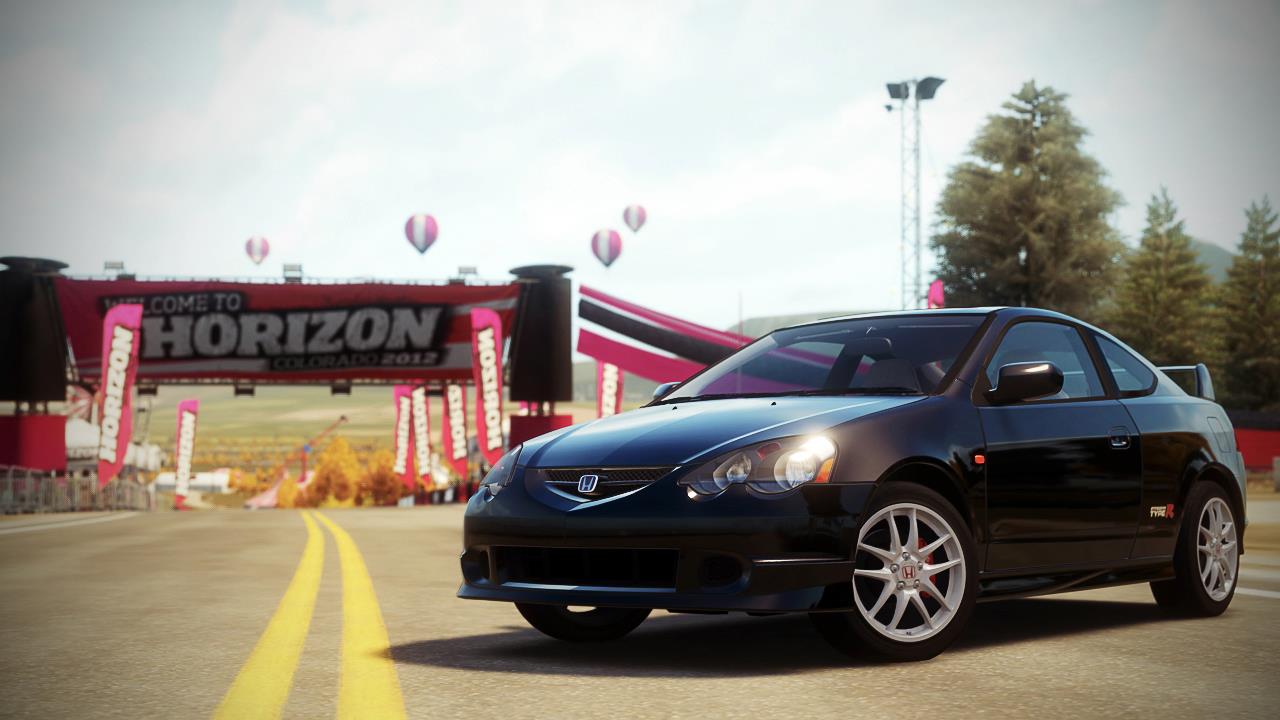 As you'd expect from a Honda that's proudly wearing the 'Type-R' moniker, the Integra Type-R was designed to be an out-and-out drivers' car. With a high-revving, naturally aspirated VTEC engine, a limited-slip diff, stiffer suspension and a close-ratio six speed gearbox, it has all the right ingredients to make a great sports car.
And a great sports car it was! It may have been front-wheel drive, but the motoring press loved it. In fact, quite a few would go on to say that not only was it one of the greatest performance Hondas of all time, but also one of the greatest performance cars of all time.
Unfortunately, in the real world, the Integra Type-R was only available in the Japanese market. Thankfully, with its inclusion in Forza Horizon, the manic Honda can now be sampled by plenty more people on Colorado's tight and twisty canyon passes; the exact type of road that the Integra Type-R was made for.
Mercedes-Benz S65 AMG
For most buyers of the acclaimed German executive limo, the most appropriate engines to choose are either diesels or, if they're feeling like a bit of a rebel, a petrol V6. There are, though, a few people in the world who want their S-Class to be the ultimate sleeper, so that's why AMG made this: the S65.
Boasting more power than any other Mercedes currently on sale, the twin-turbocharged 6.0 V12 churns out nearly 620hp and 738lb/ft of torque. Sure, it only has five cogs in the automatic gearbox, but the sheer amount of punch this car has means you can leave it in fifth and still smoke a load of other cars in a straight line.
A word of warning, though: the S65 is nearly a three-tonne car, so don't expect it to be nimble or 'easy to drive' though the twisties. However, if you come across one of these whilst you're in a BMW M5, Cadillac CTS-V or even a Bentley Continental GT, we advise you think twice before taking an S65 on in a drag race.
Noble M600
When Peter Boutwood bought Noble, the first thing he did was set about creating the spiritual successor to his favorite car of all time, the Ferrari F40. However, what actually happened was more akin to the McLaren F1, in terms of power, speed and focus on being the ultimate driver's car.
Like last week's Ultima GTR, the Noble M600 is built in Leicester, but don't let that lead you into the belief it'll be crude. Of course, the interior won't give the folk at Ferrari sleepless nights and it's almost completely devoid of electronic assists, but the Noble does have carbon-fibre bodywork, a Graziano gearbox, variable engine mapping…oh, and a twin-turbo 4.4 V8 with 650bhp.
Mated to the car's 1,275kg kerb weight, it makes the M600 one of the fastest (how does 225mph sound to you?), exciting, involving and, with the traction-control off, scariest performance cars ever to emerge from the British Isles. Looks like, minus the 'British' part, it is the spiritual successor to the F40, after all…
Shelby Cobra Daytona Coupe
In the 1960s, there was hardly a single motorsports discipline that Ferrari wasn't dominating. When it came to making the ultimate racing cars, no one dared to take on Enzo Ferrari at his own game. Well, apart from an ex-chicken farmer from Texas called Carroll Shelby.
The roadsters didn't fare well, so in 1965 the Texan and his crew quickly bodged together in 30 days a more streamlined hard-top version that would become the 'Shelby Daytona Coupe'. And guess what? It knocked the once-dominant Fezzas into the middle of next week.
In fact, the 0-60 time of 4 seconds and the top speed of 190mph are enough to rival most modern sports cars. So, if you ever come across one in Forza Horizon and feel like you can take it on, make sure you've got something that can at least match the Shelby's monstrous turn of speed first!
Mitsubishi Lancer Evolution VI
When it comes to road legal rally cars, few are as iconic as the Mitsubishi Lancer Evolution. And, out of the ten generations of Evo, the 'Evo VI' is widely seen to be one of the best.
Being based on the competition machine that had won the championship no less than four times, it's of no real surprise to hear that it's a rather quick car. Sure, 276hp doesn't sound like that much by modern standards, but it's enough to get the Mitsu to 60mph in 4.3 seconds and onto a top speed of 150mph.
And, with the AWD system, it means it can do that speed everywhere, no matter what terrain it's on. Which, considering there'll be 65 different surfaces in Forza Horizon, puts the Mitsubishi Evo VI in a very good standing indeed.
BMW 2002 Turbo
BMW's M Division has been met with quite a bit of criticism for putting turbochargers on their cars, with some ardent M-car fans declaring it to be 'against everything the 'M' badge stands for' and 'not a proper drivers' BMW'. However, the Bavarian firm has been toying with turbocharged performance cars for yonks, with its first stab being this: the 2002 Turbo.
In fact, this was Europe's first ever turbocharged production car, so it's got a 'Claim to Fame' there. However, despite being a first-attempt, the 2002 Turbo was a very well sorted car – it did, after all, firmly establish BMW as a manufacturer of performance cars you could live with everyday – and, with 170hp 2.0 four-pot behind the 'Shark Nose' grille, it was also quite quick in its day.
Of course, by modern standards, the turbos are about as laggy as a dial-up internet connection and almost every other performance car in the game will kick it into the dust. However, the car's extremely light weight should make the perky little Bimmer an absolute delight in the corners. Just keep an eye on the turbo boost gauge…
Alfa Romeo 8C Competizione
When anyone does a poll that asks people to vote for the most beautiful car of all time, the eventual winner is often something that can only be described as 'old'. That said, a handful of modern motors do make their way into the top ten from time to time, and one such car is the utterly gorgeous Alfa Romeo 8C Competizione.
But it's not just the way it looks that makes this car worthy of your attention. After all, it's the first rear-wheel drive Alfa since the 75 saloon went out of production in 1992, and under the carbon-fibre skin was the same chassis (albeit with a few inches lopped out of it), transmission and 4.7 450hp V8 from the Maserati GranTurismo S.
So, yeah, it'll be quick. But more importantly, it'll sound like a snarling tiger as the Ferrari-derived engine soars towards the redline. So, if you've got a top-notch surround sound system, we wouldn't be surprised if the first thing you do in Forza Horizon upon acquiring an 8C is crank the volume up and scope out the closest tunnel or canyon pass on your in-game GPS.
Toyota Sprinter Trueno GT-Apex
It may have been based on the less-than-exciting Toyota Corolla, but don't let that lead you to the impression that the Sprinter Trueno GT-Apex (also known as the 'AE86') is a dull car. On the contrary, this small RWD Japanese car has gone down in history as one of Toyota's most iconic cars.
It may have only had a 130hp 1.6 four-cylinder engine, but the combination light weight (923kg, to be precise), accurate controls, the balance of the rear-wheel drive chassis and a motor that loves to rev makes the AE86, as the motoring press puts it, 'one of the finest driver's cars ever made'.
With such a fine platform to work on, it's of no surprise that the AE86 was succesful in many various disciplines – over the years, the GT-Apex proved its worth in rallying, touring car racing, street racing, touge drifting…oh, and if the animated series 'Inital D' is anything to go by, it also makes quite a good tofu delivery vehicle!
And that's Part 2 of our weekly Horizon Reveal done – my word, there were quite a few cars to comment on this week! Be sure to check back in next week for Part 3, where we should have equally as any motors to reveal and report on.