Forza Horizon 4 developer Playground Games has outlined the automotive additions it plans to introduce to the game over the next four weeks.
Spearheading the brunt of the content push will be the eight cars that are coming as part of the game's premium Car Pass programme. Two Car Pass cars will be added to Forza Horizon 4 per week, with the first pair being released on 26 October.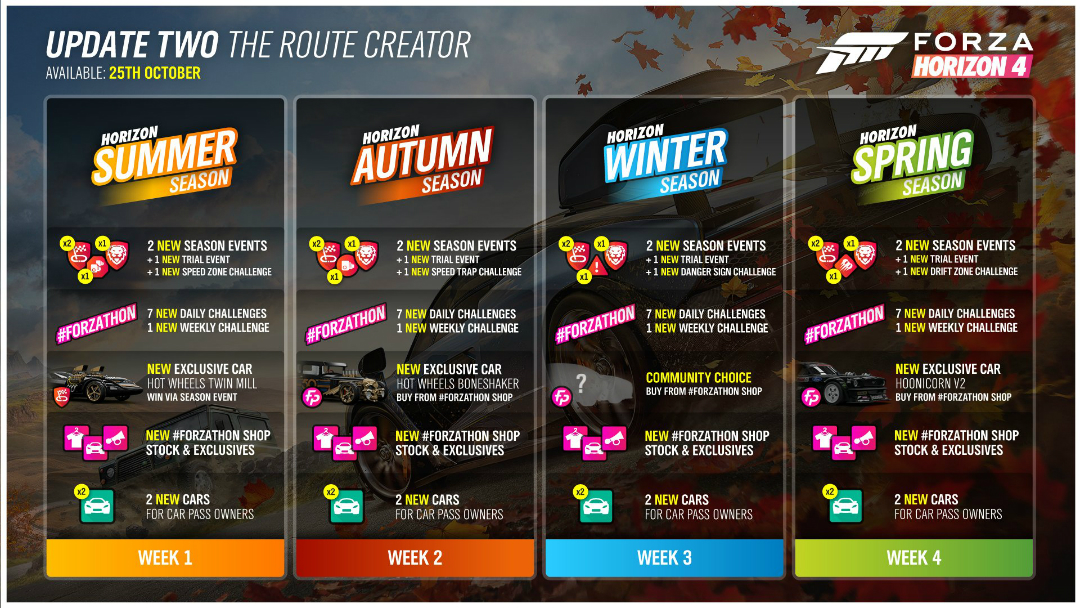 Some of the additions are themed in specific ways too. Week Two sees two Hoonigan-prepped cars make their way into Forza Horizon 4, whereas a pair of Vauxhalls that make their first Forza appearance since Forza Motorsport 4 will be featured in Week Four.
The full Car Pass schedule for the next four weeks has been listed below. The cars in bold are making their Forza franchise debut via Forza Horizon 4's Car Pass programme.
Week One (26/10/2018)
2012 Lamborghini Gallardo LP570-4 Performante
2018 Ford Mustang GT 'DeBerti Design'
Week Two (2/11/2018)
1977 Hoonigan Gymkhana 10 Ford F-150 'Hoonitruck'
1991 Hoonigan Gymkhana 10 Ford Escort Cosworth Group A
Week Three (9/11/2018)
2018 Alfa Romeo Stelvio Quadrifoglio
2018 Can-Am Maverick X RS Turbo R
Week Four (16/11/2018)
2004 Vauxhall VX220 Turbo
2010 Vauxhall Insignia VXR
Free content will also be added to Forza Horizon 4 over the time period too. A reward for Week One's seasonal event will be the 1,400bhp Hot Wheels Twin Mill car, with the Hot Wheels Boneshaker hot rod being available the following week through the Forzathon Shop.
The aforementioned marketplace (which only accepts 'points' earned through completing Forzathon challenges as currency) will also stock a "community choice" car and the Hoonicorn V2 Gymkhana stunt vehicle in Week Three and Four respectively.