If you're a Vita owner pining for some racing action, it's fair to say that your options are extremely limited. While Milestone have been faithfully supporting Sony's portable powerhouse by continually porting their WRC and biking simulation games, the Vita is decidedly devoid of more casual, pick up and play racing titles that would arguably be better-suited to the handheld. Other than MotorStorm RC and Need for Speed: Most Wanted, both of which were released early on in the Vita's life cycle, there's absolutely nothing that fits the bill. This is where Table Top Racing comes in.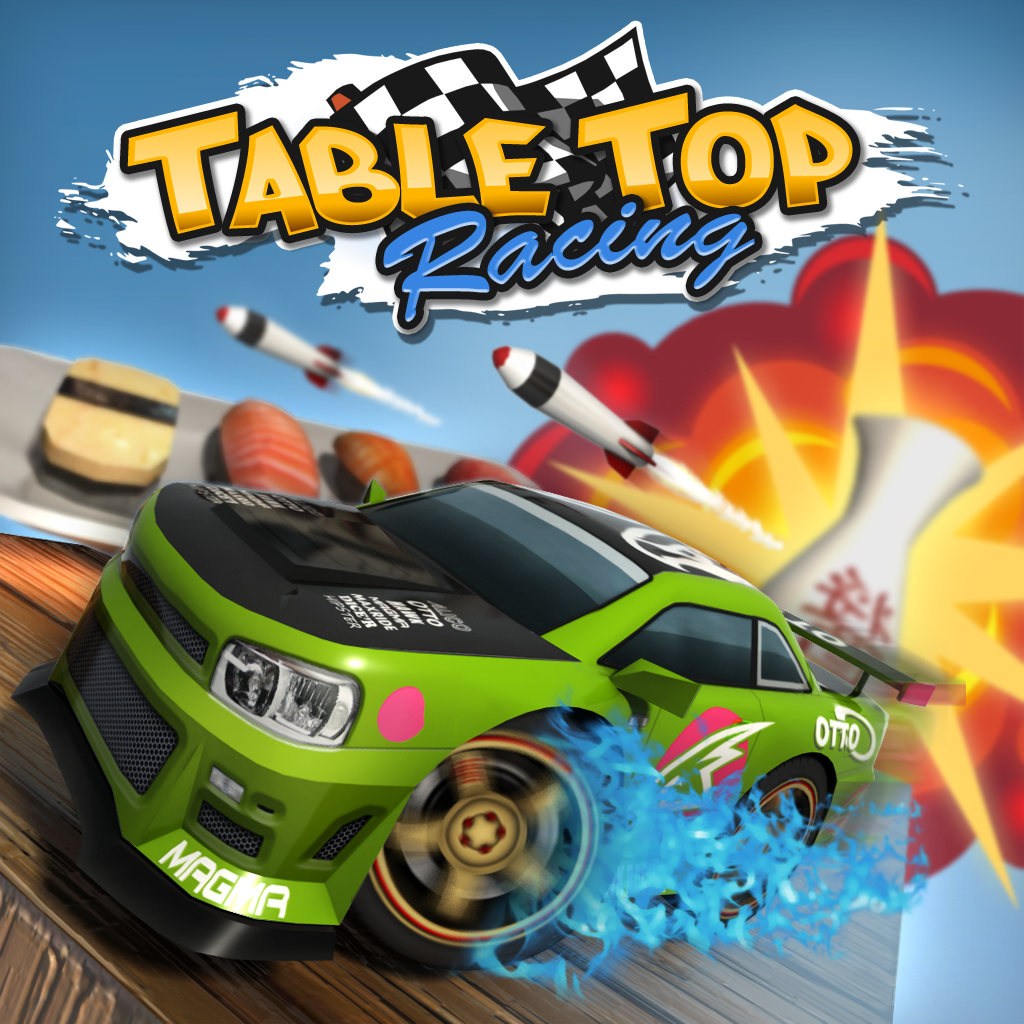 Originally a hit mobile game on iOS and Android, Table Top Racing has you racing miniature motors across table tops, dodging over-sized household obstacles and blasting opponents with a variety of weapon power-ups at your disposal. Granted, it's not exactly an original setup, and unashamedly takes its cues from Codemasters' classic Micro Machines, but it's a winning formula that proved popular on mobiles, picking up numerous awards on mobile sites and was even nominated for Best Game at the 2013 TIGA Awards. The Vita version has the potential to be a similar success story – the console may not have the same mammoth user-base, but the mobile market is saturated with casual touch-based racing games. The Vita version, on the other hand, has an advantage of practically being in a class of its own, with its closest competitor being MotorStorm RC.
The new console release of Table Top Racing is being touted as the "definitive" version, with spruced up visuals, a smooth 60 fps, and something that the majority of smartphones and tablets simply cannot offer: actual physical buttons. Indeed, developer Playrise have taken full advantage of the Vita's control layout, utilising its dual analogue stick controls and rear touch pad to full effect. It even supports local and online multiplayer for up to 4 players.
There's a variety of game modes on offer here: as well as your standard championship, quick race and drift modes, there are also over 30 special events, ranging from elimination events to one-on-one chase and destroy missions.
//www.youtube.com/embed/j5ze9mZI7Jw?rel=0
Founded in 2012, Playrise Digital is a relatively new independent developer studio based in Liverpool aiming to create console-quality games for the mobile platform. They have two titles under their belt so far: in addition to Table Top Racing they also developed the physics-based puzzler Baby Nom Nom, both of which garnering critical acclaim.
The team also has some serious racing pedigree – Playrise is being run by none other than Nick Burcombe, the co-creator of the Wipeout series and former Sony Liverpool producer.
So what's next for Playrise ? Well, the Liverpool-based developer has the PS4 firmly in its sights for their next project: "Playrise is now working in next generation console development via PlayStation 4," Burcombe told Eurogamer.
"We feel like PlayStation is our spiritual home and the best place for us to express our creativity and vision. We are very excited and we can't wait to share more news with your readers very soon!"
Table Top Racing can be picked up on PSN now for £4.99/ €5.99/ $7.99. PS Plus users can also enjoy a discount for a limited time.