In light of their update yesterday confirming the development of an Xbox One wheel, Fanatec have posted a lengthy explanation on why you won't be able to use your existing Fanatec CSR wheel, Forza 4's flagship racing peripheral to play Forza Motorsport 5 on Xbox One.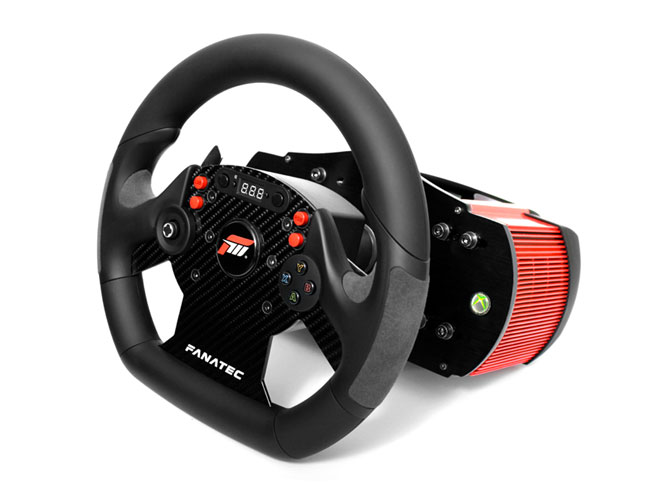 "Several people have raised their concerns and we understand your disappointment but we also hope you see that there is nothing Fanatec could have done to make your wheels compatible to the new console. Technically it is probably possible to make an adapter but any device connecting to the Xbox 360 or Xbox One (incl. this adapter) needs to have a security chip module which can only be purchased from MS. So without the permission of MS we could only "crack" the security chip and this is not only illegal but would certainly ruin our relationship to MS and other platform owners," the statement reads on Facebook.
"And we were not able to "warn" anybody about this as up to this moment it is still possible that MS changes its mind like they did on other specs of the XB1 as well. It still can happen but we want to be fair and tell you that it is not likely to happen.
We never claimed that the wheels were compatible to Xbox one and please remember that all peripherals of the first Xbox did not work on Xbox 360 either.
Microsoft has good reasons to skip the backwards compatibility as this allowed to implement a completely new and more powerful communication protocol. Of course they are happy to sell new controllers to you and earn money on licenses but keep in mind that a console is about plug and play. MS is very strong to provide a clear standard for controllers and make sure that all controllers work with all games of a certain genre. On other consoles it can happen that your brand new and official controller works only with one game because the communication protocols are not clearly defined from the beginning.
The only thing we can offer is to develop a wheel where you can at least use your peripherals so you don't have to buy a complete new setup. And when this wheel is ready, we will make an attractive upgrade offer for all existing customers for sure."
So there you have it: a thorough explanation that leaves us in no doubt that Fanatec is not at fault here. Whether or not Microsoft relent remains to be seen, but if you're looking for an Xbox One wheel to use with Forza Motorsport 5 on day one then the Thrustmaster TX 458 Edition is currently your only option. The Mad Catz Force Feedback Wheel will follow early next year.