News

Fanatec announces Clubsport Universal Hub for Xbox One, new wheel will be a "much lower price point"
News
Fanatec has announced that their Universal Hub designed for the Clubsport wheel base will be released on Xbox One next month following their recent partnership with Microsoft that will see future racing peripherals from Fanatec released on Xbox One.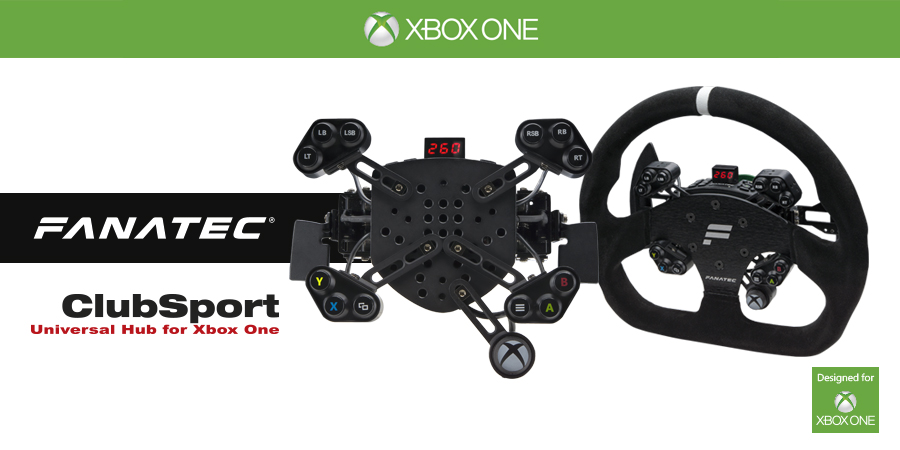 First released last year on PC, the Universal Hub allows you to attach one of the following premium wheel rims to the ClubSport V1 and V2 Wheel Base:
GT for supercars and road racing
Oval for NASCAR and similar series
Drift for rally, off-road and drift simulations
Classic for vintage race cars
Round1 for vintage open wheelers
Flat1 for modern open wheelers, F1, LMP1 or DTM series
Alternatively, for added authenticity you can attach aftermarket wheel rims from the likes of SPARCO, MOMO or OMP.
Each button can be configured to map the Xbox One controller, and two sizes of paddle shifters are available which are fully adjustable. It also comes with a detachable Tuning LED display to monitor telemetry info or change wheel settings on the fly.
PC gamers haven't been left out either, as the Universal Hub for Xbox One is also compatible on PC.
Additional wheel bases and a new Xbox One wheel "targeted to a broader audience at a much lower price point" are also due to be announced later this year.
The Fanatec Universal Hub for Xbox One will be released in Europe, USA, Australia and Japan on May 28th.