Just prior to F1 2014's official release tomorrow, Codemasters has announced all of the wheels that are compatible with the licensed racing game.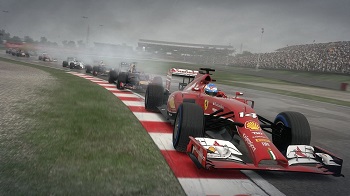 Much like previous F1 games, F1 2014 will support a wide array of racing game peripherals from a variety of manufacturers, such as Fanatec, Thrustmaster and Logitech.
However, whilst many wheels are available on the PC and PlayStation 3 platforms, F1 2014 players on the Xbox 360 will only have eight officially supported wheels available to choose from.
The full list of compatible wheels for F1 2014 can be found below. To find out more on the game, make sure to check out our full written review here.
PC
– Microsoft Sidewinder Force Feedback Wheel with Force Feedback
– Fanatec Porsche 911 Carrera
– Fanatec Porsche 911 GT3 RS2
– Fanatec CSR Elite
– Fanatec ClubSport Pedals
– Thrustmaster RGT Force Feedback Clutch Edition
– Thrustmaster T500RS Racing Wheel
– Thrustmaster Ferrari GT Experience
– Thrustmaster Ferrari 430 Force Feedback Racing Wheel
– Logitech Driving Force GT
– Logitech Driving Force Pro
– Logitech G25 Racing Wheel
– Atomic Super Sport Evo Steering Wheel
– Logic3 Tri Format Topdrive RF
– Atomic TVR Sagaris Sport Racing Steering Wheel
Playstation 3
– Logitech Driving Force GT
– Logitech G25 Racing Wheel
– Logitech Driving Force
– Fanatec Porsche 911 GT2
– Fanatec Porsche 911 Turbo S
– Fanatec Clubsport V1
– Thrustmaster Ferrari F430 Force Feedback
– Thrustmaster T500RS Racing Wheel
– Logic 3 TopDrive RF
Xbox 360
– Microsoft Xbox One Controller
– Fanatec Porsche 911 GT2
– Logitech Drive FX Wheel
– MadCatz Wireless Racing Wheel