Giants Software have revealed details on the mission system for their upcoming farming title Farming Simulator 17.
Giants Software explain that in previous Farming Simulator titles you would stumble upon empty fields which can only be used by purchasing them yourself. However things are a little different in Farming Simulator 17, when viewing details of a field for sale you are given two options. You can either purchase the field as before or work a mission for the current owner.
In other words you'll be helping out an NPC as their fields go through the usual natural cycles. Tasks available include sowing, fertilising and harvesting among others. Before deciding which job to complete you are of course given full details including payment, vehicles and equipment required for the task (which are given to you for free) and the job description itself, take a look at the picture below for an example.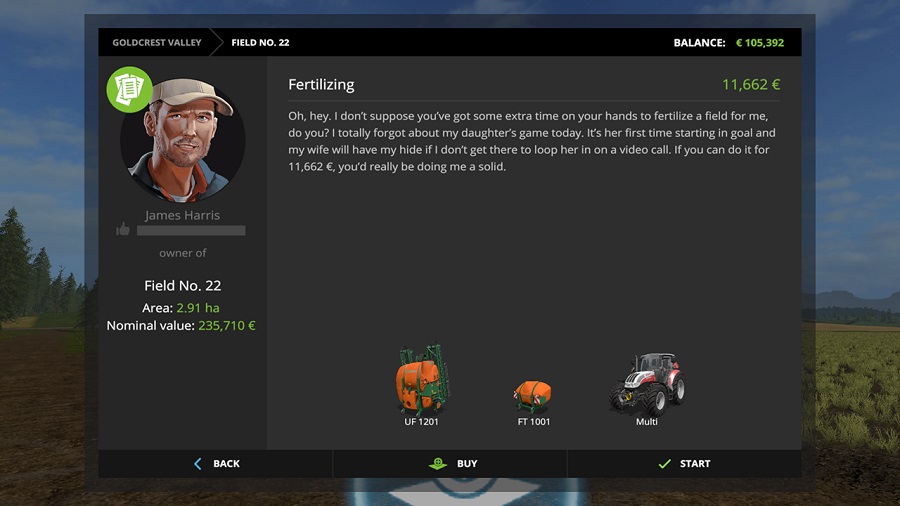 Completing these missions in time will earn you the agreed payment along with a speed bonus. You'll also earn loyalty with that particular farmer which in turn reduces the cost of the field should you choose to buy it outright. The more loyalty you build up with a farmer the greater the discount will be on the field.
Giants Software will reveal more details on Farming Simulator 17 in the coming weeks. Farming Simulator 17 will be available on October 25 for the PlayStation 4, Xbox One and PC platforms.
Support TeamVVV on Patreon: www.patreon.com/TeamVVV.