Ask anyone what their favourite racing mode in Race Driver: GRiD was, and there's a strong chance they'll say it was demolition derby. At the time, demolition derby games were in decline after games such as Destruction Derby and FlatOut dominated the genre during the last generation, so being able to once again deliberately crash some rust-buckets into each other in a big arena was something of a nostolgic novelty.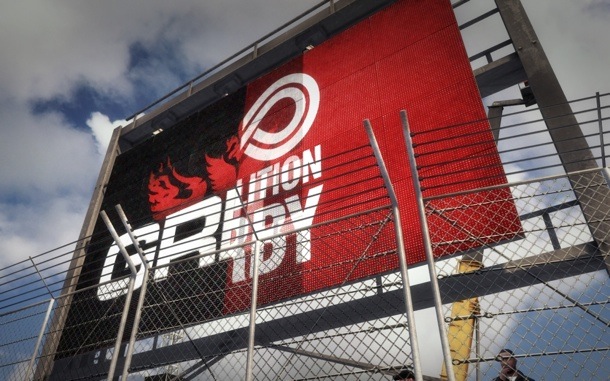 It was therefore disappointing to find that demolition derby was absent in the recently-released Grid 2, although I put that down to the fact it felt more at home in DiRT Showdown. Now, though, Codemasters has decided to reintroduce the fan favourite demolition derby mode to Grid 2 in an upcoming free update. Codemasters apparently never intended demolition derby to be featured in Grid 2,either – the decision was directly influenced by fan requests.
A patch is also said to be in the works which will address some of Grid 2's common criticisms.
Here's a summary of what the update will add:
Custom Playlist
This change increases the amount of experience and money you get for participating, ensuring that you are no longer penalised for wanting to opt out of the Online Playlists and you'll now be able to race the way you want to race, with no hindrance to your online progression.
Hardcore Playlist
A new playlist will be added to the online mode. Called 'Hardcore', this playlist will remove the use of flashbacks and turn on full mechanical damage. It will also prioritise race events around circuits.
Level Cap
Previously, your online rank level was capped to 30. It will now be raised to 99. which will no doubt rile completists who thought they had conquered Grid 2 at level 30.
Fastest Lap Times
Fastest lap times will now display at the end of an event on the race results screen while playing online.
New Liveries
A host of new livery designs, will be added including some of the AI designs from single player.
Maximum Laps
The maximum laps you can set will be tweaked, raising them from a maximum of 5 to 10 lap races.
Veto Weighting
Vetos are now much fairer and only require 51% of the lobby to make the vote for a change to occur.
Voice Option
You can now mute your own microphone.
Country Flags
A player's country flag will now be displayed next to their name plate while racing and on the event results screen.
Clean Race Bonus
The amount of money rewarded for racing clean has been increased.
Skip the Level up Graphic
As noted in my review, one of my pet peeves was the fact you couldn't skip the long-winded screen that counted your number of fans after each race. Thankfully, you will now be able to skip it with the new patch.
Anti-Cheat
Codemasters didn't go into detail about exactly what anti-cheat system they will be implementing, but they are assuring that the leaderboards will no longer be clogged up with players using unorthodox tactics.
No word on a release date yet, but Codemasters did confirm that the community patch will arrive sometime in August and the demolition derby update will follow soon after.
Mercifully, Codemasters also teased that two track packs will be released later down the line, apparently featuring two of the most requested features – a welcome relief after the recent spree of lackluster car pack DLC. More of this please, Codemasters.