In the press conferences earlier this year, the folk from Criterion were very adamant that their reboot of 'Most Wanted' would have the most diverse car roster for any Need for Speed game, ranging from lightweight track specials to huge pickups and SUVs.
And now, with only a short while to go until it hits the shelves, we're starting to get a glimpse of what licensed vehicles will be appearing in the game, with Criterion's latest blog post highlighting five American cars.
You can read the official blog here, but here's our little summary of the five exotics from across the pond that we'll be using to fend off the coppers with.
Chevrolet Camaro ZL1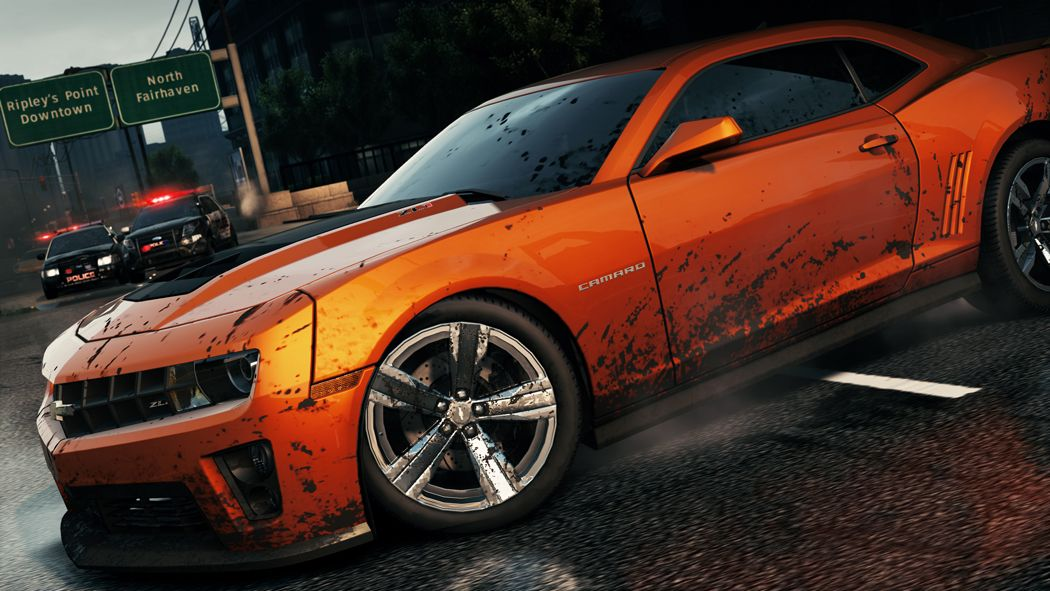 The latest branch on the Camaro family tree, the highly esteemed ZL1 version has been generating quite a stir recently, and not just because it's being pitted up against the ballistic Shelby Mustang GT500. By quite some margin, this is the fastest and most powerful Camaro that's ever been made.
Courtesy of reworked version of the Camaro SS's 6.2 V8, the ZL1 has a rather meaty 580hp on tap, which lets the retro road monster roar onto a top speed of 184 mph. It also has a rather hi-tech suspension setup, which allegedly makes the car more manageable when compared with the pony car competition.
With acclaimed cornering prowess and the potency of a supercharged V8 to play with, the Camaro ZL1 should do a fine job of outrunning the police. However, if you think you can handle some extra poke, you may be more interested in the next car…
Chevrolet Corvette ZR1
It's safe to say that, out of all the cars in this post, the Corvette ZR1 is the one that doesn't really need an introduction from Yours Truly. Adjectives and grammatical features need not apply when you're trying to explain how great this super 'Vette is: all you need to do is look at the car's spec sheets.
Like the aforementioned Camaro, the Corvette uses a supercharged 6.2 V8, but this time the power's been wound up to 650hp, which is by anyone's standards 'quite a lot'. Also, in traditional Corvette fashion, it'll dominate the drag strip and race track – 0-60 is done in just over 3 seconds, the top speed is over 200mph and the ZR1 can easily pown some vastly more expensive supercars around circuits such as the Nurburgring.
Unless the in-game constabulary have Veyrons, fighter-bombers or Bernard's stopwatch at their disposal, it's highly unlikely that they'll be able to catch you in this, especially if you're on the freeway!
Ford GT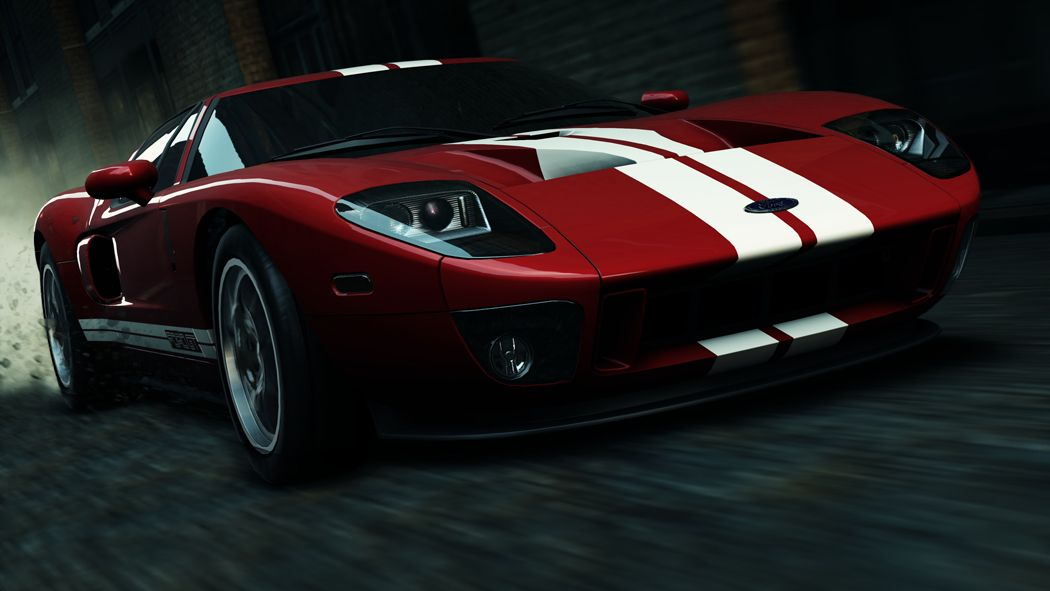 Back in the early 2000s, the head honchos at Ford were planning to celebrate the founder's company's centenary be releasing a modern version of one of the firm's old cars. Rumour has it that it was a very close tie-up between the remake of the GT40 or a 21st Century version of the Ford Popular.
Actually, that's a bit of a lie. But nevertheless, we're still glad that the blokes who were running the Blue Oval's operations at the time brought the GT supercar project to life. Not only was it one of the fastest ever road legal cars to come out of America, but it was also seemingly one of the best speed machines of its time, easily being more than a match for the Ferraris and Lamborghinis of the time.
Given that we're fairly big fans of Top Gear here at VVV, and that some parts of Most Wanted's fictional 'Fairhaven City' bear a passing resemblance to some districts of Detroit, we're quite tempted to imitate Jezza Clarkson and cruise around the inner city districts, searching for any traffic light grand prix!
Ford F-150 SVT Raptor
Given that 'Most Wanted' is all about evading 'ole Plod, you may be wondering wht Criterion decided to include a Ford pick-up truck. However, this is no ordinary goods vehicle, as it's the rather appropriately named Raptor version.
Like the extinct theropod it shares its name with, you'd be a fool to assume that the Ford Raptor isn't a force to be reckoned with. Sure, it might not be the most agile machine you'll find in the Most Wanted game, but it's still pretty quick for a flat-bed truck, and its sheer size means the Ford should be able to take a fair bit of punishment.
It's also rather competent as an off-road vehicle, though we reckon it's got nothing in comparison to the last vehicle in this line-up when it comes to tackling the rough stuff!
Hummer H1 Alpha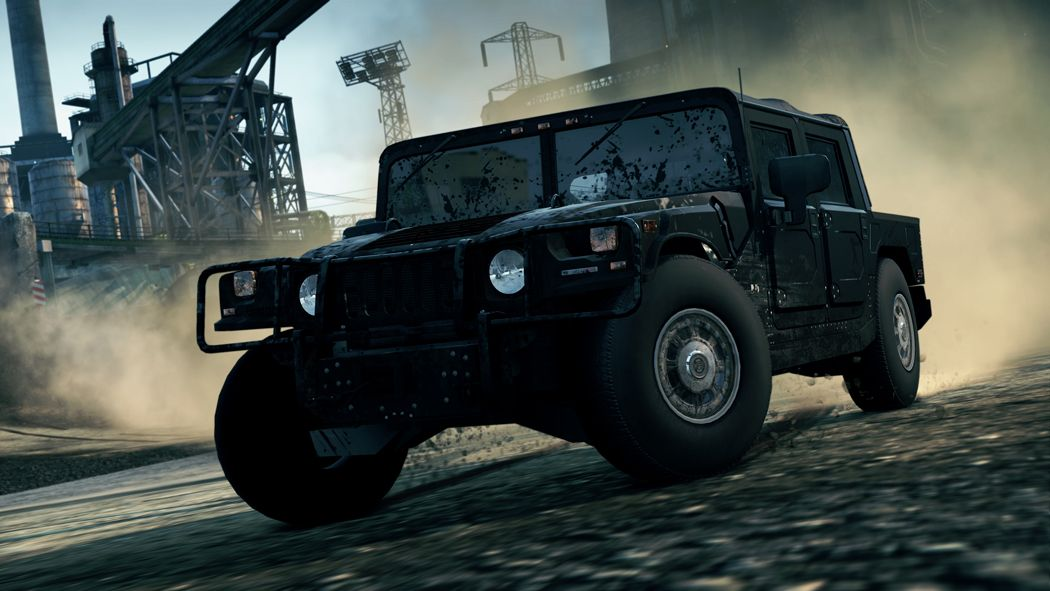 It's safe to assume that most people would be confuzzled by the fact a gargantuan military-based bit of all-terrain hardware has made its way into a racing game – after all, it's about the least performance orientated vehicle to be released in the last ten years or so.
That said, it does have plenty of uses in the realms of Need for Speed: Most Wanted. For instance, there won't be a single bit of terrain that will stop the Hummer in its tracks, and the H1's sheer size and weight means it's almost impossible for you to be shunted off the road or into a wall without the car you're colliding with sustaining huge amounts of damage.
Overall, the Hummer has the potential to be one of Most Wanted's dark horses, and could end up being better than you'd expect it. Though, unless you're feeling very brave, we wouldn't recommend taking it on twisty courses. And big jumps? Well, they may be a bit impossible to do in this 6 ton leviathan…
We'll be posting more details of Need for Speed: Most Wanted's car list as soon as we find out about them, so keep your eyes peeled on the website and on our Facebook page for the time being.