Racing Apex is a retro inspired polygonal arcade PC racer which is inspired by the likes of Virtua Racing, Wing War and Interstate 76.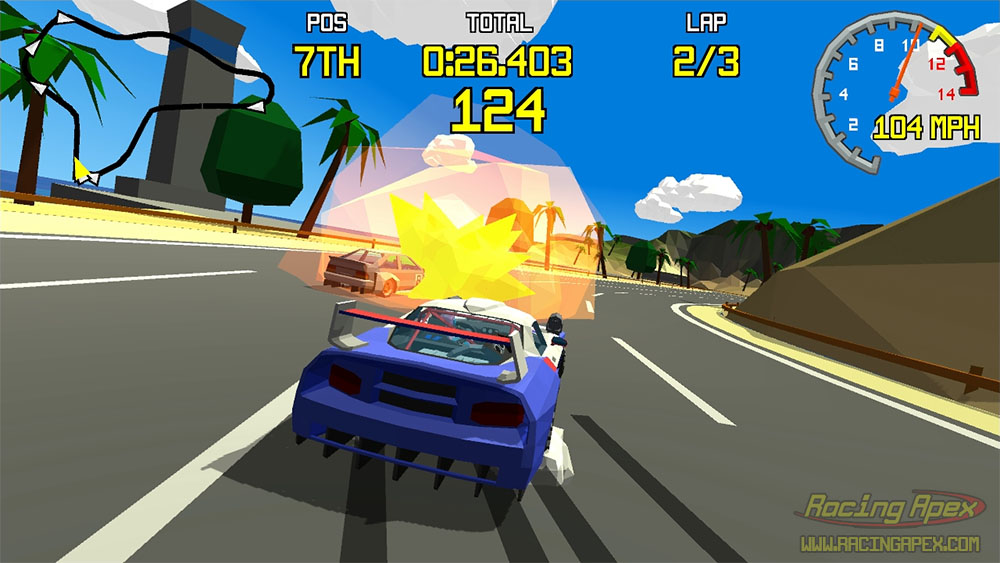 The retro racer, developed by Lucky Mountain Games, mixes car combat and racing action with a visual style reminiscent of a late 80's/ early 90's Sega arcade title. Racing Apex features over 30 vehicles which are based on real-world counterparts and the game includes over 16 circuits to do battle on.
Every vehicles can be modified and upgraded, you can swap out wheels, bumpers, bonnets, side skirts, spoilers, exhausts and various internal parts. Racing Apex even features full conversion modifications, which are not a million miles away from something you'd see in The Crew for instance, check out the trailer below to see what I'm getting at.
If all that wasn't impressive enough, every vehicle has a detailed interior and there's even engine detail under the bonnet. Furthermore, the game has a damage model with four stages of severity. Fortunately repair items can get your vehicle back into good shape.
In terms of powerups you have offensive and defensive types including duel gatling guns, rocket launchers, machine guns, mines, smoke, oil slicks and more. Lucky Mountain Games have stated however that there is an option to play without the weapons if you prefer which seems to be proving a popular choice among fans.
Support TeamVVV on Patreon: www.patreon.com/TeamVVV.