One of the most frequently asked questions about Criterion's upcoming reboot of Need for Speed Most Wanted is whether or not car customistation will make it into the game. After all, obsessively modding your car was an integral part of the original Most Wanted.
We now have the answer, however, as a recent video feature by EA's own Pwned series has revealed that car customisation is indeed returning – but not as you might expect.
In an interview with Executive Producer Matt Webster, it is revealed that mechanical mods can be unlocked as you progress through the multiplayer to keep your car competitive in online races, such as new wheels, suspension, engine, nitrous and bodywork.
Using his personal favourite BMW M3 E92 as an example, Matt describes how equipping slicks can make your car competitive against racer cars, whereas raising the suspension and making the car more lightweight will ensure you're not outdone against faster cars. even make it stronger – ideal when you are using your car as a tank-like battering ram against the heavier muscle cars.
It therefore doesn't sound like we'll be fitting chav-tastic bodykits like in the Need for Speed games of the past, as some may have hoped. Instead, Most Wanted's customisation sounds merely like a means to allow players to stick with their favourite car by ensuring it isn't trounced by rival racers.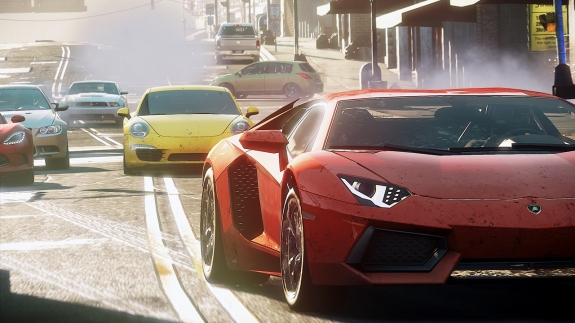 I'm not going to miss it, personally. Yes, the ability to personalise your car with lavish liveries, "phat" exhausts and pretentious bodykits may appeal to those who think The Fast and the Furious was a crowning cinematic achievement, but Criterion's philosophy is that a car is deemed aesthetically perfect by the manufacturer when it rolls off the assembly line.
Their take on Need for Speed is to focus on the core, adrenaline-fueled driving experience, which these mods are designed to enhance. It's this focus that puts them in a class of their own – there's a very good reason why Hot Pursuit stands as the highest rated Need for Speed game of all time.