Nico Rosberg tales the penultimate chequered flag of the year and his first win since his home race back in July to win the 2014 Brazilian Grand Prix. In a closely fought battle and a race where Lewis did make a mistake that potentially sacrificed his chance of winning today, Nico Rosberg reduces the gap to 17 points ahead of the finale in Abu Dhabi where double points will make their presence.
As It Happened…

The breaking news ahead of the race today is that three-car teams could appear in 2015 with Ferrari and Red Bull announcing they could do it, if asked. Why not the others? Well, McLaren are next to be asked to do it and then Mercedes – such is the further proof that there is a financial pecking order in Formula 1. Marussia are not completely out of the sport yet with Graham Lowden on Sky Sports F1 stating that they are still aiming to be in Abu Dhabi and crucially on the grid for 2015.
As for this race it is looking set to be a dry start and rain that was threatening all weekend is now just a 20% chance of falling this afternoon. It is a race Rosberg has to win to make the last race in two weeks a more level playing field but Lewis Hamilton has looked to be in great race form, going for his sixth consecutive win today.
Pre-Race: Adrian Sutil is starting from the pitlane. On the parade lap, Hamilton is reporting a sticky clutch.
Lap 1: It is a clean start from the Mercedes drivers as Rosberg leads into the first corner and through the Senna Esses. Massa follows through with teammate behind. No contact through the field but Vettel lost out the most slipping to 8th place. Rosberg finishes lap one, 0.8 seconds ahead of Hamilton.
Lap 4: Reports already coming through of graining on the tyres. With track temperatures increasing we expect to see multiple pit stops today with the option tyres unlikely to last beyond 10 laps. With Maldonado making the first stop of the race on just lap 4.
Lap 7-9: Pitstops through the field over this period as drivers dispense of the option tyres and onto the prime. Massa, Bottas and Button all done, as Rosberg comes through to pit at the end of lap 7. Just as Massa is under investigation for speeding in the pits. It is Hammertime for Lewis. Massa gets the 5-second penalty for his next stop as Lewis is told to take his pitstop at the end of lap 8. A slick stop and comes out in second, but much closer to Rosberg. Those that started on the prime tyres are now leading with Hulkenberg in 1st place followed by Kvyat and then the Mercedes duo.
Lap 16: Tyre management for Hamilton with rears overheating and a vibration across the fronts. Rosberg has now passed Hulkenberg as Hamilton comes up to the rear of the Force India and passes into the start of lap 16. Massa, running in 4th gets a great run on Kvyat at the end of the lap and the crowd make a big cheer as Massa moves up into third.
Lap 19: Both Mercedes drivers are now reporting tyres issues – Hamilton has a blister and Rosberg getting severe oversteer. Teams across the grid are now reporting of varied tyre issues – strategies likely to go out the window and it is going to be a race of racing with care.
Lap 24: Hamilton is starting to close in on Rosberg now with the gap down to 1.7 seconds as we hit a third the way through the race. After the Mercedes it is Massa followed by Bottas, Button, Magnussen, Alonso, Ricciardo, Raikkonen and Gutierrez as Vettel pits and comes out in 16th place.
Lap 26-29: Massa pits and takes his penalty and resumes down in 13th place. Heartbreak for the local crowd. Rosberg pits and so starts a chain reaction across the field once again. Hamilton sets a blistering fastest lap, but loses it and does a mini-spin sacrificing seven seconds. Game on… After taking a pitstop he resumes in second – Lewis clearly going for the win and not settling for second place.
Lap 33: The timing screens are constantly showing the gains and losses of the gap between Rosberg and Hamilton, with it down to 5.7 seconds now. With one more expected pitstop for the front runners, can Lewis close that gap to attack for the win?
Lap 36: Raikkonen pits from third place and suffers a front-jack failure whilst putting on the front wheel – he finally gets going but comes out in 13th. Massa has now recovered and is back up into third place!
Lap 42: Ricciardo comes on the radio reporting front brake failure, enters the pits, the team tale the wheels off and take a good look and opt to retire the car. On replay it looks to be a suspension failure. Back up front, the gap between Rosberg to Hamilton is down to 3.1 seconds. At this rate we will have a grandstand finish between these two.
18th: Ricciardo (Suspension)
Lap 45: A great battle between Alonso and Magnussen through the first half of the lap – Alonso bides his time but gets past. Perhaps getting a close up on a future teammate? Meanwhile the gap up front is 2.3 seconds.
Lap 49: Further down the field Button is doing well in fourth place, running very much on his own at present. Vettel and Alonso are running behind Jenson. Gutierrez in the Sauber is running very competitively as they go seek the money still assigned to Marussia for 9th place in the constructors championship. Both Mercedes cars are running to the maximum apparently, and Lewis has the gap down to two seconds dead.
Lap 50/51: Final pitstops commence with Rosberg in the pits for a new set and a slick 2.7 second stop. Lewis follows a lap later with an even faster stop at 2.5 seconds, comes out in second place and its even closer – time for a true championship battle. Massa stops, and does a "Jenson" and a "Lewis" by pulling into the McLaren team for a stop – he is waved on. Red face time.
Lap 53: All focus is on the leading pair now as it's got to be fought on track for the race win today.
Lap 58: This is incredibly close. Rosberg and Hamilton are coming up through backmarkers but are lapping within hundredths of each other and completing each lap about 0.6 seconds being the gap.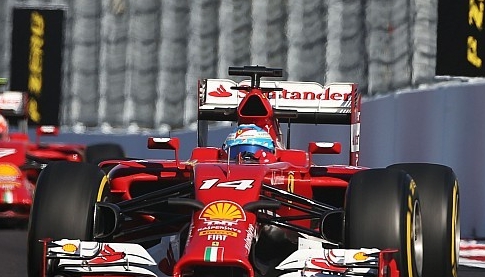 Lap 61: Hilarious! A great switch on the race TV-feed to see Nelson Piquet lunge a kiss at Niki Lauda in the pits. Everyone is gripped by this race – this is exactly what F1 should be about. Hulkenberg pits to take his obligatory swap to option tyres. Meanwhile Button, Raikkonen and Vettel are having an awesome battle. How can Button be looking at retirement from F1 this year?
Lap 66: It has taken 18 races, but we finally have a race between Alonso and Raikkonen. Kimi has stopped twice and Fernando has stopped three times – but no one is budging on allowing Alonso through as he should be to make his strategy work. Grosjean pulls up with what looks like an engine failure.
17th: Grosjean (Engine)
4 Laps to go: The Ferrari battle is confirmation on track that Alonso is leaving Ferrari! Up front, it is still 0.6 seconds between the two Mercedes cars. Rosberg is continually quicker in the middle sector, whereas Hamilton is much faster in the first and final sectors.
Final Lap: Lewis just cannot get close enough to have a go at Nico Rosberg as the German wins and finishes the race in first, and finishes every single session on track this weekend at the top of the standings. The bigger cheers will be for Felipe Massa who takes third at his home race. Button finishes fourth in a great race for the McLaren driver. So it will be settled in Abu Dhabi – should Rosberg win there, then Hamilton has to finish in second. But Hamilton will not go there with that mentality, of course.


Classified Results:
16th: Sutil
15th: Perez
14th: Gutierrez
13th: Vergne
12th: Maldonado
11th: Kvyat
10th: Bottas
9th: Magnussen
8th: Hulkenberg
7th: Raikkonen
6th: Alonso
5th: Vettel
4th: Button
3rd: Massa
2nd: Hamilton
1st: Rosberg