As we were expecting, Criterion have unveiled their reboot for Need for Speed Most Wanted in a tasty trailer and in-game demonsration during EA's E3 press conference.

Need for Speed Most Wanted will let you "become the Most Wanted," allowing you to race, chase and explore an open world environment.
The demonstration showcased a Porsche 911 in the midst of a brutal high speed pursuit, where Criterion's trademark appetite for destruction was fully realised. Takedowns seem to be firmly back in place as the Porsche wrecked a countless number of police cars, and it seems as if the environment will also be destructable with ample debris to smash into.
The open city map, known as 'Fairhaven City', is said to include all manner of jumps, shortcuts and off road excursions, as demonstrated when the Porsche darted through narrow alleyways. Smashable billboards from Burnout Paradise seem to be back so don't be surprised if the collectible gates are in as well. Players will also be able to switch cars to elude the cops.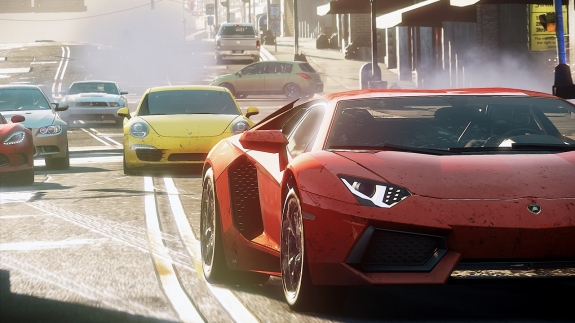 Criterion's Executive Producer Matt Webster commented: "Criterion is shaking up the franchise with Need for Speed Most Wanted. This is Most Wanted for a new generation of players. We've brought everything we know about racing, chasing and exploration and smashed them together in a highly connected open world automotive experience. Whether driving solo or racing with friends in our amazing new multiplayer experience, Autolog fires up competition out of everything as players compete to be most wanted amongst their friends."
It therefore seems that Criterion are aiming to play to their strengths, but we're suitably impressed by what we've seen from Most Wanted so far. As we predicted in our E3 preview, it looks to show Criterion at their very best, utilising their renowned damage modelling and terrifying sense of speed and apply it to a detailed open city environment. It's as if Need for Speed Hot Pursuit and Burnout Paradise just met in a spectacular head-on collision.